SEE MY REVIEW BELOW
🌟🌟 ℍ𝕠𝕥 ℕ𝕖𝕨 ℝ𝕖𝕝𝕖𝕒𝕤𝕖 🌟🌟
𝐓𝐡𝐞 𝐓𝐨𝐮𝐜𝐡 𝐨𝐟 𝐚 𝐕𝐢𝐥𝐥𝐚𝐢𝐧 𝐛𝐲 𝐇𝐨𝐥𝐥𝐲 𝐑𝐞𝐧𝐞𝐞 𝐢𝐬 𝐋𝐈𝐕𝐄! 𝐃𝐨𝐧'𝐭 𝐦𝐢𝐬𝐬 𝐭𝐡𝐢𝐬 𝐞𝐧𝐞𝐦𝐢𝐞𝐬 𝐭𝐨 𝐥𝐨𝐯𝐞𝐫𝐬 𝐫𝐨𝐦𝐚𝐧𝐜𝐞!
#𝟏-𝐜𝐥𝐢𝐜𝐤 𝐭𝐨𝐝𝐚𝐲!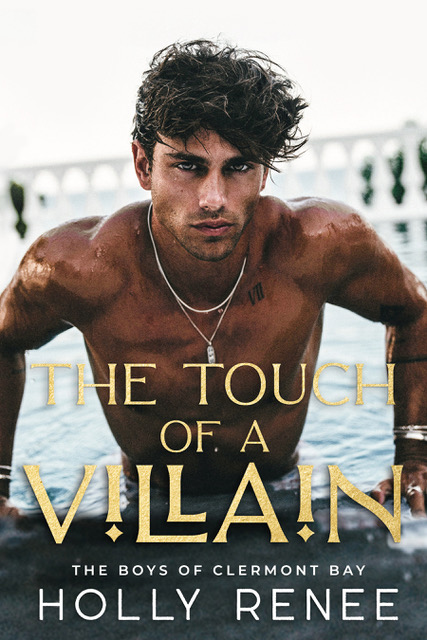 BLURB
𝙔𝙤𝙪𝙣𝙜. 𝙒𝙚𝙖𝙡𝙩𝙝𝙮. 𝙀𝙡𝙞𝙩𝙚. 𝙍𝙪𝙩𝙝𝙡𝙚𝙨𝙨. 𝙏𝙝𝙚 𝙗𝙤𝙮𝙨 𝙤𝙛 𝘾𝙡𝙚𝙧𝙢𝙤𝙣𝙩 𝘽𝙖𝙮 𝙧𝙪𝙡𝙚𝙙 𝙤𝙫𝙚𝙧 𝙩𝙝𝙞𝙨 𝙩𝙤𝙬𝙣 𝙖𝙨 𝙞𝙛 𝙞𝙩 𝙬𝙖𝙨 𝙩𝙝𝙚𝙞𝙧 𝙠𝙞𝙣𝙜𝙙𝙤𝙢.
And Beck Clermont controlled them all.
He was arrogant and conceited, and from the moment I met him, he had made up his mind about me.
Dangerously handsome and wickedly cruel, he had no intention of letting me spend my senior year under the radar.
The secrets of old money ran deep, and even though I barely knew them, the sins of my family had put a target on my back.
He was a hurricane, and I was unprepared for the storm.
His touch fatal. His impact irreparable.
There was no negotiation.
He stole my heart. Without warning, without permission.
𝙃𝙚 𝙬𝙖𝙨 𝙩𝙝𝙚 𝙚𝙣𝙚𝙢𝙮, 𝙗𝙪𝙩 𝙩𝙝𝙖𝙩 𝙙𝙞𝙙𝙣'𝙩 𝙨𝙩𝙤𝙥 𝙢𝙚 𝙛𝙧𝙤𝙢 𝙛𝙖𝙡𝙡𝙞𝙣𝙜 𝙛𝙤𝙧 𝙏𝙝𝙚 𝙏𝙤𝙪𝙘𝙝 𝙤𝙛 𝙖 𝙑𝙞𝙡𝙡𝙖𝙞𝙣.
Add to Goodreads ➜
https://bit.ly/TTOAV-GR
PURCHASE LINKS
Universal Link:
https://books2read.com/u/mejykg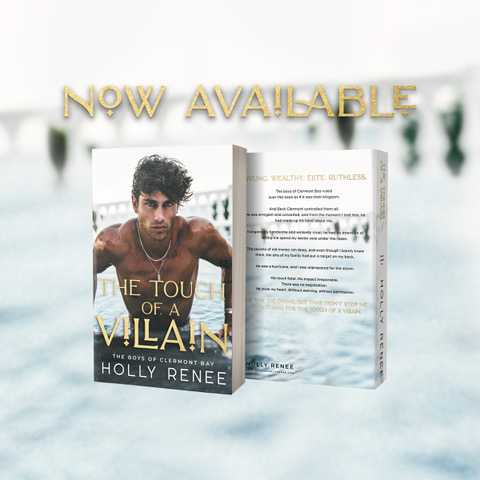 GIVEAWAY
To celebrate the release of The Touch of a Villain's, Holly Renee is hosting a giveaway. Head to her Facebook page to enter:
http://www.facebook.com/authorhollyrenee
TEASERS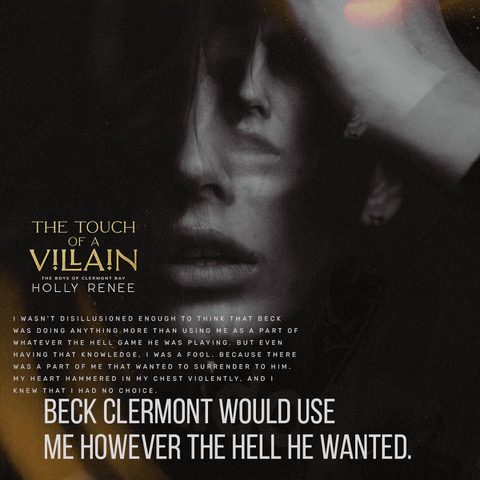 ABOUT THE AUTHOR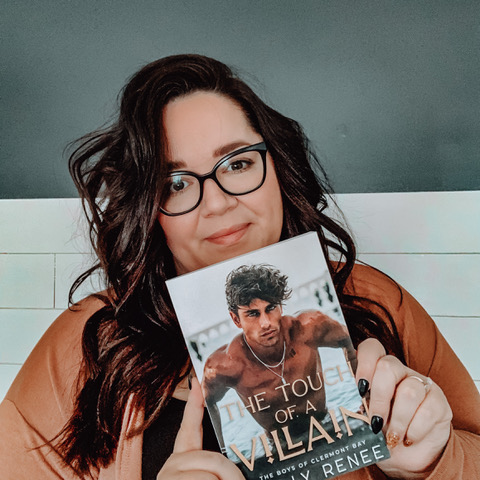 Amazon Top 100 bestselling author of contemporary romance, Holly Renee brings readers a pinch of angst, an indulgence of heat, and the perfect amount of heart in every book.
Born and raised in East Tennessee, she is a married mom of two wild children. When she's not writing, you can find her reading, pretending to be a dragon for the hundredth time that day, being disgustingly in love with her husband, or chilling in the middle of the lake with her sunglasses and a float.
Holly is a lover of all things romance, Mexican food, Harry Potter, and yoga pants.
AUTHOR LINKS
FB Author Page
|
ReaderGroup
|
Instagram
|
BB
|
GR
|
AMZ Author Page
|
Newsletter Sign up
|
TikTok
|
Website

Oh my, I don't even know where to start. This was….and then it was….and I was, Whaaaaat?, then they were all…..and I was like, woah, but then….and I was like, what the? Feels and heart flutters galore.

I'm going to try again in english but I make no promises because this book took my ability to human.

This was my first book by this author and to say I'm blown away by her writing would be the understatement of the century.

Josie is thrust into a world she doesn't want to be a part of and all she wants is to make it through her senior year and then leave the town and people in it in her rear view mirror as nothing but a memory. She may want to keep her head down and go unnoticed but there's a spark inside of her that won't allow her to back down and it's that spark that feeds the sizzle between her and Beck because she is one of only a few that will stand up to the ruler of Clermont Bay Prep.

Beck is a rich, popular jock and he has the cockiness that goes along with it. He initially comes off as quite sweet and incredibly charming but the moment he finds out Josie's last name that charming and sweet side goes up in flames and is replaced with arrant animosity but none of that is quite as palpable as the chemistry between Beck and Josie.

The Touch of a Villain was downright bewitching. Holly Renee put me under a spell as I was transfixed in this enthralling story from start to finish with a magnificent blend of cocky vengeful hero, a fiery heroine, a storyline that will have you glued to your kindle, fraught with emotions, racing heart, a boulder on your chest, everything in between, and steam.

I am so glad I found this author and I can't wait until I get the chance to dive back into this world again.