SEE MY REVIEW BELOW

🧡 🖤 ℍ𝕠𝕥 ℕ𝕖𝕨 ℝ𝕖𝕝𝕖𝕒𝕤𝕖 & 𝔾𝕚𝕧𝕖𝕒𝕨𝕒𝕪 🖤🧡
𝙂𝙡𝙖𝙨𝙨 𝙃𝙚𝙖𝙧𝙩 𝙃𝙚𝙧𝙤, 𝙗𝙤𝙤𝙠 𝙩𝙝𝙧𝙚𝙚 𝙞𝙣 𝙩𝙝𝙚 𝙂𝙡𝙖𝙨𝙨 𝙃𝙚𝙖𝙧𝙩 𝘼𝙘𝙖𝙙𝙚𝙢𝙮 𝙨𝙚𝙧𝙞𝙚𝙨 𝙛𝙧𝙤𝙢 𝙇𝙞𝙣𝙙𝙨𝙚𝙮 𝙄𝙡𝙚𝙧 𝙞𝙨 𝙇𝙄𝙑𝙀
𝐏𝐮𝐫𝐜𝐡𝐚𝐬𝐞 𝐥𝐢𝐧𝐤𝐬: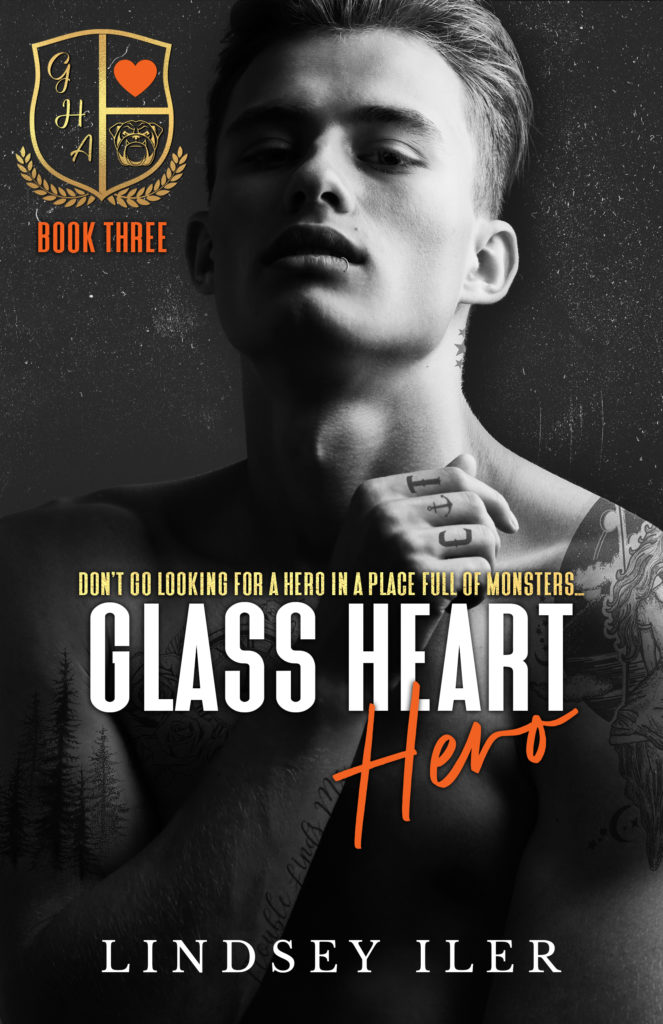 BOOK BLURB
Loyalty. Corruption. Family.
A gauntlet rooted in love and jealousy may be the destruction of the students at Glass Heart Academy.
Delaney
Parts of me were stolen in the confines of a dark room. No matter how hard I fought, I got nowhere. The damage has already been done.
Now I find myself in the arms of an unexpected boy. He catches me in the darkness, where I'm too afraid to face the cruel world I now know exists.
He wants every piece of my heart. But how far is he willing to go when it already belongs to another?
After everything, Breaker Davenport haunts my dreams and loving me quickly becomes his own worst nightmare.
Breaker
I have always been certain of a few things in life. Birth doesn't make a family and when you find someone worth dying for, you fight until you bleed.
Delaney Chambers is worthy of painting the world red.
Fighting for her hadn't been something I expected to do. Little did I know, he wasn't the only one trying to take her away from me.
They won't whisper her name, but I'll make sure they curse mine.
The monster inside of me won't stop until they're buried amongst all their skeletons.
Add to your Goodreads TBR:
bit.ly/BreakerGoodreads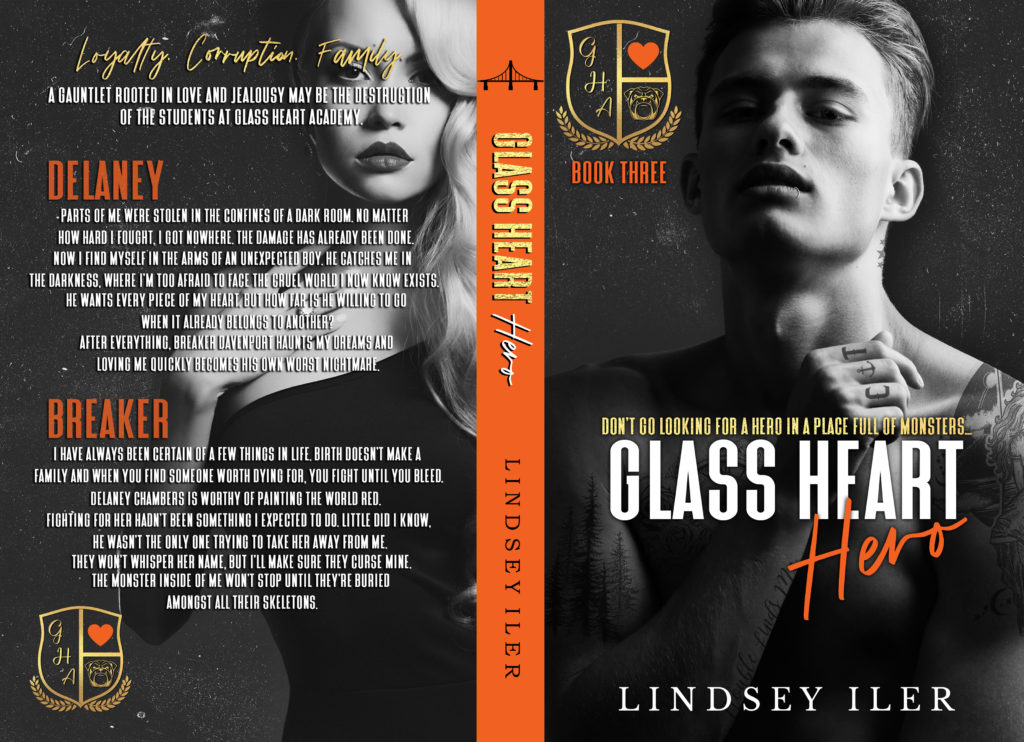 PURCHASE LINK:
Amazon Universal:
mybook.to/GHH
Catch up with the series!
Glass Heart Savage, Book One
Amazon Universal:
mybook.to/GHS
Goodreads:
http://bit.ly/GHSgoodreads
Glass Heart Broken, Book Two
Amazon Universal:
mybook.to/GHB
Goodreads:
https://bit.ly/GHBGoodreads
GIVEAWAY
To celebrate the cover reveal of Glass Heart Hero, Lindsey Iler is giving away two $25 Amazon gift cards! Head to her Facebook and Instagram pages to enter:
Facebook:
http://www.facebook.com/lindseyilerbooks
Instagram:
https://www.instagram.com/lindseyiler_author/
TEASERS
ABOUT THE AUTHOR
Lindsey Iler has had her feet planted in the state of Michigan since she was born and she still lives there with her husband and four kids.
When she's not writing, she's spending time with family and friends, listening to music, and reading.
Lindsey writes mature young adult/new adult romance. She falls in love with every character that pops into her head and is notorious for writing long chapters in her notes on her iPhone.
She finds inspiration from music and the people around her.
AUTHOR LINKS
Website
|
Newsletter
|
E-mail
|
Facebook
|
Facebook Reader Group
|
BookBub
|
Goodreads
|
Amazon Page
|
Instagram
|
TikTok
Every page of each book in this series pulls you deeper into the Glass Heart Academy world where the Glass Heart Boys live by a code that is first and foremost loyalty to one another no matter the cost.
Delaney is every shade of fierce a survivor and a girl who runs when life is too heavy which I can relate to because I may not "physically" run but I do "run" straight into a book to escape into when I feel as though reality is too heavy to carry but when you catch the eye of one of these Glass Heart boys he won't let you run far.
Breaker was the calm one with the quick wit and a smile but oh stars there's so much more to him than I ever imagined. When he was calm it was like the small embers of a fire but all it takes is a moment to ignite those embers into a sinful inferno of rage. He was a perfect mix of swoony and possessive alpha. He now holds the award as my favorite Glass Heart Boy.
From reading the previous books I had already felt that Breaker and Delaney had a connection but that was only a glimpse into the depths of what they shared. The connection they shared was 2 souls that were intertwined so deeply that one didn't exist without the other.
Lindsey Iler's writing is purely magic once I was engrossed in Glass Heart Hero from beginning to end. A compelling blend of hypnotic chemistry, a fierce heroine, a Glass Heart Hero, Breaker isn't your average hero, feels for days, steam, witty banter, and a group of friends that are the epitome of unconditional love and loyalty.