SEE MY REVIEW BELOW
💗 📖 𝗛𝗢𝗧 𝗡𝗘𝗪 𝗥𝗘𝗟𝗘𝗔𝗦𝗘 📖 💗
𝐓𝐡𝐞 𝐋𝐨𝐯𝐞 𝐈𝐧𝐭𝐞𝐫𝐞𝐬𝐭 𝐛𝐲 𝐊𝐚𝐲𝐥𝐞𝐲 𝐋𝐨𝐫𝐢𝐧𝐠 𝐢𝐬 𝐋𝐈𝐕𝐄 𝐘𝐨𝐮'𝐫𝐞 𝐠𝐨𝐢𝐧𝐠 𝐭𝐨 𝐋𝐎𝐕𝐄 𝐄𝐦𝐦𝐞𝐭𝐭 𝐚𝐧𝐝 𝐅𝐢𝐨𝐧𝐚!
#𝟏-𝐜𝐥𝐢𝐜𝐤 𝐭𝐨𝐝𝐚𝐲!
🎧 AUDIOBOOK 🎧
Audio will be released April 26th and be narrated by Teddy Hamilton and Mackenzie Cartwright, featuring Connor Crais and Shane East!
BLURB
Dear Fiona,
I hope this letter finds you well—and by well, I mean significantly less infuriated than you were yesterday. I've wanted to continue our conversation from the night we met, but there are so many things I can't say or do, now that I'm your professor.
As an anonymous letter writer, I can give you some idea of what I have planned for us, once the year is over. As an author, I can share my work in progress with you. Not for you to critique but to show you how much you mean to me.
When you're done reading this page, destroy it—and then write me back. Don't sign the letter. Don't put a return address on the envelope. Mail it from a random mailbox.
Yours in problem solving,
Me
P.S. I still think you're wasting your talent on that historical romance novel.
P.P.S. I really wanted to push you up against the door and kiss your beautiful, angry face. I will. One day.
***
Dear Emmett,
Your handwriting is almost as terrible as your mood swings, and it would have been my instinct to destroy that letter even if you hadn't ordered me to.
If you show me your work in progress, I will critique it.
I am currently still too infuriated to write about all the other feelings I have for you.
Expect another letter soon.
Your problem and your solution,
Me
P.S. I still think an overpaid, overrated, overly handsome bestselling author of thrillers has no business teaching creative writing at a prestigious New York university.
P.P.S. To my great horror, I really wanted you to push me up against that door and kiss my angry face too. I understand now that your appalling way of treating me in class has been overcompensation, but I don't forgive you for it. I'll kiss you again anyway. One day.
Add to your Goodreads TBR
➜
http://bit.ly/TLI-KL
PURCHASE LINKS
Amazon Universal:
mybook.to/TheLoveInterest
Paperback:
mybook.to/TheLoveInterestPB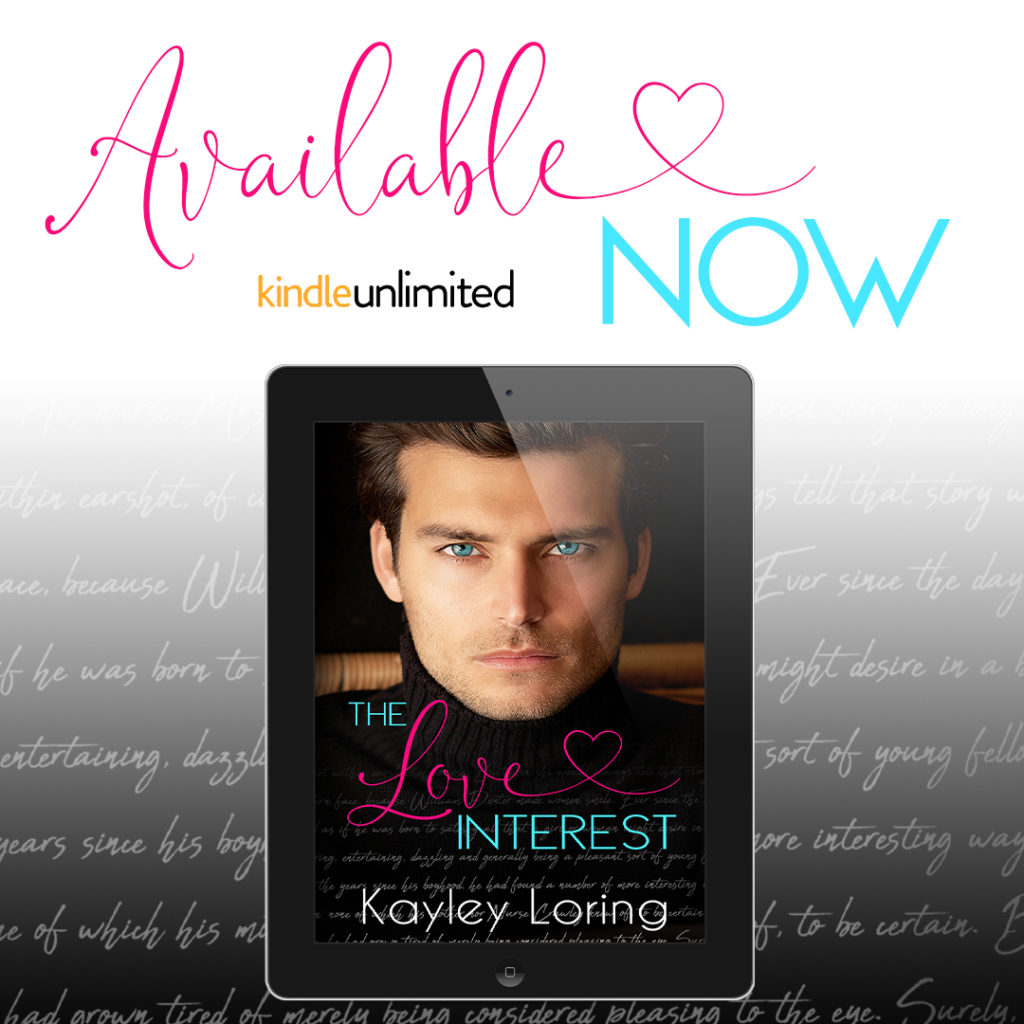 TEASER
ABOUT THE AUTHOR
Before writing steamy romantic comedy novels, Kayley Loring got a BFA in creative writing from a Canadian university and had a fifteen-year career as a screenwriter in Los Angeles (under a different name). She mostly wrote PG-13 family comedies that studios would pay her lots of money for and then never make into movies. In 2017 she decided to move to the Pacific Northwest and write about all the fun stuff that she wasn't allowed to write about in those PG-13 scripts. Now she's breathing cleaner air and writing dirtier words. It's an adjustment she's happily getting used to.
AUTHOR LINKS
Instagram
|
Facebook
|
Facebook Reader Group
|
Website
|
Newsletter
|
Audio Newsletter
|
BookBub
I completely adored this age-gap, student/professor romance with a Kayley Loring spin.
Fiona is a ray of sunshine and sass wrapped up in an outspoken and at times awkward bow. Emmett is broody with scowls and sad faces, and the reasons behind all of it hurt my heart.
When Fiona and Emmett make eye contact there's an instant sizzle, and when you add in the banter that started between them just as quickly, I became completely absorbed in this story.
Every word Fiona shared with Emmett felt as though it was breathing life back into him, and in return he was filling a piece of her that she hadn't realized was missing.
I'm not even sure where to begin with this quirky storyline, it's a bit of a unique spin because along with Fiona and Emmett you also get a glimpse into the books they're writing that adds an extra bit of intrigue as you get to know their characters. It's like 3 books for the price of one, I hadn't expected to become so invested in the books these characters were writing.
The Love Interest was several romance tropes, age-gap, professor/student, but with a spin only Kayley Loring would be able to deliver. It was beyond engrossing, a sensational blend of intoxicating chemistry with a deliciously hot slow burn, so much sass, SWOON, witty banter that made me giggle, and the perfect amount of feels.
Then multiply that because you will become invested in characters that Fiona and Emmett create.