SEE MY REVIEW BELOW

💜 ℍ𝕆𝕋 ℕ𝔼𝕎 ℝ𝔼𝕃𝔼𝔸𝕊𝔼 💜
𝗥𝘂𝘁𝗵𝗹𝗲𝘀𝘀 𝗡𝗼𝗯𝗹𝗲, 𝗧𝗵𝗲 𝗥𝗼𝘆𝗮𝗹𝘁𝘆 𝗗𝘂𝗲𝘁 𝗕𝗼𝗼𝗸 𝗧𝘄𝗼 𝗯𝘆 𝗔𝗹𝗹𝗲𝘆 𝗖𝗶𝘇 𝗶𝘀 𝗛𝗘𝗥𝗘! 𝗗𝗼𝗻'𝘁 𝗺𝗶𝘀𝘀 𝘁𝗵𝗲 𝗲𝗽𝗶𝗰 𝗰𝗼𝗻𝗰𝗹𝘂𝘀𝗶𝗼𝗻 𝘁𝗼 𝗝𝗮𝘀𝗽𝗲𝗿 𝗮𝗻𝗱 𝗦𝗮𝘃𝘃𝘆'𝘀 𝘀𝘁𝗼𝗿𝘆!
𝗣𝘂𝗿𝗰𝗵𝗮𝘀𝗲 𝘁𝗼𝗱𝗮𝘆!
𝑰 𝒘𝒂𝒔 𝒕𝒉𝒆 𝒆𝒑𝒊𝒕𝒐𝒎𝒆 𝒐𝒇 𝒄𝒐𝒏𝒕𝒓𝒐𝒍.
Cocky.
Powerful.
𝘙𝘶𝘵𝘩𝘭𝘦𝘴𝘴.
Until the day Savvy King swaggered into our world.
She defied me at every turn, refusing to yield to my command.
Her insolence infuriated me as much as it captivated me, until the battle 𝘤𝘰𝘯𝘴𝘶𝘮𝘦𝘥 us.
She's the perfect counterpart to my reign. Except…the ring on her finger belongs to another.
People want to play politics with my life—with 𝘰𝘶𝘳 lives. That is a mistake.
𝑫𝒐𝒏'𝒕 𝒖𝒏𝒅𝒆𝒓𝒆𝒔𝒕𝒊𝒎𝒂𝒕𝒆 𝒘𝒉𝒂𝒕 𝑰'𝒍𝒍 𝒅𝒐 𝒕𝒐 𝒄𝒍𝒂𝒊𝒎 𝒉𝒆𝒓 𝒂𝒔 𝒎𝒊𝒏𝒆 𝒂𝒏𝒅 𝒔𝒆𝒄𝒖𝒓𝒆 𝒎𝒚 𝒒𝒖𝒆𝒆𝒏
𝐀𝐝𝐝 𝐭𝗼 𝐓𝐁𝐑
:
https
://bit.ly/2S3b
JlX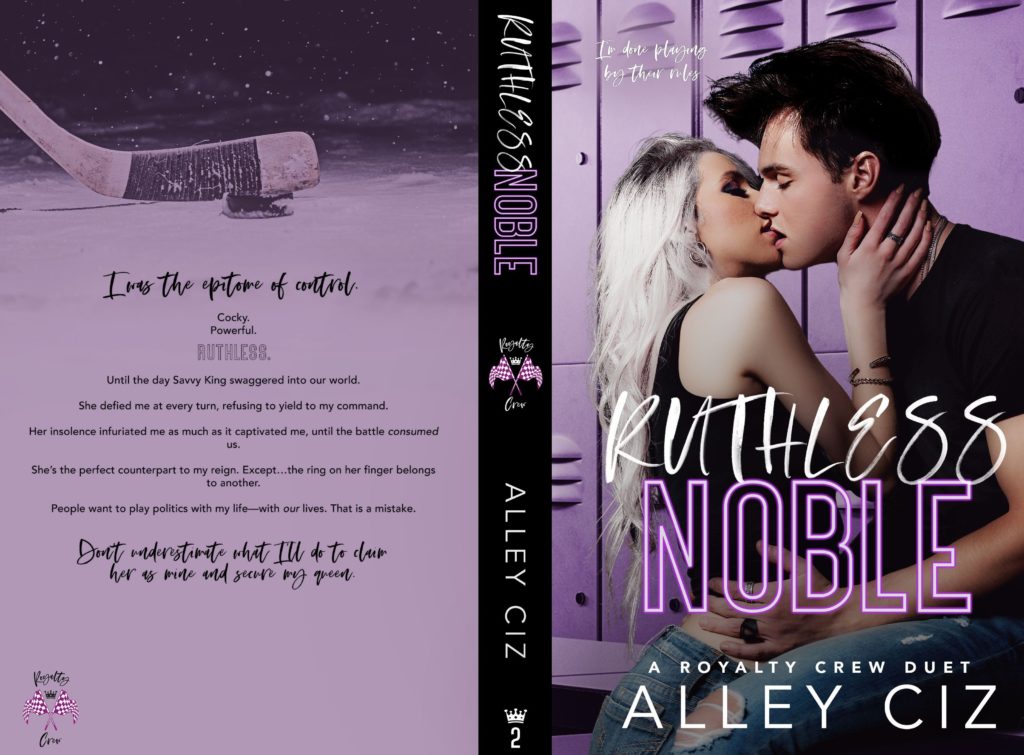 PURCHASE LINK
Amazon Universal:
https://geni.us/RNOBLE
Start th
e duet w
i
th 𝙎𝙖
𝙫𝙖𝙜𝙚 𝙌𝙪𝙚𝙚𝙣 FREE in KU:
https://geni.us/SVGQUEEN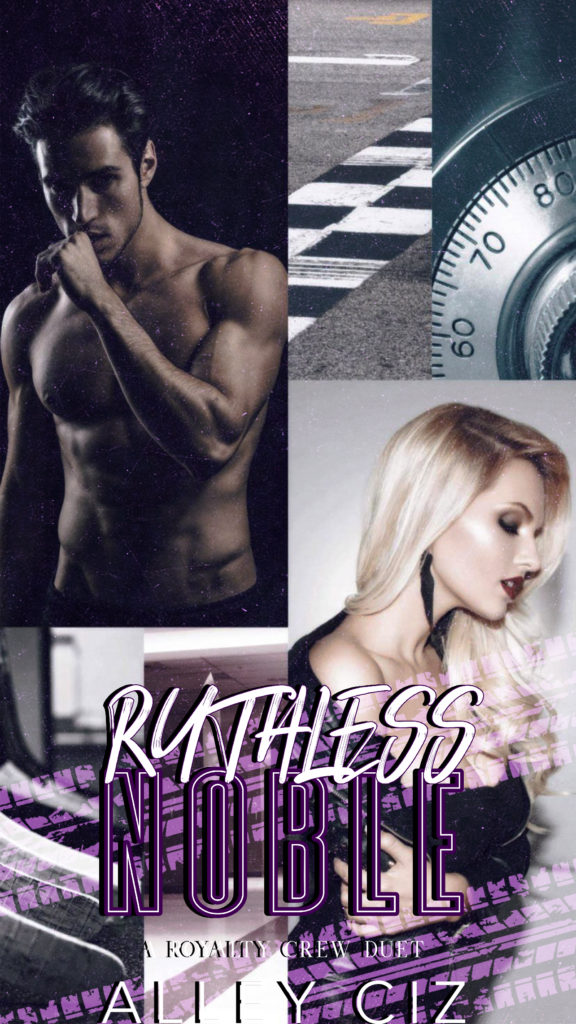 GIVEAWAY
To celebrate the release of Ruthless Noble, Alley Ciz has a signed paperback up for grabs!
Enter here
➞
https://landing.mailerlite.com/webforms/landing/j6e8g1
ABOUT THE AUTHOR
Alley Ciz is an internationally bestselling indie author of sassy heroines and the alpha men that fall on their knees for them. She is a romance junkie whose love for books turned into her telling the stories of the crazies who live in her head…even if they don't know how to stay in their lane.
This Potterhead can typically be found in the wild wearing a funny T-shirt, connected to an IV drip of coffee, stuffing her face with pizza and tacos, chasing behind her 3 minis, all while her 95lb yellow lab—the best behaved child—watches on in amusement.
AUTHOR LINKS
Facebook | Facebook Group | Goodreads | Newsletter | Instagram | Pinterest | Website | YouTube | Amazon | BookBub | TikTok
I wasn't prepared for Ruthless Noble, and you aren't either.
I honestly don't know where to begin, this is only my second book by Alley Ciz, and the conclusion of Jasper and Savvy's story has cemented a place as one of my favorite authors.
I truly have no recollection of anything that took place in real life today because every single part of me was immersed in the Royalty Crew world.
My heart was a racing mess from start to finish, and I loved every second of it. Savvy was all sass, sarcasm, and strength in the first book, but throughout this she transformed into the Queen she was meant to be.
Savvy had a million things going on that could have crushed her, and while she may have stumbled a few times, not once did she contemplate staying down. In some ways those stumbles fueled her strength as she realized how many people were willing to hold her up when she needed a hand, and stand beside her in a fight.
Gah, Noble was the embodiment of everything I love about alpa-holes, but he upped the steam level with his possessiveness. The arguments and battle of will between him and Savvy was a phenomenal mix of foreplay and entertaining.
I can't even explain the chemistry I felt between them. It was beyond soul searing and more of like souls reviving, as if they were only able to become who they were truly meant to be when they found the one who had the ability to awaken the deepest parts of their soul.
I'm in awe of the ensnaring story Alley Ciz so beautifully brought to life. It was a page turner to the nth degree. Every page was more engrossing, lines were drawn and sides had to be chosen, secrets exposed. My chest ached right along with these characters, every emotion they felt seeped through the pages into my heart.
Duke and Tessa are the definition of ride or die, and their wit, sarcasm, and all around ridiculousness brings a reprieve from the heaviness that will undoubtedly weigh heavy on your heart. The secondary characters already have me wanting to read their stories.
I can not emphasize this enough, before you read the first word make sure you cancel real life. A gripping blend of hair raising chemistry, a BAHole level alpha-hole, a bossbish heroine, heaps of angst, heart stopping twists, heart-pounding turns, witty banter, and holy shitake mushroom the steam level in this off the charts. A top read of 2021, and a top unputdownable all-time favorite read.