SEE MY REVIEW BELOW
💗🎤 𝗛𝗢𝗧 𝗡𝗘𝗪 𝗥𝗘𝗟𝗘𝗔𝗦𝗘 🎤 💗
𝗙𝘂𝗻𝗻𝘆 𝗕𝘂𝘀𝗶𝗻𝗲𝘀𝘀 𝗯𝘆 𝗞𝗮𝘆𝗹𝗲𝘆 𝗟𝗼𝗿𝗶𝗻𝗴 𝗶𝘀 𝗟𝗜𝗩𝗘! 𝗗𝗼𝗻'𝘁 𝗺𝗶𝘀𝘀 𝗢𝘄𝗲𝗻 𝗮𝗻𝗱 𝗙𝗿𝗮𝗻𝗸𝗶𝗲'𝘀 𝘀𝘁𝗼𝗿𝘆 𝗶𝗻 𝗧𝗵𝗲 𝗕𝗿𝗼𝗱𝗶𝗲 𝗕𝗿𝗼𝘁𝗵𝗲𝗿𝘀 𝘀𝗲𝗿𝗶𝗲𝘀!
#𝟭-𝗰𝗹𝗶𝗰𝗸 𝘁𝗼𝗱𝗮𝘆!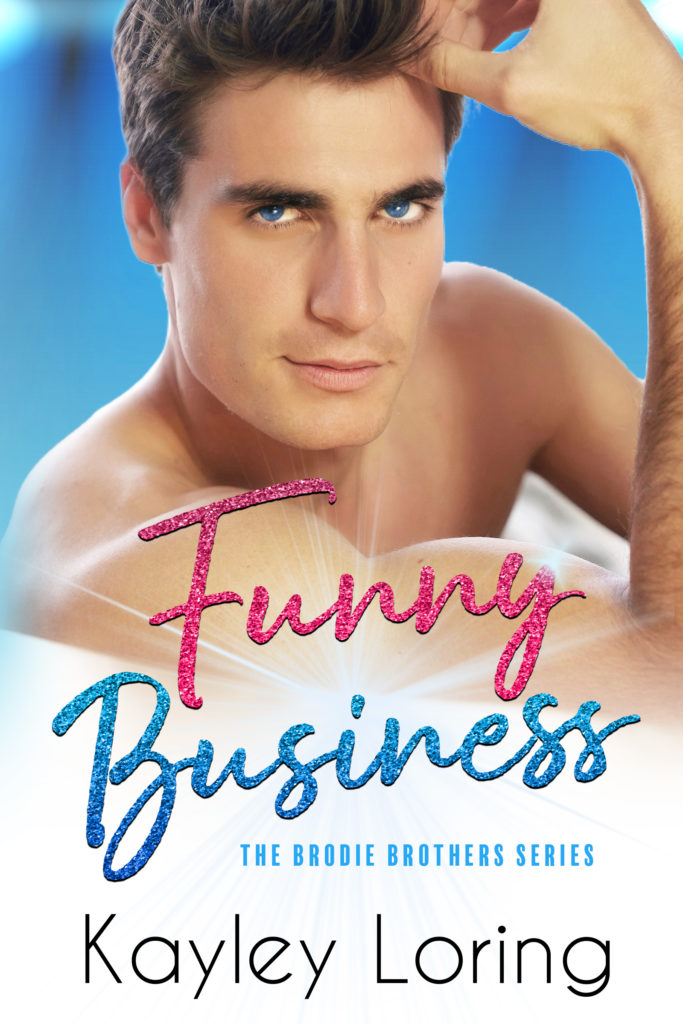 🎧 AUDIOBOOK 🎧
Audiobook will release on August 5th. MULTICAST DUET NARRATION! Narrated by: Teddy Hamilton and Emma Wilder, featuring Jason Clarke, Zachary Webber, Mackenzie Cartwright and Connor Crais!
BLURB
A single dad, a model, and a comedian walk into a bar… They're all Owen Brodie.
It's only funny if you aren't the hilarious struggling comedian who has been hired to be his son's nanny for the stand-up tour.
Dear Ms. Hogan,
I'm emailing to offer you the job as my son's nanny because Sam had a temper tantrum when I told him I can't hire you to come on my stand-up tour with us. "She heckled me at a club a few years ago," I wanted to say. "She is the sassy little turd who trolls me on Twitter," I could have told him. "She's an even bigger pain in the butt when we're face-to-face," I thought to myself. What I would never tell him is—
things could get complicated. For reasons
.
Let me know if you want the job.
With great reluctance,
Owen
#AdorableHowObsessedYouAreWithMe
Dear Mr. Brodie,
Thank you for your email. Please inform Sam that I like him very much and would love to be his nanny and accompany him on your terrible joke of a stand-up tour.
I can assure you—things will not get complicated. For many, many reasons.
Primarily because Owen Brodie isn't funny, and he can suck it.
Out of financial desperation and a fondness for your son,
Frankie
#GetOverYourselfPrettyBoy
Add to your Goodreads TBR
➜
http://bit.ly/FB-KL-GR
PURCHASE NOW
Amazon Universal:
mybook.to/FunnyBusiness
TEASERS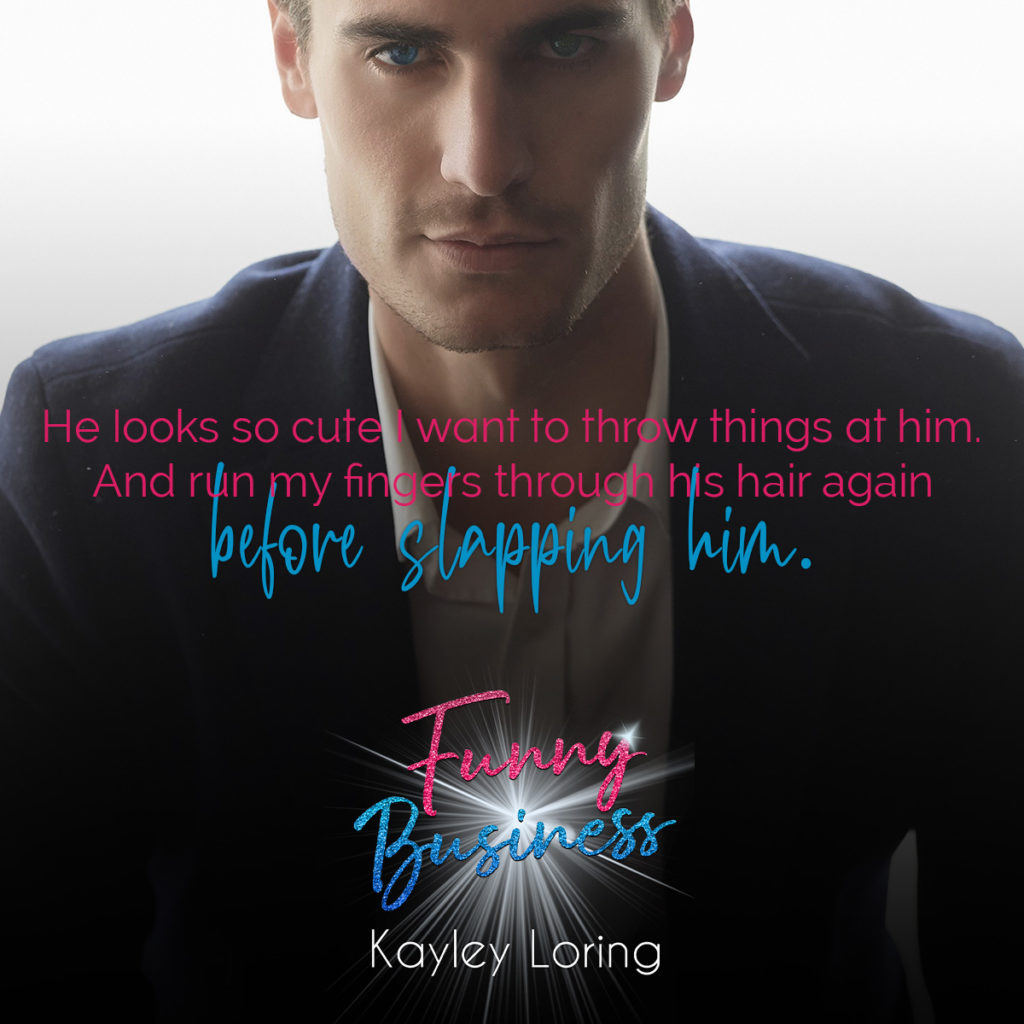 ABOUT THE AUTHOR
Before writing steamy romantic comedy novels, Kayley Loring got a BFA in creative writing from a Canadian university and had a fifteen-year career as a screenwriter in Los Angeles (under a different name). She mostly wrote PG-13 family comedies that studios would pay her lots of money for and then never make into movies. In 2017 she decided to move to the Pacific Northwest and write about all the fun stuff that she wasn't allowed to write about in those PG-13 scripts. Now she's breathing cleaner air and writing dirtier words. It's an adjustment she's happily getting used to.
AUTHOR LINKS
Instagram
|
Facebook
|
Facebook Reader Group
|
Website
|
Newsletter
|
Audio Newsletter
|
BookBub
Funny Business was rife with laughter, witty banter, and well timed quips that Kayley Loring is a master of bringing to her characters.
I think Frankie may be my favorite Kayley Loring heroine, ever. Her sarcasm and jokes, and the way she hid behind those things as a way not to leave herself vulnerable is something I have too used as armor.
Owen was cocky and extraordinarily confident, but in some ways he was just as self conscious as the rest of us mere mortals. When he began to open up he was actually incredibly sweet, and oh how this man can make you swoon.
Owen and Frankie had chemistry before they ever met, 2 people in the same profession that were nemesis on the outside and a raging inferno on the inside.
Their sarcasm and wit was flawless, and I became addicted to their back and forth. It was a fine balance of laughter and panty melting, and no batter which side of the beam they were on at the time they kept up with one another in mesmerizing fashion.
I adored that Frankie not only had an immediate connection to Sam, but that it rivaled the one she had with Owen. They immediately had a fondness for one another that tugged at my heartstrings. Sam brought his own brand of humor into this story and it was easy to see he got some traits from his dad that will inevitably make this adorably unique kid a heartthrob some day.
I'm already in love with the Brodie family, and I'm really looking forward to spending more time in this world.
Funny Business grabbed my attention in the very first pages, and soon after reality faded away and I spent hours engulfed in The Brodie Brothers world. An alluring blend of exhilarating chemistry, a swoony hero, a sassy heroine, rife with laughter, witty banter, steam, sprinkled with feels, and an added bonus of an equally witty sarcastic family that I can't wait to visit again.