SEE MY REVIEW BELOW
🔥🔥 𝗛𝗢𝗧 𝗡𝗘𝗪 𝗥𝗘𝗟𝗘𝗔𝗦𝗘 🔥🔥
𝗕𝘂𝗿𝗻 𝗶𝘁 𝗗𝗼𝘄𝗻 (𝗧𝗵𝗲 𝗦𝗮𝘃𝗮𝗴𝗲 𝗖𝗿𝗲𝘄 𝗕𝗼𝗼𝗸 𝟯) 𝗯𝘆 𝗝𝘂𝗹𝗶𝗮 𝗪𝗼𝗹𝗳 𝗶𝘀 𝗟𝗜𝗩𝗘! 𝗗𝗼𝗻'𝘁 𝗺𝗶𝘀𝘀 𝘁𝗵𝗶𝘀 𝗵𝗶𝗴𝗵 𝘀𝗰𝗵𝗼𝗼𝗹 𝗲𝗻𝗲𝗺𝗶𝗲𝘀 𝘁𝗼 𝗹𝗼𝘃𝗲𝗿𝘀, 𝘀𝗲𝗰𝗼𝗻𝗱 𝗰𝗵𝗮𝗻𝗰𝗲 𝘀𝘁𝗮𝗻𝗱𝗮𝗹𝗼𝗻𝗲 𝗿𝗼𝗺𝗮𝗻𝗰𝗲!
#𝟭-𝗰𝗹𝗶𝗰𝗸 𝘁𝗼𝗱𝗮𝘆!
BLURB
I'm the smart girl with my nose constantly in a book. The one with the level head who never breaks the rules…until I do.
And wouldn't you know, the one person who knows about my case of 𝐭𝐞𝐦𝐩𝐨𝐫𝐚𝐫𝐲 𝐫𝐞𝐛𝐞𝐥𝐥𝐢𝐨𝐧 is the last one I'd ever want to find out.
Gabe Fuller might be Savage River High's class clown, but as far as I'm concerned, he's a 𝐯𝐢𝐥𝐥𝐚𝐢𝐧 𝐢𝐧 𝐝𝐢𝐬𝐠𝐮𝐢𝐬𝐞. Once upon a time, I gave him my heart, but our ending was no fairytale.
As the keeper of my 𝐝𝐚𝐫𝐤𝐞𝐬𝐭 𝐬𝐞𝐜𝐫𝐞𝐭, Gabe thinks he owns me. I'll play along because I have no other choice, but I'll never bow, and I definitely won't fall…no matter how good his hands feel on my curves.
𝐀𝐮𝐭𝐡𝐨𝐫'𝐬 𝐍𝐨𝐭𝐞: 𝐁𝐮𝐫𝐧 𝐢𝐭 𝐃𝐨𝐰𝐧 𝐢𝐬 𝐚 𝐡𝐢𝐠𝐡 𝐬𝐜𝐡𝐨𝐨𝐥 𝐞𝐧𝐞𝐦𝐢𝐞𝐬-𝐭𝐨-𝐥𝐨𝐯𝐞𝐬 𝐫𝐨𝐦𝐚𝐧𝐜𝐞 𝐰𝐢𝐭𝐡 𝐦𝐚𝐭𝐮𝐫𝐞 𝐭𝐡𝐞𝐦𝐞𝐬 𝐚𝐧𝐝 𝐝𝐮𝐛𝐢𝐨𝐮𝐬 𝐬𝐢𝐭𝐮𝐚𝐭𝐢𝐨𝐧𝐬 𝐬𝐨𝐦𝐞 𝐫𝐞𝐚𝐝𝐞𝐫𝐬 𝐦𝐚𝐲 𝐟𝐢𝐧𝐝 𝐨𝐟𝐟𝐞𝐧𝐬𝐢𝐯𝐞. 𝐈𝐟 𝐡𝐞𝐫𝐨𝐞𝐬 𝐰𝐡𝐨 𝐚𝐫𝐞 𝐛𝐫𝐢𝐠𝐡𝐭 𝐚𝐧𝐝 𝐟𝐮𝐧𝐧𝐲 𝐨𝐧 𝐭𝐡𝐞 𝐨𝐮𝐭𝐬𝐢𝐝𝐞, 𝐛𝐮𝐭 𝐛𝐫𝐨𝐤𝐞𝐧 𝐚𝐧𝐝 𝐝𝐚𝐫𝐤 𝐨𝐧 𝐭𝐡𝐞 𝐢𝐧𝐬𝐢𝐝𝐞 𝐚𝐫𝐞𝐧'𝐭 𝐲𝐨𝐮𝐫 𝐭𝐡𝐢𝐧𝐠, 𝐭𝐡𝐢𝐬 𝐛𝐨𝐨𝐤 𝐢𝐬𝐧'𝐭 𝐟𝐨𝐫 𝐲𝐨𝐮!
Add to your Goodreads TBR:
http://bit.ly/BID-GR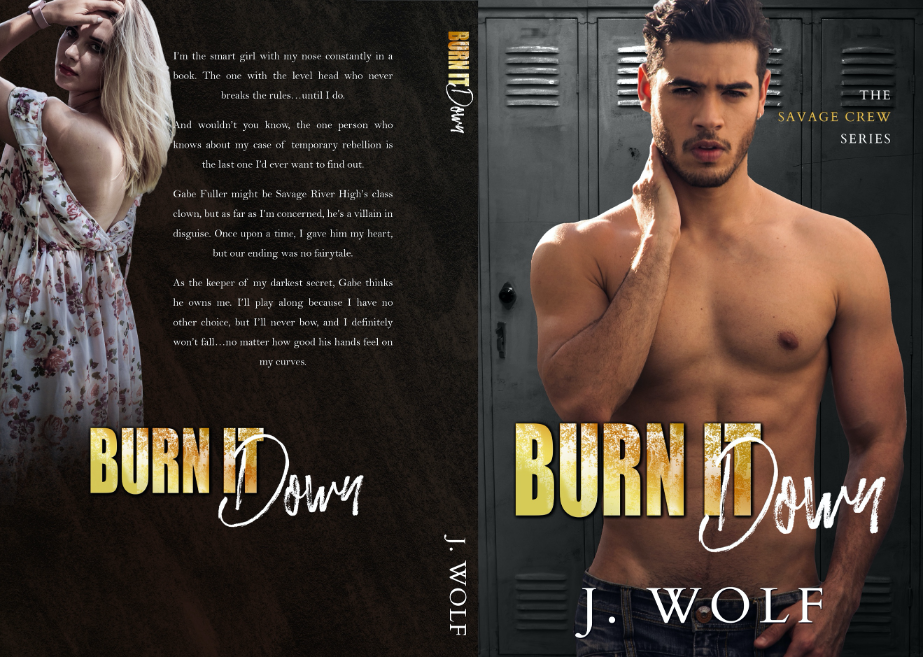 PURCHASE LINK
Amazon Universal:
https://books2read.com/BurnItDown
TEASERS
ABOUT THE AUTHOR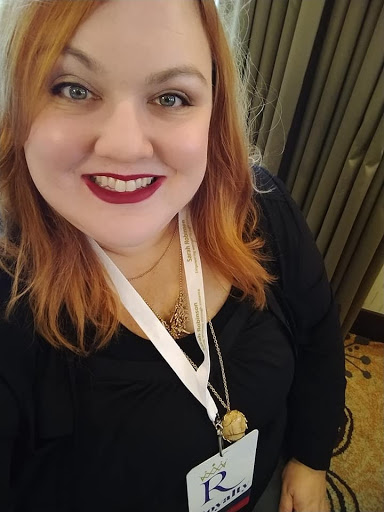 Julia Wolf is a lover of all things romance. From steamy, to sweet, to funny, to so dirty you'll be blushing for days, she loves it all.
Formerly a hair stylist, she spent years collecting stories her clients couldn't wait to spill. And now that she's writing full time, she's putting those stories to use, although all identifying characteristics have been changed to protect the not-so-innocent!
Julia lives in Maryland with her three crazy, beautiful kids and her patient husband who she's slowly converting to a romance reader, one book at a time.
AUTHOR LINKS
Facebook:
https://www.facebook.com/AuthorJuliaWolf/
BookBub:
https://www.bookbub.com/profile/julia-wolf
Instagram:
https://www.instagram.com/authorjuliawolf/
Twitter:
https://twitter.com/JuliaIsWriting
Reader group:
https://www.facebook.com/groups/JuliaWolfReaders/
Burn It Down was an explosive finale to the Savage Crew series.
Don't tell the rest of the crew, but Pen and Gabe are my new favorite.
Penelope was a good girl, follows the rules, intelligent, and quiet. In a moment she let her overwhelming feelings slide out which landed her in a bit of hot water.
Gabe is from the wrong side of the tracks, and he's willing to do whatever it takes to make sure he doesn't get stuck there. He's a mix of cocky alpha-hole and swoony. I loved him, I hated him, I wanted to hug him, I wanted to punch him.
Gabe and Pen had a past, and the anger Pen had for him was as palpable as the chemistry they shared. It was so clear that they had shared something profound, and that whatever it was before Gabe had lit the match that left their past in a pile of ashes. The thing is, with chemistry as strong as they share there were still embers in that pile of ash waiting for a little breeze to bring it back to a fiery blaze.
My feels weren't prepared for Gabe and Pen's story, my heart felt like a ping pong ball being hit back and forth, aching for Pen, breaking for Gabe, and so on, if there were ever a fictional couple to deserve a lifetime of happiness it was these two.
I loved the exchanges between Pen and Gabe. Pen was sassy with Gabe in a way she wasn't with others, and Gabe was calm when Pen was close. He was her chaos and she was his tranquility.
I spent countless hours immersed in the Savage Crew world, it felt a bit bittersweet because I wasn't ready to say goodbye to these characters they've ingrained themselves in my heart.
Burn It Down is my new favorite in the Savage Crew Series. An all-consuming unputdownable blend of searing chemistry, a swoony alpha-hole, a heroine finding her inner strength, wicked retorts, witty banter, unceasing waves of feels, from giggles to tears, and ultra hot steam.