SEE MY REVIEW BELOW
🖤 𝗛𝗢𝗧 𝗡𝗘𝗪 𝗥𝗘𝗟𝗘𝗔𝗦𝗘 🖤
Corrupting Ivy by Ann-Marie Davis is LIVE! Don't miss this Age-Gap and Anti-Hero standalone romance!
#1-click today!
BOOK BLURB
There are no heroes in this story, only monsters disguised as them.
I wanted to stay hidden… anonymous.
But fate had other plans.
After stumbling upon a grim scene that threw me into the spotlight, my life is turned upside down, and I'm no longer safe.
Then he walked in.
The one everyone warned me about.
He's rumored to have more demons than Hell.
But the devil is oh so tempting…
WARNING: This book is a DARK/ANTI HERO romance. It contains graphic content of murder and reference to child abuse that some readers may be particularly sensitive to. If you are sensitive in any way, proceed with caution.
PURCHASE LINK
🖤
Amazon Universal:
mybook.to/CorruptingIvy
🖤
TBR:
https://www.goodreads.com/book/show/58611652-corrupting-ivy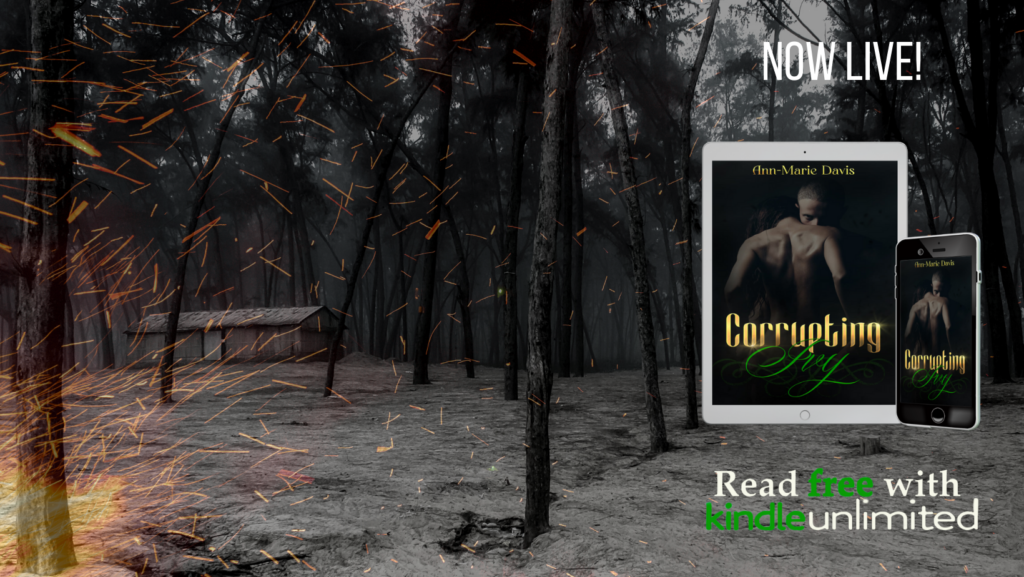 TEASER
ABOUT THE AUTHOR
Amazon's International #1 Best Seller in Gothic Romance
I have an awesome husband, three kids, and two dogs.
I swear uncomfortably too much, speak sarcasm as if it's my first language, and love to shock people for the reaction. Mainly because I need a good laugh. I love to make people laugh. Crazy, right? The dark romance author should be writing rom coms, not murdering and maiming people.
If I don't start my day with creamer and a splash of coffee, lives *will* be taken.
When I'm not writing, I'm dreaming up new stories, hiking or camping with my family, or going on road trips.
I contribute my sass to being raised by two Marines and a driller that could match my attitude and then some.
AUTHOR LINKS
WEBSITE:
www.authoramdavis.com
FACEBOOK:
https://bit.ly/3tyZjzY
FB READER'S GROUP:
https://bit.ly/2QmXasJ
AMAZON:
https://amzn.to/3vLucmu
BOOKBUB:
https://bit.ly/3tUgFrl
IG:
https://bit.ly/3lIYEt6
| @authoramdavis
TIKTOK:
https://bit.ly/3vMw7HK
| @authoramdavis
NEWSLETTER:
https://bit.ly/2QtsUwr
I love to hear from readers so please contact me at
AnnMarieDavis88@gmail.com
if you have any questions or comments.
You can also contact my PA at:
AnnMarieDavisPA@gmail.com
If you have read Ann-Marie's previous books then you've already met Randall, and have been quite curious about his story.
**This story will be best enjoyed by going in with no spoilers, and so my review will be quite a bit more vague than usual**
Ivy wasn't really anything like I had expected in who Randall would end up with, but as I read I realized that they were perfect for one another.
Ivy was all heart, although life had given her every reason to become numb to emotions, she was kind and gentle, always finding good in others.
Randall, doesn't just not do emotions, he flipped the switch decades ago, and can't fathom ever wanting to feel anything other than the life drain from someone by his hand.
Polar opposites in many ways, and yet so perfectly made for one another.
The storyline had several levels of all-consuming, one was the relationship between Ivy and Randall, but the others were the ever growing suspense, and heart thundering twists, and holy shot turns.
I think there were times I barely took a breath through an entire chapter while my head raced with what I thought would happen.
The chemistry between Ivy and Randall is immediate, and becomes more intense with every situation they find themselves thrust into. The emotional connections may develop differently than what would be "normal" for others, but with Randall nothing having to do with emotions will ever be the same as what others experience.
An unputdownable psychological page turner. A perfect blend of immediate chemistry, a dark anti-hero, a sweet heroine, heart pounding suspense, wtf twists, hair raising turns, and steam.