SEE MY REVIEW BELOW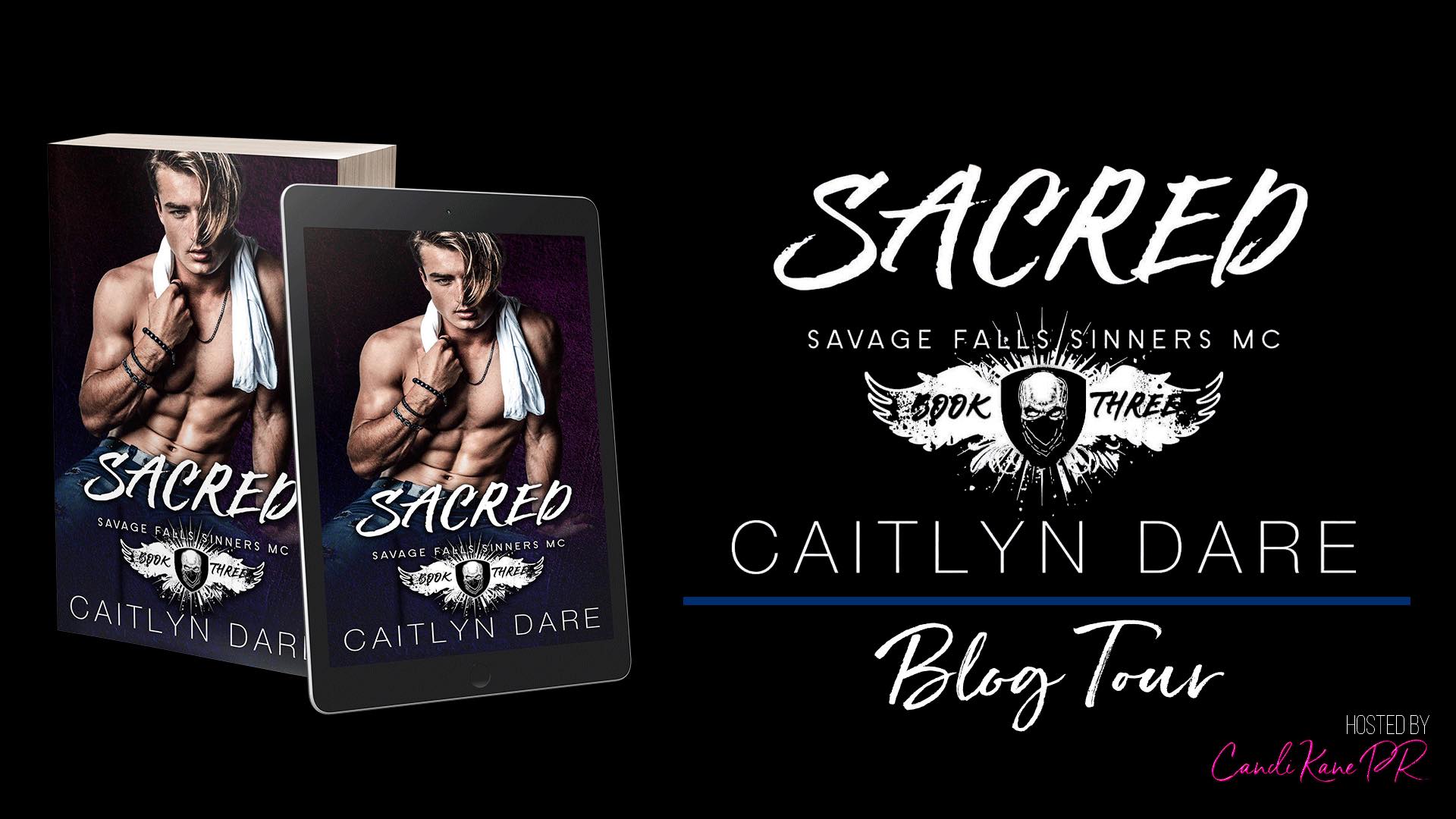 SACRED (Savage Falls Sinners
MC
#3) by Caitlyn Dare
Release Date: September 2nd
Genre: Dark Romance
Tropes: Enemies to Lovers /Bully/High school/MC/Reverse Harem
Add to Goodreads:
http://bit.ly/SFSbook3
AVAILABLE NOW!!!
mybook.to/SacredSFS
Start The Series with SAVAGE, Book #1! FREE IN KU!!!
http://mybook.to/SavageSFS
SACRIFICE, Book #2!!!
https://mybook.to/SacrificeSFS
PREORDER SEVER, Book #4!!!
http://mybook.to/SeverSFS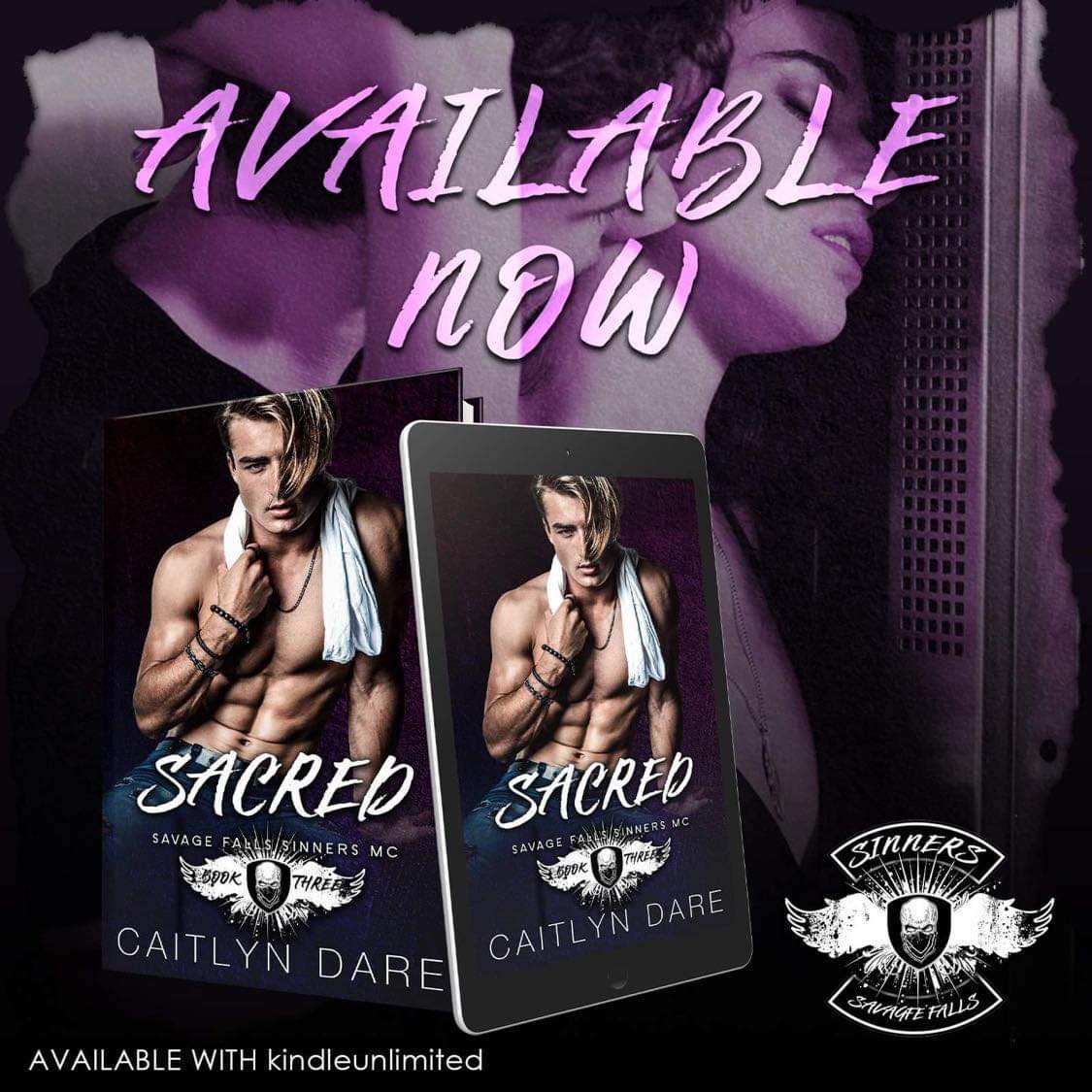 Blurb:
The next installment in the dark romance series from the bestselling author of the Rebels at Sterling Prep series…
I knew there was more to the threat than we first thought…
I didn't know that when the truth came out everything would change.
In the aftermath of Darren Creed ripping through the Sinners, the club is in chaos. And Dane will need us now more than ever as he comes to terms with the secrets of his childhood and the scars he bears.
Rhett, Wes, and I are determined to keep him grounded, determined not to lose him to the monsters that haunt his dreams.
Because some monsters are real.
And before we get our happy-ever-after, we're all going to have to face the things we're afraid of most.
SACRED is a full length dark enemies-to-lovers/bully romance. This is a why choose novel, meaning the main character has more than one love interest. It is book three in the series and must be read after SAVAGE and SACRIFICE.
About the Author:
Two angsty romance lovers writing dark heroes and the feisty girls who bring them to their knees.
Connect w/Caitlyn:
Website:
https://www.caitlyndarebooks.com
Facebook:
https://www.facebook.com/caitlyndarebooks
Facebook Group:
https://www.facebook.com/groups/CaitlynsDaredevils
Goodreads:
https://www.goodreads.com/author/show/20272477.Caitlyn_Dare
Instagram:
https://www.instagram.com/authorcaitlyndare
Amazon:
https://amzn.to/2TlYSw7
Bookbub:
https://www.bookbub.com/authors/caitlyn-dare
Sacred is by far Caitlyn Dare's steamiest, most boundary pushing book to date.
Sacred picks up where Sacrifice left off, not only does it pull you in deeper to the Savage Falls Sinners MC world, once you're fully immersed, you will have your limits pushed, and with all the twists and turns your heart rate will be erratic from beginning to end.
Sadie's connection with the guys continues to not only deepen but strengthen, the emotional connection that was only lurking in the back of their thoughts in the previous books has now become equally as palpable between them all.
Secrets have been revealed, more threats have been made, and lives are in danger, it seems that for every move they make towards one enemy, an unforeseen threat sets their sight on Sadie and her guys.
I loved seeing Sadie, Dane, Rhett, and Wes, all begin to fully embrace the depths of what was happening between them. It was a build up of emotional tension that has been intense since the moment we met these characters. Not only as Sadie began to fall for them, but as they all realized that the 4 of them were meant to be.
Emotions are exploding to the surface in an effort to allow them to embrace something tangible while threats are looming. In an effort not to allow one another to drown in the chaos surrounding them they ventured into exploring one another's fantasies, and it was hands down the steamiest scenes I've read this year.
Sacred brought with it a whole array enthralling new elements of the Savage Falls Sinners MC world. A heady blend of assiduous chemistry, an unshakable bond forming between Sadie, Dane, Rhett, and Wes, mind jarring twists, unsettling turns, and a 5-alarm fire level of steam.