SEE MY REVIEW BELOW
💕🖤 ℍ𝕠𝕥 ℕ𝕖𝕨 ℝ𝕖𝕝𝕖𝕒𝕤𝕖 🖤💕
#𝗠𝗿. 𝗦𝗶𝗹𝘃𝗲𝗿 𝗯𝘆 𝗥𝗮𝗰𝗵𝗲𝗹 𝗝𝗼𝗻𝗮𝘀 & 𝗡𝗶𝗸𝗸𝗶 𝗧𝗵𝗼𝗿𝗻𝗲 𝗶𝘀 𝗰𝗼𝗺𝗶𝗻𝗴 𝗟𝗜𝗩𝗘! 𝗗𝗼𝗻'𝘁 𝗺𝗶𝘀𝘀 𝘁𝗵𝗶𝘀 𝗲𝗻𝗲𝗺𝗶𝗲𝘀-𝘁𝗼-𝗹𝗼𝘃𝗲𝗿𝘀 𝗿𝗼𝗺𝗮𝗻𝗰𝗲!
#𝟭-𝗰𝗹𝗶𝗰𝗸 𝘁𝗼𝗱𝗮𝘆!
BLURB
Sterling Golden—Cocky football star. Rich Playboy with a secret. Guy I'd most like to throat-punch. The cherry on top? I'm stuck pretending to be this d-bag's girl for the next few months.
When I spotted him sneaking out the Dean's window—a woman whose reputation precedes her—I could've minded my business. But it's not every day you catch your nemesis in such a compromising position, so I did what any self-respecting person would've done.
I added fuel to the scandal that ignited, then laughed while the cops hauled him off in nothing but handcuffs and his boxers.
Of course, the arrogant prick found a way to rope me into the lie that got him out of trouble. Which means the only way I come out of this unscathed is to go along with it, pretend we're a thing.
Most girls would kill to be on the arm of a Golden triplet, but I'm counting down the days until it's over. In public, we give the city the show they crave—a chance to witness their local bad boy falling in love. But when we're alone, the gloves come off and we give each other hell.
Only, who knew exchanging insults and cruelty could feel a bit like… foreplay?
There's an expiration date on this arrangement, but as we turn up the heat to convince our city this "relationship" is the real deal, Sterling and I sometimes forget that it isn't. He might think his recent fall from grace was a disaster, but if he makes me regret this, I swear I'll make his life a living hell.
Fool me once, shame on you. Fool me twice… your belongings might mysteriously catch fire.
Consider this your final warning, Mr. Silver, because it's the only one you'll get.
***
Mr. Silver is a full-length standalone novel (roughly 100k words). This book can absolutely be read on its own, but for the sake of flow and clarity, it's recommended that you start with book one, THE GOLDEN BOYS (a bully romance trilogy within this series).
Do you love the frustratingly hot push and pull of a good enemies-to-lovers romance? Then you'll love getting to know Sterling and Lexi. Due to adult themes and sexual situations, this one's only for the 18+ crowd.
One-click and get lost in this story today!
Smooches,
RJ & NT
Add to Goodreads ➜
https://bit.ly/MrSilver-GR
PURCHASE LINK
AMAZON UNIVERSAL:
https://books2read.com/u/3Jpx9P
GIVEAWAY:
To celebrate the release of #Mr. Silver, Rachel Jonas & Nikki Thorne have a $20 Amazon gift card and a paperback up for grabs. Stop by to enter:
https://www.facebook.com/authorracheljonas/
Catch up with the Kings of Cypress Pointe series!
THE GOLDEN BOYS (Book One):
https://books2read.com/u/m0lYQP
NEVER HIS GIRL (Book Two) :
https://books2read.com/u/4ApkNJ
FOREVER GOLDEN (Book Three):
https://books2read.com/u/bOy1KK
PRETTY BOY D (Book Four):
https://books2read.com/u/mlAZNB
MR. SILVER (Book Five):
https://books2read.com/u/3Jpx9P
Pre-order SEXY BEAST (Book Six):
https://books2read.com/u/bo8r1R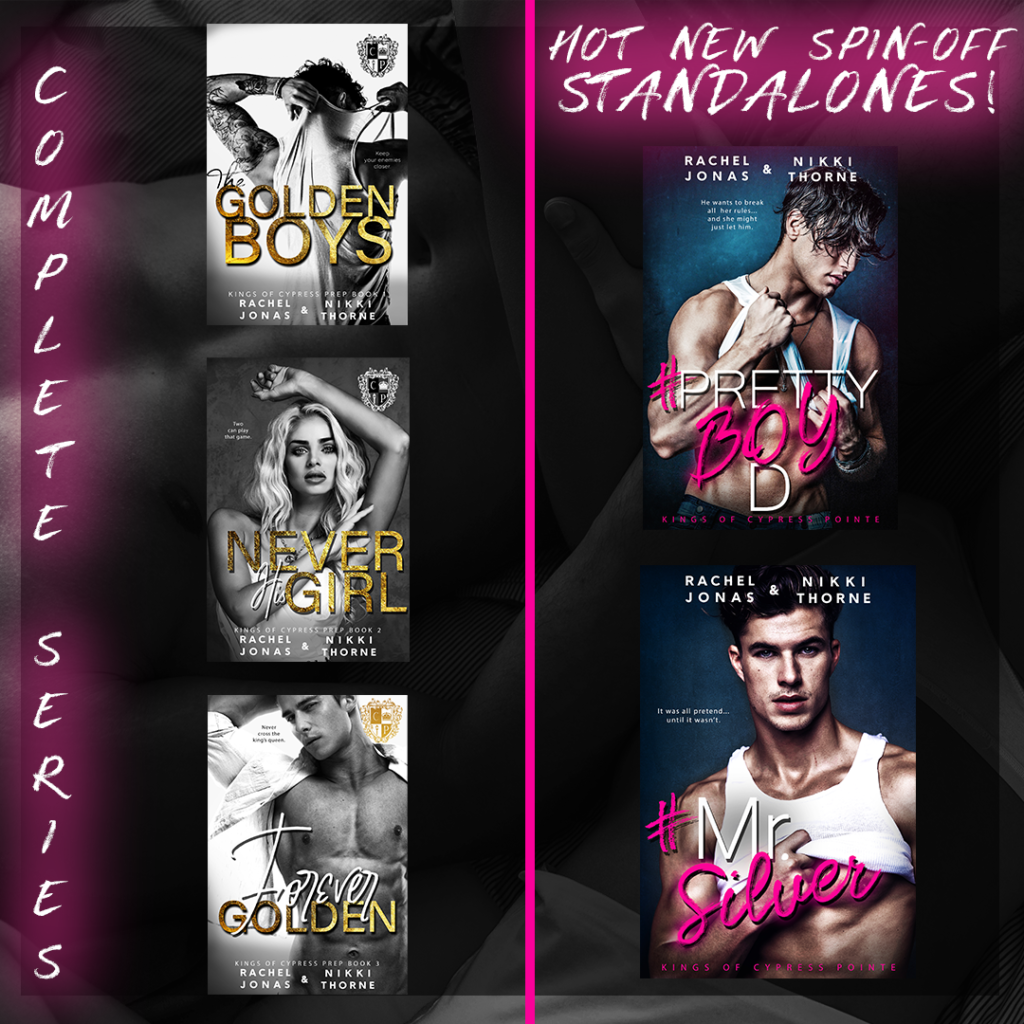 AUTHOR LINKS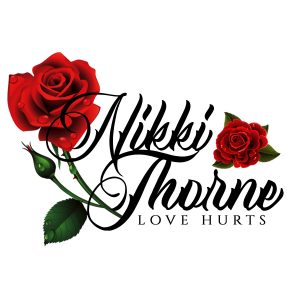 Facebook
|
Reader Group
|
Instagram
|
Twitter
|
Mailing List
|
Goodreads
|
Amazon
|
BookBub
|
Pinterest
|
TikTok
#Mr. Silver is my new favorite in the Kings of Cypress Pointe series, and without a doubt, one of the top reads of 2021.
While this is a stand-alone, I believe it's best to read the series to fully appreciate it, as the dynamics of the Golden Crew play an important role in each couple's story.
Lexi is as sassy as they come; she doesn't take anything from anyone; she's got a fire burning inside her; her personality may be fiery, but her heart and emotions are on ice. She has a group of friends she adores, but she keeps them at a safe distance, never allowing them to see too much of her, to avoid any further pain. She's already been dealt more than her fair share, and one of those times was by none other than #Mr. Silver.
Sterling carries himself with a cockiness that seems to have been ingrained in the Golden Boys from birth, but he's so much more than that. For years, he'd been carrying the weight of the world on his shoulders, and not being able to share it with his brothers was wearing on him. He had his sights set on the prize, did everything he could to protect his family, and put everything he had into football. He hadn't expected to find what his brother had, let alone with the girl who had despised him for years.
When Sterling and Lexi were near each other, you could feel the animosity that surrounded them. But it was the connection between them that filled every page with palpable energy that they couldn't deny, no matter how hard they tried. Once they were able to let go of their animosity from the past, everything between them became as natural as breathing; they had this ability to read each other that made every feeling between them that much more tangible.
This story had an unexpected level of emotion for me, or maybe it was because aspects of Lexi's feelings were personal to me. I recognized some of my own fears in hers. The fears we try our best to keep locked away, never allowing anyone to see the brokenness inside that prevents us from letting anyone fully in, all while subconsciously hoping maybe someone will see it and find a way through our barriers and prove to us that our fears are unfounded.
Jonas and Thorne have created a world that will keep you glued to the pages, absorbing the words like you need them to live; a Gossip Girl type drama that is nothing short of addictive, emotions that will wrap their way around your heart, and characters that will embed themselves in your soul.
#Mr. Silver is an addictively all-consuming blend of a tangible connection, a possessive alpha, a fiery heroine, scathing looks and snarky retorts, secrets revealed, drama like only Cypress Pointe can deliver, emotionally gripping, fervid levels of steam, and a group of friends who transitioned from a crew to their own family.