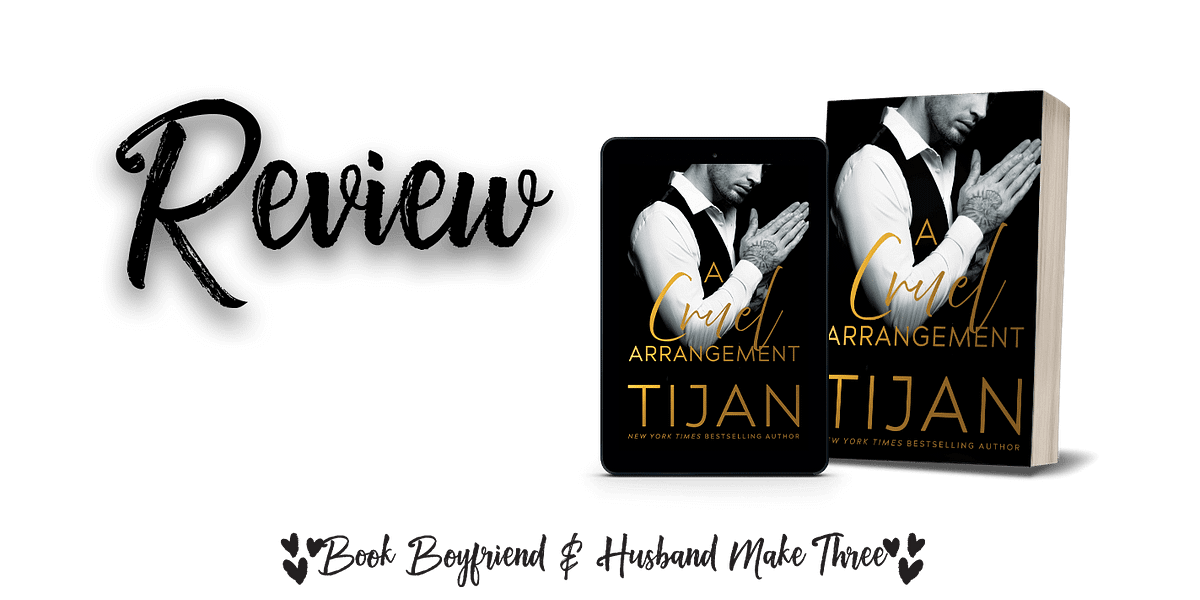 ⭐️⭐️⭐️⭐️⭐️
A Cruel Arrangement is the second book in the Kings of New York series, and it was even more enthralling than the previous book. One word, and I knew my day wouldn't be spent doing what I was supposed to; I needed answers, and the only way to get those was to immerse myself inside this addictively dark and twisted world.
Make sure you read A Dirty Business before diving into this story. Book one not only introduces the world and the characters, but there's a continuing sub-plot that takes place that must be read in order to fully appreciate this dark, twisty, and utterly mesmerizing world.
If you don't like it when the bad guy gets the girl, Ashton isn't the book boyfriend for you. He's the "touch her and I'll 🔪 you" type of guy, and I am ALL THE WAY HERE FOR IT.
Ashton and Molly were chaotic, dark perfection. The tension between them was palpable in the previous book, but that barely scratched the surface of what they shared. They started with a bang, and not the steamy kind. They seemed to be drawn to one another, and the more I read, the more I understood. They saw parts of one another that nobody else did. They didn't shy away from the darkness they saw there; as a matter of fact, they embraced it wholeheartedly.
The first chapter was all it took for me to be completely yanked inside the Kings of New York series and consume every thought and emotion. I read this in one sitting, and to be honest, that wasn't my intention, but it was like I had no choice in the matter. There wasn't a good place to call it a day; there was too much happening. I needed answers that I could only get by staying engulfed in this world. Every page brought answers and questions; long-kept secrets were revealed; and some startling realizations were had by all.
Molly was strong and resilient in the way that those who have little expectations from anyone who enters their lives are. She was resilient because that was the only choice she had. Her strength came from proving to the world and, I think, more so to herself, that she was better than the man who raised her. I don't even think it was a conscious thought. I think she and Ashton had been on the path to forever from the first moment their eyes met. They filled the cracks inside one another that had been inflicted by those who should have protected them.
The pace of the story added more to the intensity. Their enemies were lurking, waiting for the moment they could try to get the upper hand in the war that they started. Between the heart-pounding suspense and the "omg," "WHATTT" moments, there was also a whole lot of heart. Not just Molly and Ashton, but the group as a whole. Molly wasn't only what Ashton needed; she was needed by all of them. Her heart and resilience were what saved what could have been forever broken.
A Cruel Arrangement is teeming with explosive chemistry, a "touch her and I'll 🔪 you" anti-hero, a strong heroine, hear- pounding twists and min- blowing turns, emotions that will bring out both sad and happy tears, and red-hot steam. I really hope we get more Kings of New York, especially if it's about a certain someone…..
About the book
From New York Times bestselling author Tijan comes the intensely passionate story of a man trying to make amends and the woman who makes him want to keep his promises.
This was my place. My business. Easter Lanes.
Then a guy comes in, trying to rob me, daring to take it away from me.
My home. My life.
Hell no. I won't let my livelihood be threatened.
No one knows what I've done to build this life for myself.
Except he might.
Ashton Walden, a man I remember from when we were kids.
Even back then I could tell how dangerous he would be one day.
He's now the head of the Walden mafia family, and my father is so in debt to them that they practically own him.
My dad and I are estranged and I want nothing to do with him or his debt, but the day after the attempted robbery, I don't wake up in the hospital.
I wake up in Ashton Walden's home. And he drops a bomb on me.
If I want my livelihood back, I need to earn it back.
And thus begins our cruel arrangement.
Download today or read for FREE with Kindle Unlimited