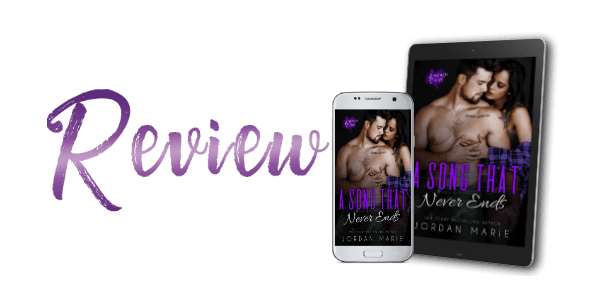 ⭐️⭐️⭐️⭐️⭐️
Goodness gracious, I can't think of a more fitting conclusion to Reed and Callie's story.
A Song That Never Ends is the third book in the Broken Road series and cannot be read independently.
Angst and tragedy, the worst of humanity, seemed as if the world was doing everything it could to keep Reed and Callie apart. They had a heartbreaking journey, and I don't think I've ever wished for a happily ever after more than I did for these two.
Callie had been through hell and back, trauma that one does not simply recover from, and I believe Marie did an excellent job of bringing us the raw, heartbreaking reality of the effects trauma can have on someone after the events. She was healing through hard work, and she was finding her way in the world—a brand new one without darkness lurking around every corner.
Reed, too, had changed; his past and being in the spotlight had changed him; life had hardened him. I'll just say it: adult Reed is more alpha than his younger self, more assertive, but his heart is still my favorite part of him. When he loves, he loves with everything he has, whether it's friends or family, but none more so than Callie.
It had always been obvious that Reed and Callie were meant to be, and their connection had been filled with a potent intensity from the moment they met. They were torn apart by life and the despicable deeds of others. The feeling was like a lightning bolt when they were reunited again, and the meaning behind it was that there was no way they could walk away from each other this time.
Marie used the power of her words to masterfully manipulate my emotions. Reed and Callie's happily ever after was a beautifully woven healing, a rekindling of a love that never wavered and would never die.
A Song That Never Ends is a riveting blend of intense chemistry, a swoony hero, an inspiring heroine, heartrending healing and a heady reconnection, a dash of witty banter, and steam combine to produce a sensational conclusion to Reed and Callie's story.
I believe that is an important role for an author to play when dealing with difficult issues. It infuriates me when an author brings difficult issues into their story but then glosses over the aftermath. Tragedy and trauma do not simply fade away; these are events that alter the very fabric of your being. Marie achieves this by respectfully allowing various aspects of these types of events to resonate within her characters through the heartbreak, hurt, and healing that bleed through them.
Letting Reed go was the hardest thing I'd ever done in my life.
He deserved better than me.
I've made his life hell—even if I never meant to.

He wanted more than I was capable of giving.
How can you love someone when you hate yourself?

Now he's back in town for a wedding.
He has everything he ever wanted.

I can't help but wonder…
Could he still want me?

Conclusion of Callie and Reed's story in the Broken Love Series.
Grab your copy HERE

(3 books series– the others must be read first)

Book 1: Mistakes I've Made: https://books2read.com/u/31erev
Book 2: On My Way To You: https://books2read.com/u/mKdx69