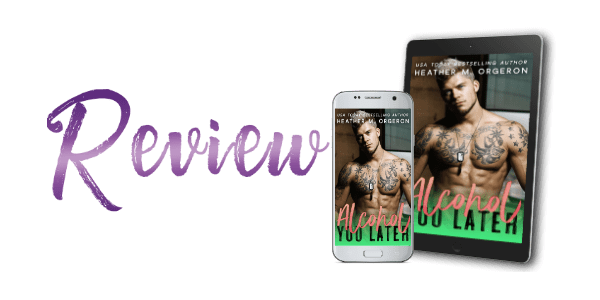 ⭐️⭐️⭐️⭐️⭐️
I'm completely speechless. I'm at a loss for words to express everything I imagined Alcohol You Later would be, as well as the reality of what it was, because it was so much more than I could have imagined.

Orgeron has an uncanny ability to bring a sense of reality to the fictional worlds she creates, and she never fails to leave me in awe.
Raven has a huge loving heart and an unwavering ability to see more in Nick than anyone ever has. We'd all be lucky to have someone who firmly believes that you are more than what you have ever seen in yourself.
She's sassy and witty, and she has a soft spot for Nick Potter the size of the Grand Canyon.
Nick is… To be honest, no single word, or even a few, could begin to scratch the surface of this extremely complex man. Add in having his entire existence completely thrown off its axis, and the complexity grows 10 fold. His views on love and parenting were influenced by less-than-ideal examples, which have distorted his perception of his ability to love those around him. I loved him. I wanted to throttle him. I wanted to hug him. I wanted to get up close and personal with all the bedazzling he had going on.
My emotions were not my own from the first page to the last. Orgeron cast a spell with her words, and my emotions became hers to command. Snort laughter and sobs, every emotion Nick and Raven felt washed over me as if they were my own. Inner fears and the demons we carry that keep us awake at night, they all seeped through the pages, pain like daggers piercing my heart, mixed with the most euphoric happiness swirling inside in a war until one came out on top.
Nick and Raven shared an impassioned physical chemistry, but the cosmic soul-searing connection they shared outshined all else. In the way she loved so wholly and unconditionally, and in the ways he showed her the only way he knew how, they were speaking a language to one another that nobody else could understand.
Alcohol You Later is an exemplary display of Orgeron's talent. I'm in complete awe.

Alcohol You Later had me enthralled from start to finish. A poignant mix of soul-searing chemistry, a beautifully broken hero, a loving heroine, deep emotions felt in every cell in your body, and uber hot (bedazzled) steam.

A top read in 2022 and a new all-time favorite.
Blurb:
They say to never meet your heroes… but what's the rule on falling in love with them?
Raven Winters has been infatuated with Nicholas Potter since the day she tacked his poster to her bedroom wall. So, when she discovered the famous drummer was her college roommate's cousin, it seemed the stars had aligned.
Their attraction was instant, and their chemistry explosive. Unfortunately, Nick wasn't ready to abandon his rock star lifestyle.
Over the years, she's become his best friend—with benefits—and favorite source of telephonic relief when the groupies backstage weren't quite what he was looking for. Those late-night drunken calls kept her holding onto hope.
But all that patience is about to pay off—why else would he invite her to join him on tour, if not to finally confess his feelings?
Too bad, the universe has other plans. It looks like drummer boy's reckless lifestyle has finally caught up to him—and Raven's the one stuck toting the diaper bag.