See my review below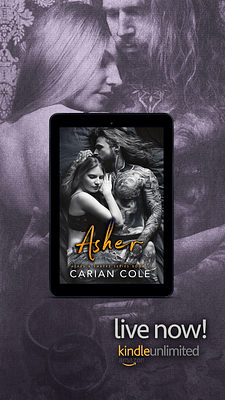 Release Date: June 3
I should have died.
I should have been forgotten.
But I didn't, and I wasn't.
Living the life most women only dream about, I was madly in love with my soulmate—Asher Valentine—amazing husband, loving father, and rock's favorite kick-ass frontman. A man who loved me every day, in every way, since we first met as teens. We were blessed with a beautiful daughter who was the light of our life. My all-female rock band was tearing up the charts.
Then tragedy struck, and I lost it all.
Now all I have is a stack of journals, an antique key, and a big black void where my memories should be.
Used to be.
And I have him—this man with wild hair, tattoos from head to toe, a soft voice, and an even softer touch that gives me butterflies. He's clearly hopelessly in love with his wife.
I'm told that's me.
But that wife is gone, and she took everything they once had, leaving me in her place.
A broken replacement. A new version that doesn't quite fit.
I'm slowly falling in love with him, but will he ever truly love me?
Or will he forever be in love with her, the phantom woman who haunts us both?
Grab Your Copy Here:
Read the other books in Ashes & Embers Here!
Meet Carian Cole
I have a passion for the bad boys–those covered in tattoos, sexy smirks, ripped jeans, fast cars, motorcycles and of course, the sweet girls who try to tame them and win their hearts.
Born and raised a Jersey girl, I now reside in the mountains of beautiful New Hampshire with my husband and our multitude of furry pets and spend most of my time writing, reading, and vacuuming.
I'm a writer. I'm still having a hard time with that word "author". It sounds like such a big word. So serious. So surreal. So for now, I prefer writer.
I started to read at a very young age and began to write as soon as I could hold a crayon and put sentences together. My mom saved most of my writings, and I have them now. Of course back then, my stories were about cute puppies chasing butterflies. Now they're about hot bad-ass men chasing after pretty girls.
Connect with Carian Cole
Hosted By:
5 EXPLOSIVE Stars
I have been excitedly waiting for Asher and Ember's book, those little nuggets of information that were dropped throughout the first 5 books in this series upped my level of excitement about this book and it was absolutely worth the wait.

Tragedy, which ended up being a too close to some real-life events so close in fact that I had to stop reading. I was heartbroken since I had been looking forward to this book after dwelling on it for a few days I talked with the author and I found that if I skipped a few chapters that I would be ok, and I was.
I started at Chapter 7 and was immediately sucked into this world that I already loved with characters I was very curious about. I adored Asher, he's beyond swoon worthy, he was so sweet all the while he was happy and still so incredibly broken. My heart hurt for Ember, over and over. She had so much to deal with from every aspect and it was utterly heartbreaking all while finding herself and falling in love again.

Their names fit so beautifully because the chemistry between Asher and Ember set my world on fire.