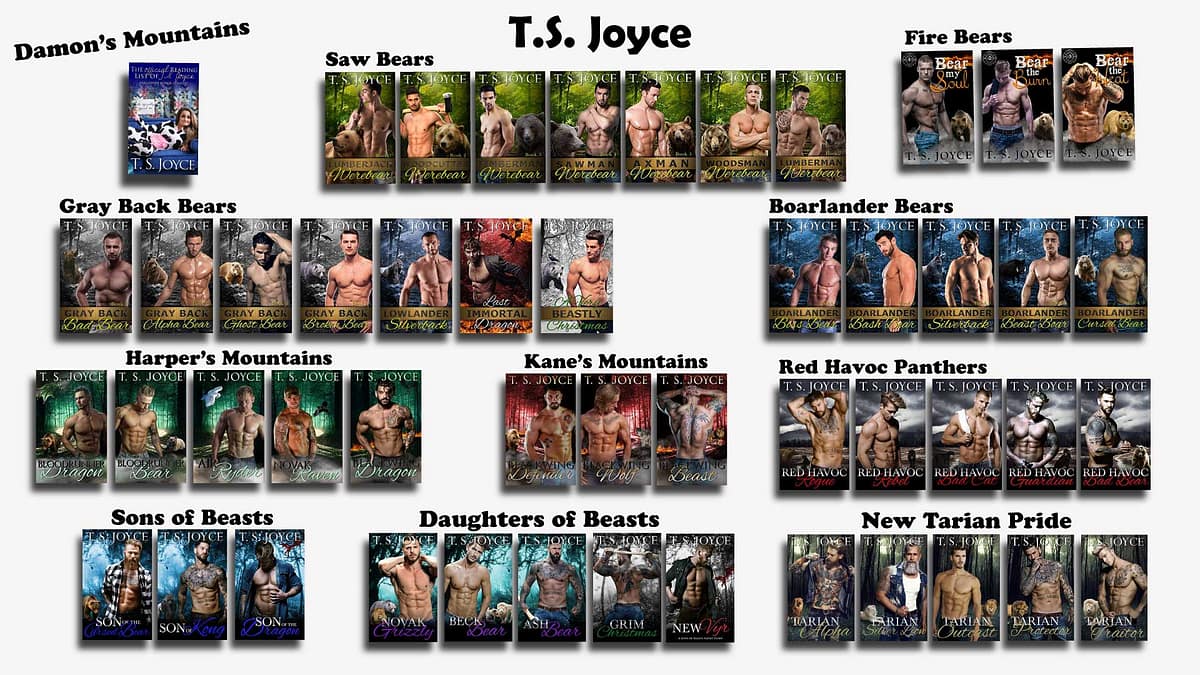 I have read many fantasy and paranormal books over the years but no matter how many I read my absolute favorite always comes back to T.S. Joyce. At this time, she has published over 100 books with many different characters in many different worlds. Shifters that you would never imagine being created end up being your favorite. This is also why I ended up making 2 graphics this week since Damon's Mountain needed a whole page to itself and I couldn't bring myself to leave any books out.
The first series I read by T.S. Joyce was Wolves of Winter's Edge and I loved them, a short time after that I stumbled on Damon's Mountains which at the time was only about half as many in the series published as it does today. I can't even remember if it was my sister that found them or me but we both spent days engrossed in this world with wolves, bears, dragons and big cats. Once we started, we didn't stop until we had read every book that was published at the time. Since then we have read every book released within a few days of it being published.
These books pull you into the world created by T.S. within the first pages and then the journey begins as you fall in love with these broken characters as they prove their inner strength and overcome whatever internal battle they are fighting as they fall in love. Reality falls away and your world becomes one of bears, wolves, dragons, big cats and so many others. It doesn't matter that these "people" change into an animal because many of their struggles are things most people can relate to. In any book written by T.S. you will most certainly get some laugh out loud moments, some giggles all intertwined with a roller coaster of feels. Damon's Mountains can be read as standalones, but I feel like you will get the most out of them if they are read in order. When characters pop up from previous books it makes you feel like you are getting a visit from a longtime friend. Damon's Mountains has come to an end, there are a literal ton of books in that series that should keep you busy for quite a while.
Every book written, different worlds with different shifters but as always with T.S.'s books you can count on falling in love with these worlds and as you come to the end of each book or the end of a series you are left a little heartbroken when you close the book in these worlds you can't help but wish were real. I love every T.S. Joyce book I have ever read but the characters from Damon's Mountains will forever have a place in my heart because those books didn't just hit me in the feels, they hit something clear down to my soul. 1010 wishes and dandelions will forever be special to me and the magic of that is all because of this author and these magical worlds she creates.
T.S. Joyce Amazon Page