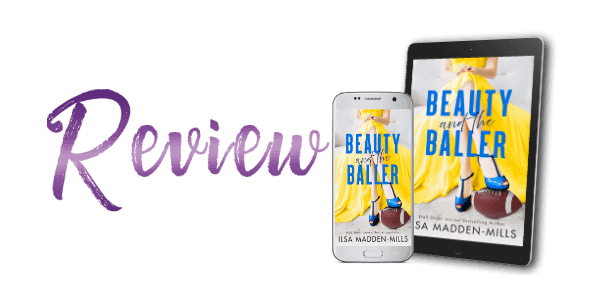 ⭐️⭐️⭐️⭐️⭐️
Beauty and the Baller is an ultimate example of Madden-Mills' talent, a sports romance with clever banter, heartbreak, healing, and, most importantly, heart. These characters and this story will steal a piece of your heart, and as Ronan says, "Win the heart." Win everything. "
Nova's mother passed away, and she returned to her hometown as her sister's guardian. I immediately felt a connection with Nova, as I, too, lost both parents decades before their time, and my sister is the only family I have. The bond between Nova and Sabine resonated with me.
Nova was the ideal combination of sassy and sweet. She had a weakness for athletes, and she was tired of them and the heartbreak they would inevitably cause her. That is, until she comes face to-face with one of the athletes who caused her heart to crack. Nova and Ronan didn't have much of a choice; their future was in the hands of fate.
Ronan was on top of the world until tragedy struck one night and knocked him off.A moment in time that shattered the man he was. He was on the path of self destruction until another night, a very modern twist, a princess appeared, and Beauty saved the Baller.
Ronan and Nova went from a quick burn to a simmering, tension-filled slow burn. The build up was DELICIOUS. The intensity between them makes every interaction feel like foreplay. Every single emotion Ronan and Nova felt flowed from the pages into my heart. Although for different reasons, they had both been through a heartbreaking loss. The bond between them evolved, growing stronger, all the while each was healing in their own ways.
Beauty and the Baller is my new favorite Madden-Mills novel. The connection between Ronan and Nova was innately special, but truly, it wasn't only them that made this stand out amongst others, it was this whole fictional world. The secondary characters were as intriguing as they were entertaining. I hope this isn't the last we see of these characters. I NEED more Tuck in my life.
Beauty and the Baller is an exhilarating blend of a soul-searing connection, a sweet, sassy heroine, a broken hero, witty banter, heartbreak, healing, and a whole lot of heart are woven through every page. Madden-Mills has a knack for delivering sports romances that are so much more than romance.
Blurb
An NFL quarterback turned small-town coach gets sacked by a Texas beauty queen in this swoony, passionate romance from Wall Street Journal bestselling author Ilsa Madden-Mills.
Gorgeous, talented, and brilliant, NFL quarterback Ronan Smith has the world in his hands. But after losing his career and his fiancée in a car accident, he falls into a pit of grief and bad choices. When a mysterious girl shows up to his party, he feels drawn to her and makes her his…for one night.
Former beauty queen Nova Morgan is on a mission. Scantily clad as a princess from a galaxy far, far away, she sneaks into a high-profile party to capture the attention of her favorite quarterback. But her hopes crash after an awful one-night stand.
Fast-forward two years. Broke and desperate, Nova returns home to Blue Belle, Texas, where, by a cosmic twist of fate, her broody neighbor is none other than Ronan, the shiny new football coach everyone adores. But he has no idea who she is.
The booster club keeps shoving women at Ronan to keep him in town. His solution? He proposes fake dating to Nova. But things heat up for real under these Friday-night lights when he realizes she's the one who slipped away.
Has this jaded beauty found her forever baller, or will his past keep them apart?