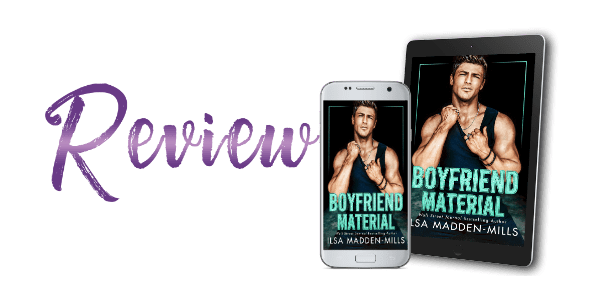 ⭐️⭐️⭐️⭐️⭐️
Eric Hansen isn't just Boyfriend Material; he's book boyfriend material, and we all know book boyfriends are held in higher regard.

A few pages and it was as though no time had passed since I was last immersed in the Hawthorne University world. I giggled, I swooned, and I shed a few tears. Madden-Mills is a master of sports romance, laced with wit, heat, and heart.
Julia is my all-time favorite type of heroine; strong and determined, the type that may be knocked down, but they're never out. She didn't just have a weight on her shoulders, it was on her head, doing its damndest to crush her. She never once considered taking an easier route than the one she was on. She may have had a bit of anger at Eric, but she didn't let life turn bitter.
Eric is a hockey star, a golden boy, a man who has it all, but does he? What you see isn't always what you get. Sometimes what you see is only what the person wants you to see. Eric was being crushed by others' expectations of what his life should be, and in the shadows of a ghost he would never be. He had so much more going on than what he allowed others to see. Below it all, he just wanted to be seen for who he was.
Eric and Julia's connection is palpable from the start, but as the anger wanes, their chemistry becomes an impassioned inferno of lust, forgiveness, mutual respect, and love. I loved that their relationship transpired in a way that felt genuine; it wasn't rushed. The moment they were in the same vicinity after years of keeping their distance from one another, there was no other alternative than for them to rekindle what had started years before.
My heart broke for Eric, for Julia, for what could have been, for the pain they endured that set them on the path they were on. As someone who has addicts in my family, I felt as though Madden-Mills handled it with the heartbreaking reality of what it's like to love an addict. Many heavy topics are touched on in this story, and I felt she handled each and every one of them respectfully, as raw and heartbreaking as it may be.
Boyfriend Material has cemented itself as a new favorite sports romance. teeming with ardent chemistry, a swoony hero, a sassy heroine, emotions that will take your breath away, heartbreak, passion, healing, and love, as well as clever banter, all of which combine to create an all-consuming slow-burn that will stay with you long after you reach the end.