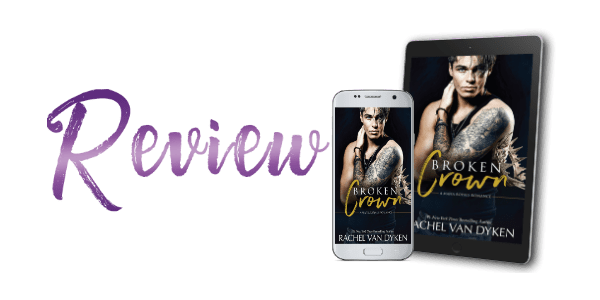 ⭐️⭐️⭐️⭐️⭐️
I'm stunned. Speechless. My emotions are in shambles. Van Dyken has demonstrated yet again why she's the Queen of Mafia Romance. There's mafia, and then there's RVD mafia. They are NOT the same. I am NOT OK.

With the first word of Broken Crown, reality faded away, and you were completely immersed in a universe where the only thing you could see was the drama unfolding on the page, and all you could feel were the emotions evoked by Van Dyken's mesmerizing words.
I'm at a loss for words. There's something to be said for "saving the best for last," and in this case, Broken Crown embodied that phrase in every way imaginable.
Del was on her way to becoming a queen in her own right when she was turned into a pawn, or so some may have thought. She had a strength that came from deep within her, loyalty in her veins, and havoc reigned within her. She was torn between what she expected her life to be and what it was meant to be. A Queen whose fate was intertwined with that of her King.
King proved that, while he was born with that name, when it came to the Costra Nostra and the Campisi blood coursing through his veins, it wasn't just a name, but a destiny. He immediately stole my heart and, with it, my emotions. His pain, fears, sacrifices, and heartbreak commanded my heart in an iron grip.
King and Del had a connection that was as intense as the life-and-death world they lived in. In every moment, you could feel the blaze between them. They were fire, but in the midst of that was a figure lingering about. No matter how many times it tried to extinguish what they had, nothing and no one could change the path they were on. Their fate was sealed, embedded in one another's soul, until it ends.
Broken Crown did not break me; rather, it annihilated every part of me. In the beautifully selfless actions, there is heartbreak. I was pushed to the brink of devastation to the point where it was difficult to breathe. I wasn't just reading it; I was living it. I drank in every word as if I needed it to survive, and every emotion was felt with a pummeling intensity in my core. I sobbed, unable to see the words, and even as I wiped them away, they seemed to flow faster.
Van Dyken has once again left me speechless. This mafia world she's created has become a part of me in ways I've never experienced before. It's a world where the mafia rules, but it's your loyalty, unconditional love, and enthralling words that make this fictional world a place of solace; you become a part of the story, as the characters become ingrained in your soul. This isn't "just" a series; Van Dyken's mafia world is a way of life. Once you enter, there's no getting out. Blood in. No out.
Broken Crown is a beautifully heartbreaking, bittersweet goodbye that I'm not prepared for, so saying it was "saving the best for last" doesn't feel adequate.

An outstandingly unputdownable combination of searing chemistry, a painstakingly selfless King, a strong heroine, and laugh out loud witty remarks provided a breath of fresh air as my emotions were in shambles, uncontrollable SOBBING, and a "five alarm fire" level of steam, and as if by magic, Van Dyken weaves all your shattered pieces back together.

A top read for 2022 and my new favorite in the Mafia Royals series.
Blurb:
From #1 New York Times bestselling author Rachel Van Dyken comes the final standalone in the bestselling Mafia Royals Romances…
Unrequited Love.
Arranged Marriage.
A love triangle for the ages.
A contemporary mafia retelling of King Arthur and the Knights of the round table.
I will do anything for my family, and as the heir to the Campisi Mafia throne, I fall on my sword and do what's expected of me—it wasn't an accident that I was given the name King.
I marry the girl I love—who's already in love with someone else, and because I'm a masochist, I make him her personal bodyguard.
After all, who better to protect the woman I love than the man she loves?
I have seven days after our wedding to own her—body and soul.
Seven days to show her everything I feel.
But tragedy strikes, and I'm forced to take the weight of the mafia crown on my head.
Now I need my Queen by my side.
I don't know who's with me or against me, but I will rule them all with an iron fist and make everyone proud.
As our seven days come to an end, I wonder how I will ever be able to let her go.
"Until it ends," I whisper.
A tear slides down her cheek. "Until it ends."
Amen.