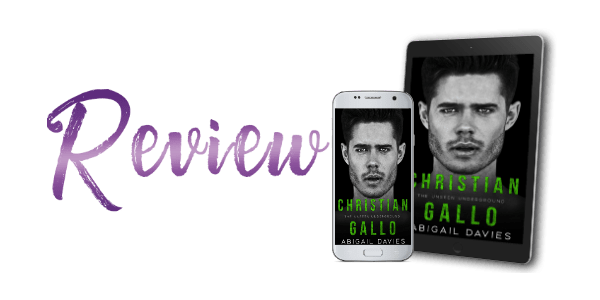 ⭐️⭐️⭐️⭐️
Older brother's best friend and mafia combined, yes please, Christian and Sofia's story is an enthralling blend of each.
Sofia has grown up as the daughter, and later the sister of the Boss, but in those roles she was always protected from the ugliness the life had inside. She was naive in a lot of ways, yet in others she knew more than she was ever meant to. She was on the quiet side, used to fitting the role she was expected to, but there was something brewing just beneath the surface of the quiet girl who did what she was told, and the man she'd crushed on from the moment she met him was the person that would bring her sassy side out.
Christian has been best friends with Lorenzo since they were children, side by side as they both rose to the highest ranks, Lorenzo as boss, and Christian his underboss. Chrustian's personality was a bit on the soft side as far as what I felt fit the role. I like my mafia men commanding and with a darkness from the world they live in to be a part of their personality, and while Christian was a bit ruthless in the mafia side of his life, he was more "normal."
The first interaction between Christian and Sofie felt forced, but thankfully in the next scene it felt natural, not just natural but palpable. Sofia had this a level of sass and defiance that she never had before, she knew what she wanted and she was no longer willing to accept less than.
Sofia's emotions hit every one of my feels, even managing to make a few tears leak out. There were moments I wanted to reach inside the pages and knock Lorenzo upside the head. My heart ached for Sofia and Christian, at different times for different reasons. Their emotions fueled their actions, and with that brought a heartbreaking tragedy.
Christian Gallo is an intoxicating blend of palpable chemistry, feels, and steam.
Blurb:
She was off limits, but the moment I touched her she was mine.
I'd climbed the ranks of the Beretta Mafia from the age of eighteen, never once wavering in my devotion to the organization.
I did what was needed, no matter the cost.
The Mafia came first. Always.
But that changed the moment my lips pressed against hers. The forbidden fruit that I wasn't able to resist.
The one person I could never truly have.
Sofia Beretta.
The little sister of my best friend—and my boss.
I'd been a trusted ally to Lorenzo Beretta since we were kids, but now I'd crossed a line. One that I wasn't sure I could come back from.
I was trapped between loyalty and love.
So I made the only choice I could see.
I chose him—I chose the Mafia.
I told myself I did the right thing. I told myself it was best for everyone.
But I'd made a grave mistake.
Now the choice was clearer than ever.
I had to fix it.
I had to get her back.
But was I too late?
Christian Gallo is an all new standalone in the Unseen Underground series. A forbidden, best friend's little sister, addictive, angst filled, mafia romance that will have you turning the pages non-stop.
Grab your copy HERE
Connect with Abigail Davies
Website: https://www.abigaildaviesauthor.com/
Newsletter Sign Up: http://bit.ly/2wNorb9
Facebook Author Page: http://bit.ly/2oHTocn
Facebook Reader Group: http://bit.ly/2Nj66fr
Goodreads Author Page: http://bit.ly/2wTNuJV
Twitter: http://bit.ly/2PHhFLe
Instagram: http://bit.ly/2NlBSZi
Amazon Author Page: https://amzn.to/2LZFc7K
Bookbub Author Page: http://bit.ly/2Ci99QS
Pinterest: https://bit.ly/3pWIzUp