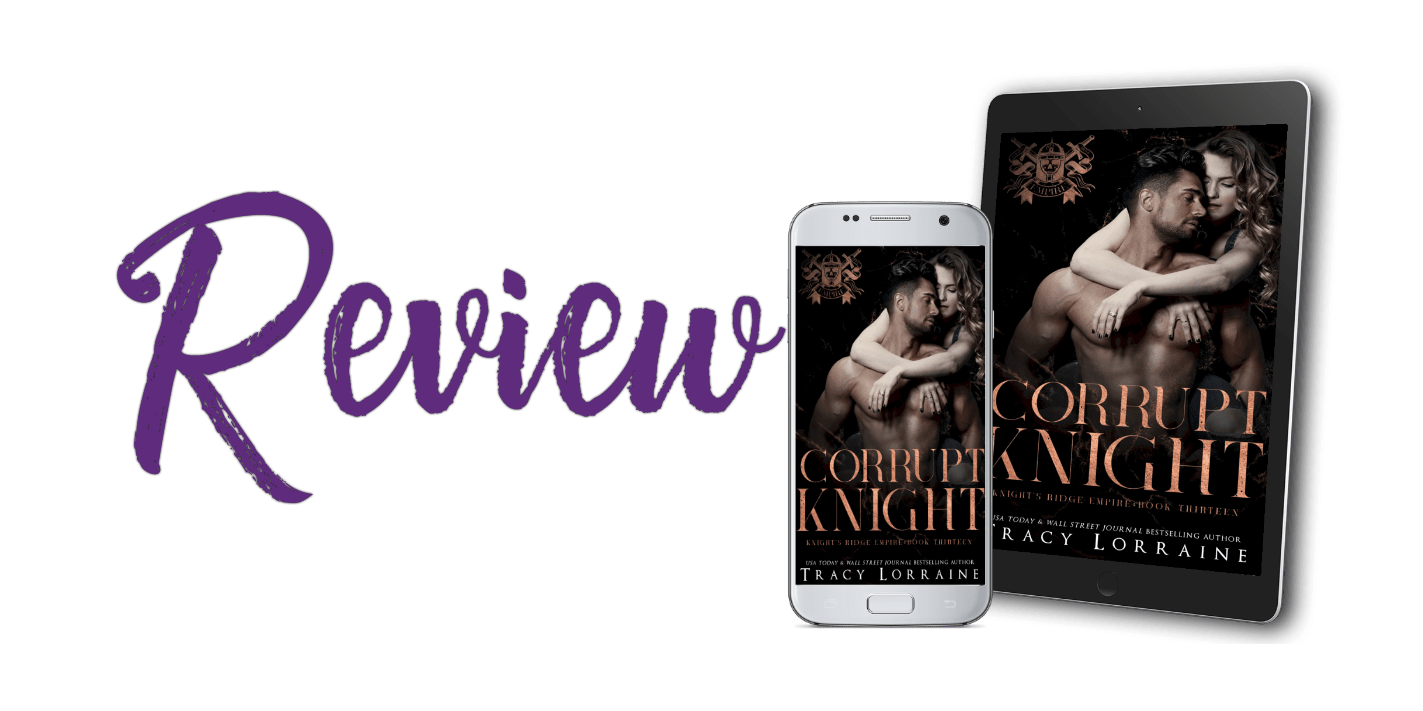 ⭐️⭐️⭐️⭐️⭐️
Lorraine stories are addictively dark literary crack. She continues to outdo herself with every fucking release, and the beginning of Nico and Bri's story continues that streak. Absolute perfection wrapped in a "fuck that cliffhanger" bow.
Corrupt Knight is the first book in Nico and Bri's trilogy, and I don't think any other couple has had a more explosive start. Although, to be fair, Nico and Bri's story began during the previous trilogy, until now we really didn't have a clue what they had between them, and I don't think they do either.
Bri is a firecracker, there's no other way to describe her. She's independent and comfortable with who she is, all while doing everything she can to become the person she wants to be. She has no intention of becoming a one-woman man, but it appears that every time she spends time with Nico, she loses a piece of herself to him, and he seems to be the only person that makes her second guess herself.
Nico is a bellend; it's basically just at varying degrees. Which kind of makes him one of my favorites, but thankfully we aren't here to talk about what the reason behind that might be. He was downright hateful at times; most often, it was directed at Bri, but it seemed nobody was off limits. He didn't want to want Bri, and more than that, he didn't want her to be the balm on his shattered soul, and because she was, although he would never admit it, he made her pay for it at every opportunity.
The chemistry between Nico and Bri is on another level. It's as explosive as it is combustible, but because neither of them wants to consider what that might mean between their impassioned physical chemistry, the words between them are thrown at each other like toxic knives meant to cause the most damage. I'm not sure any of the other guys could compete with Nico in this little game. That obviously means he's my new favorite because that mouth of his is 🔥🔥.
As always, Lorraine does an exploratory job portraying every emotion the characters feel. From the pain stemming from the loss Nico suffered to the way Nico and Bri's words were tossed at one another like daggers. My heart was invested in their story long before I opened this book, but I never could have expected what was waiting for me.
There's something that sets Nico and Bri apart from the previous couples, maybe because we had a little glimpse at their beginning or a million other reasons. There's a darkness between these two that lurks on every page, keeping you completely enraptured from beginning to end.
Corrupt Knight is everything I love about Knight's Ridge to the nth degree. An enrapturing blend of explosive chemistry, an absolute bellend alpha-hole, a strong heroine, feels, nonstop twists and heart pounding turns, many muttered "ffs" and "hfs," with a side of "this mfer," five-alarm fire steam, and a "wtf" cliffhanger that will have you tossing your kindle.
Lorraine's words are woven together with literary crack, making it impossible to stop once you begin.
This series is about so much more than the couples; it's the friendships between these characters that make it so much more than dark romance reads. The words "ride or die" are quite literal inside the Knight's Ridge Empire world.
⭐️⭐️⭐️⭐️⭐️
Corrupt Princess continues where Corrupt Knight left off. This isn't even a slight exaggeration; my heart has yet to get back to beating normally, even after finishing.
There are no less than 16 million different things that take place in this book, but this isn't the type of story you want to seek spoilers for, so I'll be extra vague.
Bri and Nico are so far past who they were when we first met them that I'm not sure you can fully grasp it without experiencing it all for yourself. My heart bled on the pages right along with theirs, more than once, and for so many reasons.
Nico was far more broken and battered on the inside than he ever had been on the outside. My heart physically ached for him and all he'd been through. To an extent, there was so much that was understandable. There was never going to be anyone for him but Bri, but he was too deep in grief, drowning in it, to be able to see anything but his own pain. He was on the verge of actions and words he would never come back from, and by a stroke of luck, he managed to hit rock bottom without irreparably damaging the lives of those he loved most. He needed to find a way to once again be able to hold his head above water, and rock bottom has a way of doing that.
Nico was a different kind of toxic than any of our other Knight's Ridge guys, and to some extent, that made sense. He and Bri were both all about physical connections, with both of them wanting less than zero emotional attachments. It had been there the whole time, though, and I think it was something that the others saw but weren't anywhere near ready to face.
The amount of tears that flowed from my eyes was far more than I had anticipated, but seeing someone slowly heal who has suffered a loss similar to yours has a way of combining the gut-wrenching pain you've felt with instilling a bit of hope into the depths of your soul.Loss and grief are tangible feelings that many of us can relate to, and I feel Lorraine did an amazing job at bringing those to life.
Bri and Nico are as tumultuous as they are addictive, and I think some of that will always be a part of them with their strong and stubborn personalities. I think the hard road they've traveled will make them all the stronger for it.
The story went a little something like this:
😢😲😬😨🤯😍😈🥵💘😭😱🤬
Corrupt Princess checked every one of my boxes. An unputdownable blend of explosive chemistry, a morally corrupt alpha-hole, a BA heroine, witty banter, heartbreaking emotions, and hot AF steam More than anything, this group of friends has formed their very own family, and you feel very much a part of it.
Lorraine's ability to make this very fictional world feel like home is a true testament to the level of her talent. I just have to figure out how to survive until I have the conclusion to Nico and Bri's story . All I want for Christmas is Corrupt Union on my kindle… that cliffhanger was the ABSOLUTE WORST (in the best way)!