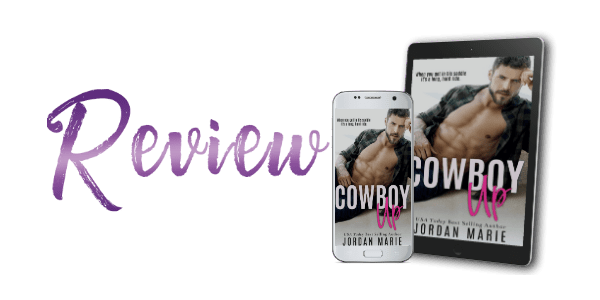 ⭐️⭐️⭐️⭐️⭐️
I'm at a complete loss on how to express my love for Blue and Meadow's story. Not to sound cliché, but it was more than worth the wait.

As always, Marie weaves a story teeming with love and laughter, and interwoven throughout every page is heartbreak and healing.
Meadow had been let down time and again by people who claimed to love her, so she built a wall around her heart, but when it came to Blue, she encased her heart in cement. After all, he had been her greatest heartbreak. Meadow was a sassy and sweet nurturer who I adored.
Blue is quiet, which contrasts with the rest of the Lucas family. I fell madly in love with him because he was this quiet, broody cowboy, and holy swoon, right? Emotions poured out of him; he felt them deeply, and they flowed right out of him, searing your heart over and over.
Blue and Meadow's connection in the previous books was only a sliver of the fire that burns between them. The tension between them has the potential to ignite the world around them, but their past appears to be trying to extinguish it at every turn.
For years, I had invested my emotions in Blue and Meadow, but nothing could have prepared me for the tears that would flow while reading their story. The pain of the past weighed heavily on both of their hearts, and it was felt with every moment that it ate away at their chances of happiness. Not all of the tears were shed because of sadness; some were shed as a result of a parent's unconditional love.
With each book, Marie instills the love of this family in the hearts of her readers. When you first open it, you feel as if you're immersed in a world that you completely identify with, and with each page, your heart becomes lighter than it was at the start. Jansen has once again stolen a piece of the show, his love for Ida Sue and their children touching the deepest part of you. He was born to be their father; every time he speaks, his tone has a "dad vibe," and as someone who can no longer have that in real life, Jansen gave me a taste of what my soul craved.
Cowboy Up personified the adage "it's worth the wait." A riveting blend of explosive chemistry, a broody cowboy, and a sweet heroine, brimming with emotions, steam, and Ida Sue antics that will have you laughing out loud, all surrounded by a fictional family abounding in love.
Blurb
They say old wounds will heal with time—but that's a damn lie.
Blue Lucas knew the moment Meadow moved back to Mason she was going to rip him apart.
Seeing her every single day is hell on earth, but he survives it–probably because losing her destroyed the most important parts of him years ago.
Meadow has spent her life running away from Blue because who she is will never be enough for what he is.
She accepted that long ago, mostly because she didn't have a choice.
Then, she proceeded to make every bad decision a woman could make in retaliation.
She paid for that in spades.
Moving back to Mason wasn't her first choice, but when her mom fell ill, she did it without question.
She tries her best to avoid Blue but he's always there, staring at her with hate in his eyes.
It's not fair.
If anyone should hate the other in this scenario, she should hate him.
Except, she doesn't hate him at all.
That makes avoiding him her only option.
It's a perfect plan.
Now if his mother would just cooperate…
Connect with Jordan Marie:
Website: https://www.jordanmarieromance.com 
Facebook: https://www.facebook.com/JordanMarieAuthor 
Facebook Group: https://www.facebook.com/groups/JordanMariesReaders 
Instagram: https://www.instagram.com/jordan_marie_author 
Goodreads: https://www.goodreads.com/author/show/9860469.Jordan_Marie 
Amazon: https://www.amazon.com/Jordan-Marie/e/B00RY72I2U 
Bookbub: https://www.bookbub.com/authors/jordan-marie