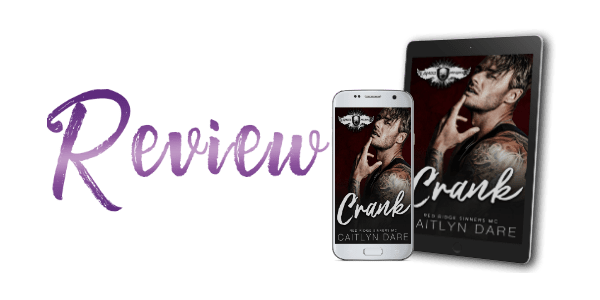 ⭐️⭐️⭐️⭐️⭐️
Crank is a standalone novella set in the Red Ridge Sinner MC world.
If you're looking for a quick read that is teeming with chemistry, a possessive, dirty-talking biker, and a sassy heroine, with a tension filled push and pull that builds up to explosive steam, then look no further. 
If you've read the previous books, you'll know that the chemistry between her and Crank was there from the moment they laid eyes on each other. She's so determined that the life she grew up in wasn't what she wanted that she continuously pushes Killian away, which quickly turns into a form of foreplay between them.
Crank (Killian) thought that all he needed was a night with Quinn to get her out of his system, but that one night led to an all-out addiction to the girl that was determined to keep him at a distance. 
If you've been eyeing Dare's MC series but haven't taken the plunge, this is the perfect place to start. You get a small glimpse of both MCs along with the dynamics between the characters.
Killian is a dirty-talking biker mixed with a swoony alpha. As soon as he realizes how strong the connection between him and Quinn is, he pulls out all the stops to make sure she comes to the same conclusion. 
Crank offers the perfect blend of off-the-chart chemistry, a sassy heroine, a dirty talking alpha, and a tension filled push and pull between them that leads to explosive steam.
Blurb:
Bestselling author of the Savage Falls Sinners MC series, Caitlyn Dare, brings you a new, dark enemies to lovers crossover novella.

My name is Quinn Renshaw, and my father is the VP of the Savage Falls Sinners MC.

But I refuse to be a club princess.

I want more from life. I want to graduate and go to college and spread my wings. I want a life beyond Savage Falls and club life.

Until him.

Killian Crankton, VP of the Red Ridge Reapers.

He looks at me and I feel things. Things I don't want to feel. Dangerous, deadly things. Things that will end up with my heart in tatters.

Because I'm about to find out that Crank will do anything to get wants he wants.

Especially me.
CRANK is an age gap, opposites attract crossover story set in the Sinners MC world but it can be read as a standalone. If possessive, tattooed, motorcycle-riding alphaholes aren't your thing, you probably won't like this book!