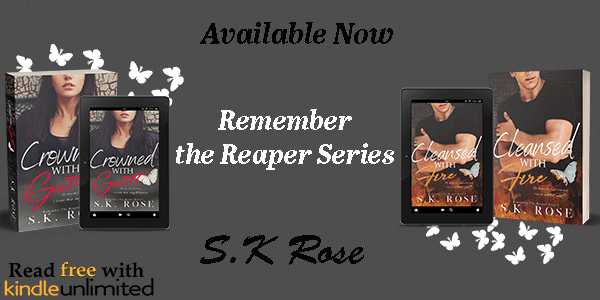 CROWNED WITH GUILT
Blurb:
As a child, I discovered a castle.
It became a sanctuary from the nightmare that was my life, but my fairytale truly began when he found me.
The boy with green eyes and crooked smile.
The boy with stories and an imagination that could take us far, far away.
In our castle he was the prince, and I the princess.
For the first time in my life I was safe, happy.
I was loved.
But every fairytale has a villain, ours would be no different.
I just never expected the villain to be me.

5 Crown worthy stars

I can't believe this is S.K.'s debut novel. It took a few chapters and then I was immersed in the pages with Tessa and Drew as reality disappeared around me. It's been a long time since I have cried over tragedy in a book but this hit some feels that have long been buried.

The characters were beautifully written and the storyline was the type that has you reading as fast as you can because you need to know what happens. I'm really excited to dive into book 2
CLEANSED WITH FIRE
Blurb:
I remembered her. I remembered everything.
But was it a blessing or a curse?

Half of me was still in love with the blue eyed girl wearing my crown around her neck. The other, felt betrayed that she could walk away when I needed her the most.

Struck down by her absence, an internal war brewed within my kingdom. Along with my childhood memories a new emotion was unleashed, one I was unable to control.

Rage

Unbridled, unrelenting, rage.
I was thinking about these characters while I laid in bed and instead of going back to sleep since the sun wasn't even up I grabbed my kindle and started reading, I needed to know what would happen with these characters that consumed my every thought over the entire weekend.
At the beginning of book 2 it's clear Tessa and Drew have changed a lot and as you turn the pages and learn these new versions of them I fell more in love and at some points I wanted to jump in the pages and knock them out. These beautifully broken people fell harder as they fought through tragedies that were meant to defeat the words were so fascinatingly woven together that the pain they feel brought pain to my chest, their happiest moments had me seeing hearts, and the lows of their sometimes devastating journey made my heart heavy and my stomach ache as I had tears pouring down my face.
I'm sure this book brought out emotions I haven't felt in a long time and I loved every single second of it. What an incredible way to spend my weekend. This is one of those series that will stay with me long after I write this review.