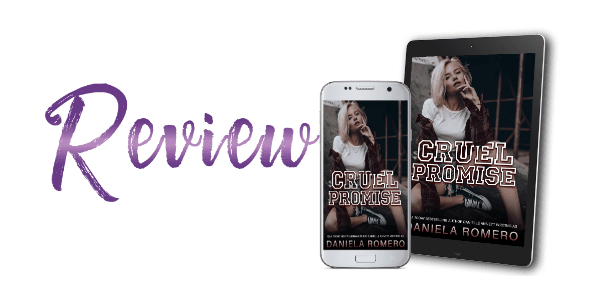 ⭐️⭐️⭐️⭐️⭐️
Dom and Kasey are fire and ice, punishment and praise, a possessive AF alpha-hole and a heroine that excels in pushing all his buttons, a combination that makes Cruel Promise Romero's hottest book to date.
Cruel Promise is book 2 of Kasey and Dom's story, and it cannot be read as a standalone.
Kasey's been through something devastating. She needs time and distractions until she's ready to face her grief. In her own time and in her own way, so in the meantime, she and Dom come to an agreement that works for both of them.
The chemistry, along with the INSANElY explosive tension between Kasey and Dom, has become an entity all on its own. It may have been that there had always been something wafting in the air between them that they continued to ignore, but with one touch there was no turning back. They were becoming consumed by one another in the most devilishly wicked ways.
Cruel Devil seemed to set the stage for Dom and Kasey going from enemies who co-existed to lovers who decided to give in to the attraction between them. Cruel Promise is more intense physically between the two, but there are many more layers of emotion, not just between them, but individually too. I shed a few tears with Kasey on several occasions because, as someone who lost my mother around the same age, many of her emotions were familiar to me. It adds a uniqueness to the connection you feel with characters that are living a nightmare you've lived through too.
Kasey's sassy stubbornness and Dom's alpha-holeness were the perfect combination for back and forth banter that acted as foreplay and created some of the hottest scenes I've read this year.
Cruel Promise plucked me from reality in the first words, and inside the Sun Valley High world is where I stayed until I reached the end with a whispered "wtf".
Blurb
Grief is a fickle bi*ch, and I'll do anything to escape her.
That includes sleeping with my brother's very off-limits best friend.
Dominique Price wants me.
My body. My mind. My soul.
And he can have me.
Behind closed doors and away from prying eyes.
As long as helps me forget my pain, and promises to stay the hell away from my heart, I'll be his.
And for a short while, he'll be mine.
But, we're playing a dangerous game. One whose rules are swiftly being ignored.
I want him. Need him. Might even be addicted to him.
Only, happily ever after was never in the cards for us.
And it looks like I'm the idiot who forgot that.