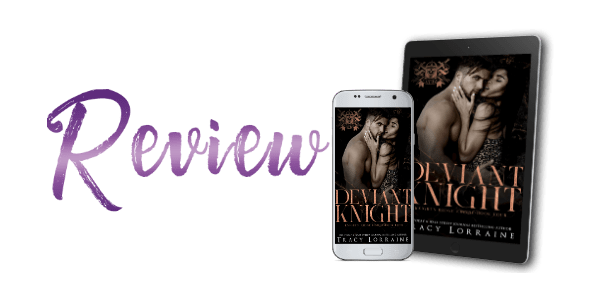 ⭐️⭐️⭐️⭐️⭐️
Tracy Lorraine has no limit; each book she publishes adds so much to the Knight's Ridge Empire world; more twists and turns, more darkness, but it's the characters she's created that make this series epic.

The story of Daemon and Calli is appropriately titled "Dark Knight." Daemon's darkness is unlike the others. Calli appears to be the catalyst for his tranquility and brings his demons out to play.
I'm at a loss for words when it comes to expressing my admiration for Daemon and Calli's story's beginning. Again, the level of Lorraine's talent permeates every page, leaving me awestruck. Although it takes place in the Knight's Ridge universe, Lorraine has surely started this trilogy off with a helluva bang, blood, and a stalker-level possessive anti-hero. Consider my mind blown.
Calli isn't the girl we first met. A piece of her that had been all but extinguished by others' expectations of her was rekindled by Stella and the other people who came into her life.
She's transforming into the person she was always meant to be. She's not the sweet little princess they expect her to be; instead, she's fiery and carries a host of wicked desires that she has only recently become aware of, all with the presence of her Dark Knight.
Daemon was a surprise I didn't see coming; a fantastically dark and unique type of knight. He has a distinct personality that although he's lurked about in the pages of the previous books, he managed to bring me endless intrigue on every page. He owned the role of "Alpha AF" anti-hero book boyfriend. He sticks to the shadows, but when he steps out, "hfs," so freaking hot…
There's much more to him than the smeggsy demon. He's been put through the wringer, and it's caused him to become the man he is—one who watches and lurks while missing out on being present in the lives of his friends and family.
I'm not sure if there's a word to describe the connection between Daemon and Calli. It's well beyond searing, it's intoxicating with a side of explosive. She's the light to his dark. He's the devil with a soft spot for an angel. She was his heart, and he was her soul. Oh, and the steam? Next level, dark on the verge of pitch black, where boundaries aren't a thing, but knives and ropes are… I'm here for it, and this is only the beginning.
My emotions were a whirling mess. In the way they saw one another, in a way that nobody else did. The expectations that others had for them and the little snippets we get of what Daemon keeps buried deep inside of him. My heart ached while my eyes consumed every single word of this enthralling story.
Lorraine never fails to leave me completely and utterly astonished. Daemon and Calli's connection, along with the Angel and Devil vibes, creates a whole different type of dark between them that's unlike anything else. I will be waiting impatiently to see what is in store for them in Dark Princess.
Every girl needs a man who will lurk in the shadows, appear like a Dark Knight, and make sure she knows who owns her pleasure and her pain while he brands her body and soul. Daemon is that man, and yet there's still so much more about him we've yet to see. He's an orgasmic dark mystery. I licked him. He's mine.
Dark Knight is fucking epic. Cancel life, and prepare to become consumed by Batman and Calli from the first word until you are muttering "wtf" as you read the last.

Dark Knight is an enticing blend of explosive chemistry, a stalker-level anti-hero, an angelic (ish) heroine, enchanting mystery, "wtf" twists, and steam that allows you a glimpse of what happens when the devil gets his hands on the not so innocent angel.
Read FREE with Kindle Unlimited
Start the Knights Ridge Empire Series today!
CLICK THE IMAGE FOR MORE DETAILS
Blurb
She's the mafia princess he was meant to stay away from.
And he did.
Until that one night when he was able to hide his identity and his darkness under a different kind of mask.
But one taste wasn't enough.
Only the next time their paths cross, his inner demon is truly exposed.
Can she handle it, or will his darkness send her running back to her castle and smothered life?