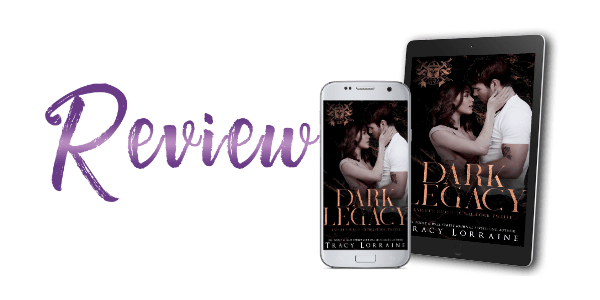 ⭐️⭐️⭐️⭐️⭐️
Daemon and Calli's story isn't one you want to seek spoilers for; not only will you be doing a disservice to this enthralling story, but to yourself. There are so many moving parts that play out, not only in Calli and Daemon's story, but in the overall series. Each couple's story is wrapped up in their trilogy, but this series is more than mafia, more than love stories, more than the masterfully intricate storylines; it's the perpetual loyalty to one another, and the way they so fiercely stand by one another.
Super extra more vague than ever, because this is a book you want to dive into blind and enjoy the ride.
I don't even know where to start. Lorraine has again left me speechless yet again. The magic of Calli and Daemon's story didn't just shatter the glass ceiling; Dark Legacy obliterated it. A gut-wrenching masterpiece, and even that doesn't do this trilogy justice.
From the start, there was something so unique about Daemon and Calli. I can't really pinpoint one thing because it was everything. From their chemistry to the brokenness inside of them that only began to mend when they finally gave into the fire between them.
It's such an amazing feeling to open a book that's set in a country you've never been to, and yet within a few words, you feel at home. Your mind is consumed by all the twists and turns, the character's emotions become infused with your own, and the friendships that become ingrained in your soul. The Knight's Ridge world has a way of enrapturing you, and I'm looking forward to what's to come.
Dark Legacy solidifies Daemon and Calli's story as the best trilogy in the Knight's Ridge series. An enchanting blend of an utterly enthralling storyline, explosive chemistry, a broken dark knight, a not so innocent princess, gut-wrenching ugly cry moments, clever banter, wtf twists and hfs turns, and hot AF steam. Unequivocally a top read of 2022 and my new favorite by Lorraine.