SEE MY REVIEW BELOW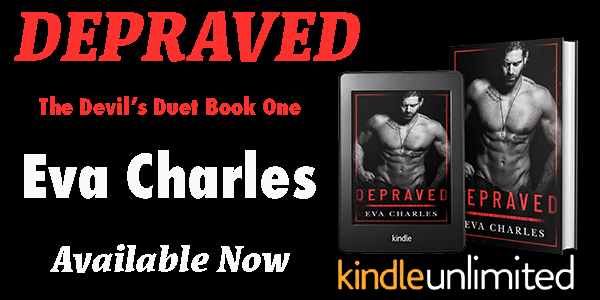 Blurb:
Smoke and mirrors. A web of lies. He's come for the devil's ultimate prize.
J.D. Wilder strides into my hotel bringing the dark musky scent of sin with him. Arrogant and powerful, he's the president's eldest son. Even after all these years, I can still taste him on my lips. But when he speaks, there's not a glimmer of the boy I once loved.
He struck a deal with my parents. That's what he claims. Loaned my mother the money she desperately needs to stay alive.
Now he's here to collect.
What does he want?
My soul, of course.
The one thing I will never give him.
Download a copy of Depraved today, and let Eva take you on a decadent journey, where nothing is as it appears. Buckle up.
About the Author:
After being a confirmed city-girl for more than thirty-five years, Eva moved to beautiful Western Massachusetts in 2014. There, she found herself living in the woods with no job, no friends (unless you count the turkey, deer, and coyote roaming the backyard), and no children underfoot, wondering what on earth she'd been thinking. But as it turned out, it was the perfect setting to take all those yarns spinning in her head and weave them into a romantic tale.
When she's not writing, trying to squeeze information out of her tight-lipped sons, or playing with the two cutest dogs you've ever seen, Eva's creating chapters in her own love story.
Connect w/Eva:
Facebook: https://www.facebook.com/evacharlesauthor
Twitter: https://twitter.com/evacharles37
Instagram: https://www.instagram.com/evacharlesauthor
Goodreads: http://bit.ly/2pp37ab
Amazon: http://amzn.to/2q6oyfy
Bookbub: http://bit.ly/2tLuRU9
Newsletter: http://www.evacharles.com
This was my first book by this author and I'm so glad I took a chance on Eva Charles and The Devil's Duet.
You could feel the chemistry between Gabrielle and JD in the very first pages which is also how long it took me to be fully immersed in this world. It's a world full of mystery, intrigue and blazing hot scenes.
I couldn't turn the pages fast enough so I could find more information on the mystery but the more I read the more assumptions I made only to finally make me realize I didn't know anything at all and you get pulled deeper into this world of suspense.
I'm so happy book 2 in this duet is available as I will be starting it immediately
Buy Now or Read #FREE with Kindle Unlimited
US → https://amzn.to/2Ip9Xq3
UK → https://amzn.to/2E1BdWt
CA → https://amzn.to/2ItjkFw
AU → https://amzn.to/2STF2Hx