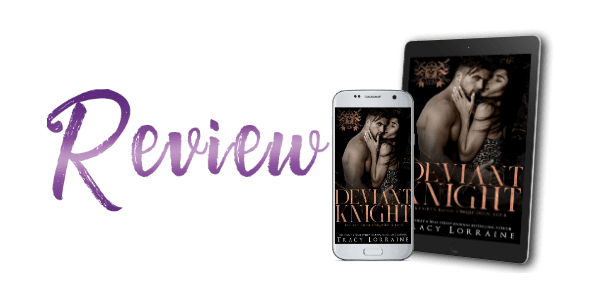 ⭐️⭐️⭐️⭐️⭐️
Lorraine has kicked off 2022 with a bang. A few pages of Deviant Knight had me completely engrossed in the Knight's Ridge Empire world, and I stayed there until I finished reading every word.
Theo is self-assured, cocky, and a massive bellend. He knows who he is and who he will become in the future, and this comes with certain expectations. He doesn't try to hide who he is; he's cold, calculated, and malicious, and he has no remorse for the blood on his hands.
If, like me, you thought the chemistry between Emmie and Theo was palpable, you'd be wrong. The tension between them is enough to choke those around them, and every callous remark and snarky quip adds fuel to the raging inferno between them. These two will not only heat up your kindle, but will incinerate it.
There are so many parts of Theo and Emmie's story that will make you say "wtf?" and want to wring Theo's neck tightly. Theo is a labyrinth of secrets, half-truths, and lies; he is callous and calculated, a bellend to the nth degree. He'd be toxic in real-life, but he's fantastic as an alpha-hole book boyfriend.
Emmie wriggled her way into my heart; her conscience weighed heavily on her shoulders, and it hurt my heart over recent events and her tumultuous relationship with her mother. It was easy to see why she was so reserved. When you're thrust into a world you don't understand, and every day feels like you're playing a game with no rules, especially when the stakes are life or death.
Deviant Knight is my first top read of 2022, and it's a tremendous one. Lorraine is a master at creating twisted worlds full of dark and sinister characters that we become enamored with.
An all-consuming combination of an impetuous connection, an unrepentant alpha-hole, an impetuous heroine, secrets, and lies swirling around half-truths, whispering "wtf" "omfg" "ffs" to yourself, an unbridled debauchery and passion that leads to white-hot steam.

I can't wait to see what's to come for Emmie and Theo; it's shaping up to be a hell of a ride.
Whoever said to keep your friends close and your enemies closer… was right.
Being around her is the worst kind of torture.
Emmie is an obligation I can't avoid… an oath I can't break.
And having her in my life is the last thing I want or need. But thanks to my father, I have no choice.
This Family—this life, is my future, and I'm sure as hell not going to let some spitfire from the wrong side of town get under my skin and in my way.
When the time comes, I will take what I need and walk away. I'll finally be free from her shadow and she will know the truth, even if it leaves her broken.
The only problem… she might not be the only one left in pieces.