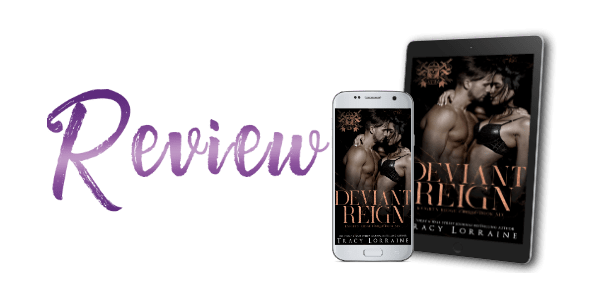 ⭐️⭐️⭐️⭐️⭐️
Deviant Reign is the epically deviant conclusion to Theo and Emmie's story. Lorraine has completely outdone herself yet again.

The moment Deviant Reign landed on my kindle the outside world ceased to exist until I consumed every word.
As soon as Theo and Emmie were introduced, I knew they would be explosive. Theo's obsessive need for control, and Emmie's defiant, zero "effs" to give, while being a BA female. This combination of addictive traits, plus a mafia prince and a MC princess, is as if Lorriane has met all my bookishly dark desires.
A bitter exchange of words between Emmie and Theo in an effort to distance themselves from one another, only seemed to fuel the burning connection between them. A vicious cycle of lies, secrets, and revenge consumed them, until it all ended in a "bang," a moment that could either be the end of everything or the beginning.
I was captivated by Theo and Emmie's story. Both of them possess strong personalities, and it seemed that when they were headed towards one another, all they would leave behind was destruction and pain. As the realization of what life would look like without one another, the deviant knight and the deviant princess emerged with a stronger connection than ever, joining forces even more ferociously than before.
I loved how they never once strayed from who they were at their core. They never tried to force the other to change, Theo was unapologetic about his obsessiveness, and Emmie was the same sarcastic spitfire we first met. The push and pull acted as foreplay between them, and their impassioned chemistry brought some deviantly explosive steam.
Deviant Reign was the most epic conclusion EVER. Theo and Emmie's trilogy have eclipsed all others. A "cancel real life" combination of ardent chemistry, a "royal level" possessive alpha-hole, a sassy heroine, clever banter, and a glimpse of what's to come in this outstandingly addictive bully world. Lorraine constantly brings us darker alpha-holes, sassier heroines, and more compelling plots. I'm so very much looking forward to what's to come.
BLURB
Watching her walk away for a second time… nearly destroyed me.
But it was nothing less than I deserved from the things I put her through.
I should have let her go. I'd already caused Emmie enough pain to last a lifetime. But I'm a masochist.
Her pain is my pain.
And she's mine.
Whether she likes it or not.
She's my wife.
And the sooner she understands that she belongs by my side, the better.
Till death do us part…
I'm not letting her go.

Nothing she can do will convince me that we're not made for one another.

We might be toxic. Combustible. A match made in hell.

But I wouldn't have it any other way.

And together.

We will reign.