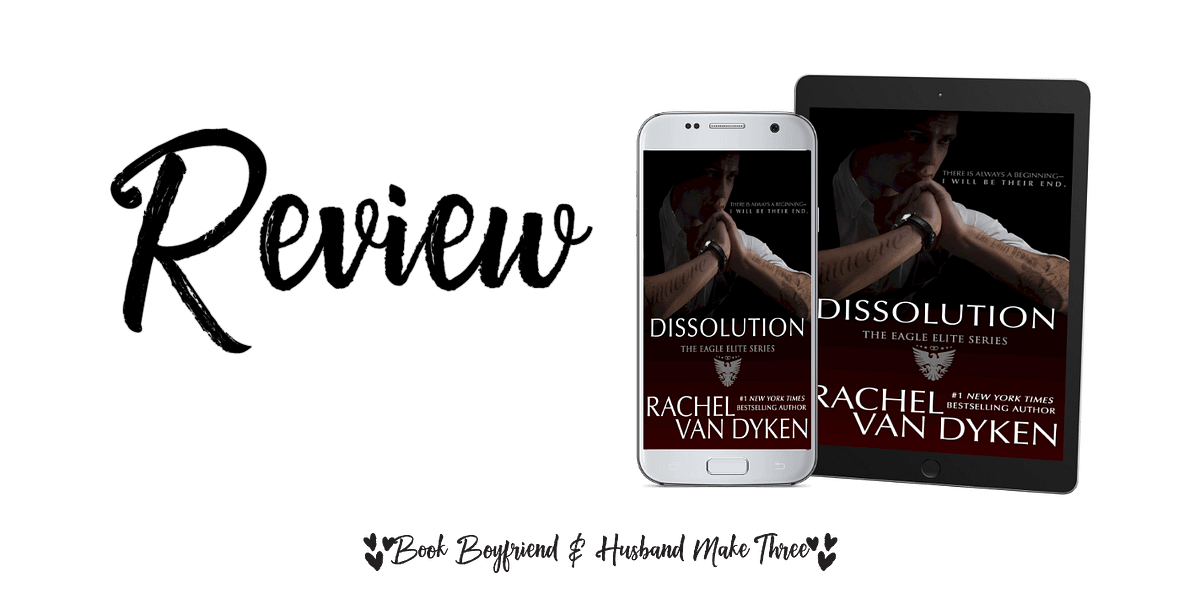 ⭐️⭐️⭐️⭐️⭐️
Dissolution is the final book of the Eagle Elite OGs, and I'm honestly at a loss. On one hand, I can't imagine a more bittersweetly perfect ending, but on the other, I will never be ready to say goodbye to a series that has given me more than I could ever say.
Dissolution is the final book of the Eagle Elite OGs, and I'm honestly at a loss. On one hand, I can't imagine a more bittersweetly perfect ending, but on the other, I will never be ready to say goodbye to a series that has given me more than I could ever say.
Katya had a million reasons to give up. to become someone she didn't recognize, angry and hateful, and it would have been completely understandable. Instead, she maintained a semblance of innocence in a world of darkness and pain; more than anything, though, she maintained a fight that seemed to grow more powerful with each page. Her heart was full of sweet innocence, her mind was a pillar of strength, and her blood was that of a BA warrior. She wasn't in need of a hero, but then again, whether someone is a hero or villain all comes down to the one who is telling the story.
Although I would never tell him, Santino was the perfect addition to the Eagle Elite men. Dark and dangerous with a side of mafia swoon. You know what I mean—the type of swooning that comes from having a thing for anti-heroes, so you swoon over things like gunshots and threats. There isn't anything in the world like a man who would forsake all others to save the woman who brought him to his knees. She was the shot he never saw coming, but oh, what a way to go.
Katya and Santino had a connection the moment they met, and even under the circumstances, it shot off the page with a spark. It was nothing compared to what was to come, though. The electric current thrumming between them continued to build on every page. They were made for each other. That initial spark was their souls recognizing one another.
Blood in. No out. The phrase may have been intended for the characters who inhabit this fictional world, but it appears that the sentiment has become embedded in the hearts of readers like me. When the characters hurt, I hurt, and when they bleed, I bleed. The world may be fictional, but from the moment you step inside, you are as much a part of it as the characters on the pages. The magic inside this series is unlike anything else.
If I could go back and read this series all over again for the first time, I would do it in a heartbeat. RVD's talent shines in every word she writes, but the raw talent she weaves throughout this series is like nothing else out there.
Dissolution immediately pulls you straight back into the Eagle Elite world, and I devoured every word as though I needed it to survive. Every emotion the characters feel will become embedded in your heart and seared on your soul, and a touch of nostalgia that truly makes it a painfully bittersweet goodbye.
When you enter the Elite world, it will elicit parts of you that you were unaware existed. The Elect are there to Entice you into ignoring real life while they Elicit emotions from the depths of your soul. The never-ending "Bang Bang" as they continuously fight for those they love. Each word will Enchant you, and each story will Enforce you into becoming a part of a world you never knew existed. Each character's story will become an Ember burning inside of you. The idea of this world and these characters being fictional will Elude you; your mind will be far too caught up in the Enrapture of it all. You are a part of the Empire they've built, and any threats will Enrage you, leaving you ready to write a Eulogy because while the love they share may leave them Exposed to threats, it's that same love and loyalty that is the Envy of their enemies.
On a different note:
I found this series when the whole world was turned upside down. 2020 was chaotic for many reasons, and the Eagle Elite allowed me a safe place to lose myself. More than the escape, it brought someone into my life who had been on the outskirts of my entire indie bookish life. A group and this series changed that. We read countless stories about fighters, about women who are the heroes of their own stories. Fictional characters battle a fictional enemy, but they have nothing on this person, who is a very real warrior.
"Warriors live, and they fight."
This warrior doesn't just fight for herself but for those around her as well. She fights for them when they can't, while encouraging them with kindness and support, the likes of which I had never seen before her. Every day that I've spent knowing her has been a two-twirl day. She's the very essence of a warrior with the heart of a saint. She is everything good and stronger than any mafia boss.
"At the end of the day, you have everything you need to be your own warrior, your own hero."
At the end of the day, I have everything I need to be my own warrior, my own hero, and I also have the example to show others that they can be their own too because I learned from the best.
One-click Dissolution by Rachel Van Dyken
About the book
"There is always a beginning—I will be their end."
For ten years the Cosa Nostra has ruled with an iron fist in Chicago—their reign is about to end, and I'll be the one to bring them down.
One more job for the Italian Americans, and I'm done.
Except this "one job" involves saving the boss's brother and sister.
When things go horribly wrong, and a price is put on all of our heads from my Family back home—I'm forced to stay in Chicago, offer not just my gun but my protective services to the young girl I saved while also making sure nobody touches her.
Myself included.
My own Family has splintered.
Half want me dead, half want me alive, and the only people willing to protect me are the very ones I hate—her included.
I'm the Grim Reaper of the Sicilian mafia, and I bow to no one, not even her, so when she asks me to teach her to fight, when she tells me she wants to be made, I give in just so I can piss off the bosses.
Only I made one mistake.
I protect her from the world.
But who protects me from her?
One more battle remains between the families in Italy and in the States.
One more battle where I'm torn between both sides.
And I'm left protecting the one girl who has the potential to wreck us all.
It all started a decade ago at Eagle Elite University—the beginning.
It will end on the streets of Chicago—with me as the end.
I, Santino Sinacore, am their end.
Start the Eagle Elite series now!