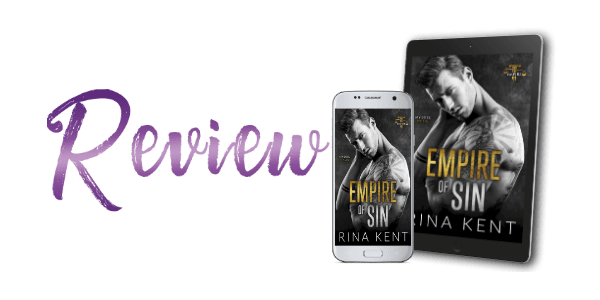 ⭐️⭐️⭐️⭐️⭐️
Empire of Sin is the second book in Kent's Empire Series, and if Anastasia and Knox's story teaches us anything, it's that each book in the series keeps getting better.

Empire of Sin isn't quite as dark as Kent's other works, but it's no less captivating.
I was looking forward to not only Knox's narrative but also Anastasia's because they both left a trail of mystery in their wake after making appearances in prior books, but nothing could have prepared me for this gripping ride.
Anastasia had lived her entire life within a bubble, for the sake of her protection in a world she never felt a part of, a world where things were designed to be a certain way, and she was exactly who they wanted her to be. Anastasia from that world and the Anastasia who emerges in Empire of Sin are not the same girl; she's taking control of her life, and as a result of that decision, she's filled with a confidence and power she never realized she possessed.
Knox has shadows that lurk in the recesses of his mind, and it's those shadows that feed the person he is, a controlled existence across the ocean from those he cares about (except from Daniel, but that's a whole other story I can't wait to get into). Knox carries inside him a darkness that was born in the past but still maintains a stronghold on his inner thoughts. He may be a bit arseholish at times, barking orders in an unmistakable tone, and it's those qualities that bring him and Anastasia together.
Knox and Anastasia's connection starts with a pulsing surge of pure, unadulterated desire, and it's only supposed to be for a fleeting moment. The second time they're in each other's company, the blaze between them grows into its own entity. It's the connection that begins with a physical need for one another and deepens until their souls are fused together.
Knox and Anastasia's journey ripped at my heartstrings, a freefall into a dark and gloomy abyss, at the mercy of each and every emotion that runs through the characters. My chest ached. Knox or Anastasia had made it through a childhood that few people do. It was heartbreaking and devastation mixed together, but there was strength in surviving and power in who they were becoming.
Oh, and the humor and sarcasm are on another level; some of my all-time favorites make cameo appearances, providing some laugh-out-loud banter that makes me nostalgic for their series and makes me want to revisit it.
I genuinely don't believe I've done Empire of Sin justice; I honestly think it demonstrates a new level of Kent's brilliance; every facet of it leaves me speechless. Empire of Sin is a thrilling blend of a searing connection, a possessive alpha hero, a charming feisty heroine, all the feels, clever banter, and sinfully delicious steam that is impossible to put down. Without a doubt, one of the best reads of 2022, and my new favorite Kent novel.
Grab your copy HERE
Connect with Rina Kent
Website | Newsletter | Bookbub | Instagram | Facebook | Exclusive Facebook Group | Twitter | Pinterest | Goodreads | TikTok