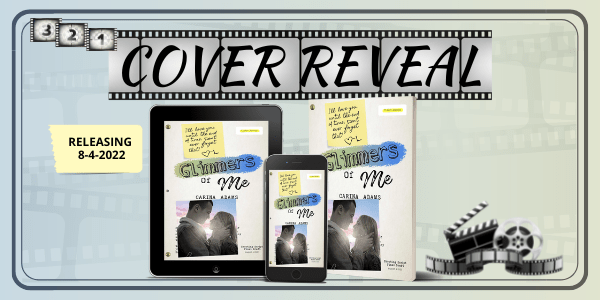 Carina Adams has revealed the cover for Glimmers of Me, book 2 in the Dreams Trilogy.
Release Day: August 4th
🎬 Pre-Order ➜ https://books2read.com/glimmers-of-me
🎬 BLURB 🎬
Lennon James.
The girl next door. My little sister's best friend. I'd known the brilliant, funny, shy beauty my entire life.
Falling in love with her wasn't a choice.
When tragedy struck, and our lives were turned upside down, I knew we were going to be okay. We had each other. Together we could make it through anything.
Falling in love with the girl who marched to the beat of her own drum was one thing I never regretted.
Sometimes the biggest obstacles are the things you never see coming.
Fate had plans of its own. While I was trying to hold on to the girl who had stolen my heart, the universe seemed destined to tear us apart.
Book two in The Dreams Trilogy.
💙🎬 :​𝐈𝐧𝐟𝐥𝐮𝐞𝐧𝐜𝐞𝐫 𝐬𝐢𝐠𝐧 𝐮𝐩: https://airtable.com/shr3aNtPUdHWegVsl
𝗥𝗲𝗮𝗱𝗲𝗿𝘀, 𝗶𝗳 𝘆𝗼𝘂'𝗿𝗲 𝗶𝗻𝘁𝗲𝗿𝗲𝘀𝘁𝗲𝗱 𝗶𝗻 𝗷𝗼𝗶𝗻𝗶𝗻𝗴 𝗖𝗮𝗿𝗶𝗻𝗮'𝘀 𝗔𝗥𝗖 𝘁𝗲𝗮𝗺, 𝘆𝗼𝘂 𝗰𝗮𝗻 𝘀𝗶𝗴𝗻 𝘂𝗽 𝗵𝗲𝗿𝗲:​ https://forms.gle/BE3zSyejRYjzdE6G7
​
𝗥𝗲𝗮𝗱𝗲𝗿𝘀, 𝗶𝗳 𝘆𝗼𝘂'𝗿𝗲 𝗶𝗻𝘁𝗲𝗿𝗲𝘀𝘁𝗲𝗱 𝗶𝗻 𝗷𝗼𝗶𝗻𝗶𝗻𝗴 𝗖𝗮𝗿𝗶𝗻𝗮'𝘀 𝗔𝗥𝗖 𝘁𝗲𝗮𝗺, 𝘆𝗼𝘂 𝗰𝗮𝗻 𝘀𝗶𝗴𝗻 𝘂𝗽 𝗵𝗲𝗿𝗲:​
Links in bio​