SEE MY REVIEW BELOW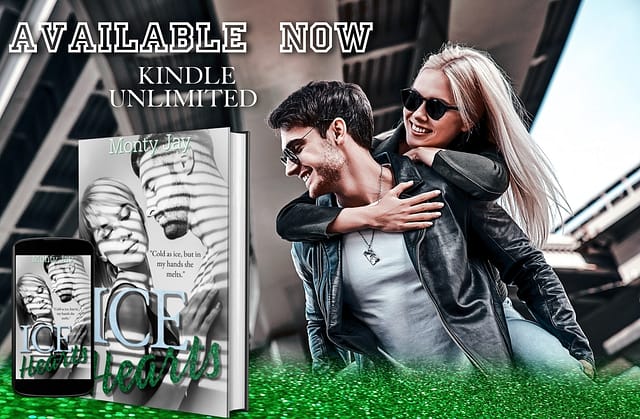 Release Date: September 24
Behind every heartless woman is a little girl who trusted the world with her love to have it chew her up and spit her out.
No one knows that better than Aurelia Riggs.
Silver tongue matched with a golden appearance.
She is the notorious ice queen.
To protect her heart she has a set of rules.
Someone should have really warned Nico of them, but honestly, would he have listened?
Nico 'Southie' Jett is the best forward in the league. Leading in points, shredding the ice, his control is unmatched.
After an earth-shattering loss, and one slip up hits the press, his spot on the Fury is in danger.
Nico needs someone to fix his image and quick, who else better than Chicago's most exceptional PR agent?
The only problem is she avoids him like the plague.
Nico is determined to get underneath her skin in all the right ways.
He has Aurelia Riggs all to himself. She can't run from him anymore.
The game is on, and he's ready to melt Aurelia's Ice Heart.
Ice Hearts is a standalone novel in the Fury Series and deals with sensitive subjects some may find triggering.
Grab Your Copy Here:
Monty Jay likes to describe herself as a punk rock kid, with the soul of a gypsy who has a Red Bull addiction.
She writes romance novels about insane artists, feisty females, hockey players, and many more.
When she isn't writing she can be found reading anything Stephen King, getting a tattoo, or eating cold pizza.
Hosted By:
This is Monty Jay's second novel, and she has yet again completely exceeded any expectations I had. I was pulled into the Fury world immediately as if I never left Nico and Riggs made me giggle, swoon, broke my heart then stitched it back together with their Ferris wheel ride to their happily ever after.
After reading Love & Hockey I knew that Riggs' story was going to be emotional, but it was so much more than that. Briggs and Nico the connection they shared had a fiery intensity that was burned into each other's soul. Riggs had been through heartbreaking devastation and Nico had the uncanny ability to see the side of her that she kept hidden. As many times as my heart broke right along with Riggs and Nico it also soared with pride as Riggs found her inner strength and worked so incredibly hard to become the best version of whom she wanted to be.
Nico was a bit alpha hockey player, but he was also charming, sweet he knew that Riggs was his and there was nothing that was going to stand in the way of him wooing his was into her heart as she was the one who owned his soul.
This book touches on several heavy topics that are oftentimes glossed over in books, but I felt Monty Jay handled them with authenticity and compassion that such things merit. The banter between the characters and the moments they share with their friends brings this to the perfect balance of gut wrenching feels, steam and giggles.