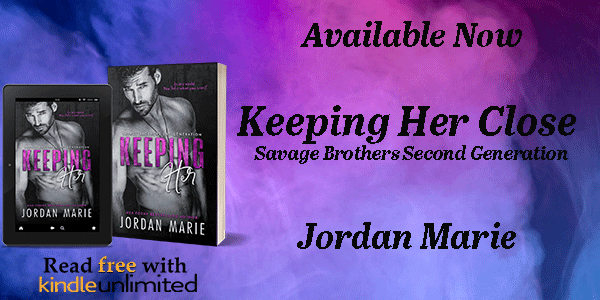 Blurb:
One kiss from those cherry lips and I knew she was meant to be mine.
I'm claiming her and I won't be letting her go.
Luke "Grunt" Stafford had one job.
He didn't like it, but when your President gives you an order you usually follow it.
He didn't plan on the feisty redhead that showed up and rocked his world.
Jasmine Blake knows how her family and friends see her.
They think she's a wild child rebelling from her parents.
It's not true, but Jasmine has no idea how to explain herself.
Being the daughter of Dancer, Savage MC Vice President, is anything but easy.
So, after a while, she gave up trying.
Luke caught her eye immediately.
She'd sworn off men, but something about him made it impossible for her to stay away.
Luke and Jasmine both have secrets though.
And they just might be enough to get them both killed.

Being able to go back into the Savage Brothers world is like going to visit family the type of family that it doesn't matter how long it's been since you've seen each other as soon as your all together it's like no time has passed.

Jasmine and Luke felt a connection as soon as they saw one another and from there I was hooked. I freaking loved Luke he wasn't just an alpha hero he was over the top possessive the type to just pick his women up and carry her to where he wanted her whether she agreed or not. Jasmine was sweet with a whole lot of sass she had been through so much but instead of letting it break her she drew an enormous strength from what she had been through which made me admire her even more.

Luke and Jasmine had so much going on around them with secrets being kept and other people's actions affecting what could happen to the two of them was heartbreaking at times. I loved that Luke wouldn't let her go and the banter between them made me laugh several times. My emotions were all over the place there were moments I shed tears and other moments I was wishing it was possible to jump into the world to kick a few people.

I loved the parts with the original Savage Brothers members and the Devil's Blaze guys they all still have that connection albeit they pretend they don't but those guys are stuck with each other forever and share amazingly hilarious banter that felt exactly like it was in their books.

I can't wait for the next book the little bit of info I got reading Luke and Jasmine's story then reading the prologue has me hooked already because Jordan always gives us a happily ever after and yet I'm always wanting more.
Buy now or Read for Free with Kindle Unlimited
Amazon US Link: https://amzn.to/2DrG6LW
Amazon Universal Link: mybook.to/JMKeepingHer