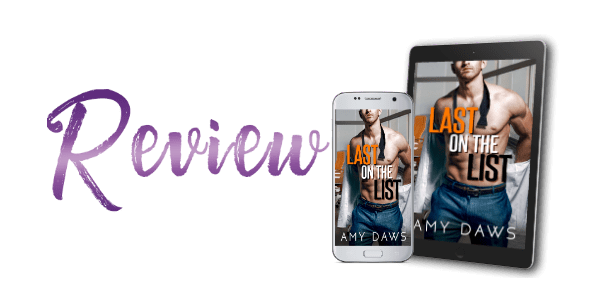 ⭐️⭐️⭐️⭐️⭐️
When life gives you lemons, ignore them and read an Amy Daws book. That's my new philosophy on life.

Last on the list is my new favorite in, well, every trope it entails/
Single Dad
Romcom
Boss
Millionaire

Daws not only nailed it, but she shattered the ceiling in every way imaginable. The swoon, the awkward situations that made me snort laugh, the tears shed from laughter, the heartfelt moments, and the scotch from heartbreak. It was everything at the same time. It was perfection.
Cozy lives her life in a way that many people don't understand, but it makes me love her even more. She was amazing; she exuded compassion and heart. She was quick to change the course of a situation in order to keep someone from feeling sad. When I say she radiated her heart, I mean it through the pages, as every moment I spent inside this world with her made my heart feel lighter.
Max was the best fictional dad EVER, and what's swoonier than that? Well, I'll tell you, a man who can go from "swoony single dad" to "hot AF suit p—n" to "new kink level unlocked," basically, he's the perfect book boyfriend. In fact, I licked him. He's mine.
The tension between Max and Cozy is immediate, as is the connection they share. It becomes explosive with a few stolen glances. As they grew closer, it became more than just physical; it became all-consuming to the nth degree. The connection that they had was without ever making a conscious decision. They appeared to be polar opposites, but it was their differences that made them a perfect match. It was as if a piece of their soul had been missing until they met. I'm truly not doing justice to what they shared.
Cozy's instant connection with Everly was as important as any other aspect of the story. They fell into this effortless friendship that made me smile. I burst out laughing right along with them. I fell in love with this family's dynamics and felt Cozy was meant to be theirs.
I can't even begin to describe the emotions these characters and their story instilled in me; these were not "on the surface" emotions, but ones I felt deep down. Max had unparalleled affection and admiration for his daughter. He'd win the award for best fictional father hands down. My heart was so overwhelmed by the heartfelt emotions that my eyes were devouring that tears began to flow. But it's not all sunshine, laughter, and tie-dye. Our pasts can sometimes interfere with our present and our ability to let go, preventing us from grasping our future.
Last on the List is far from last on any of my bookish lists. A few words were all it took for reality to vanish, wholly immersing me in this world. A fantastically intoxicating combination of burning chemistry, a swoony single dad, a #BossB heroine, endlessly entertaining witty banter, a sweet girl that steals the show, heartfelt emotions that bleed through every word, laughter and endless smiles throughout. Oh, by far Daws's steamiest book, kindles will be catching fire all over the world. Bet
Blurb
Only a bad nanny knows what it's like to kiss the boss.
CEO millionaire, Max Fletcher is a single dad in desperate need of a nanny.
Cozy Barlow is in the middle of her self-appointed "gap year" and doing everything she can to detach from her past.
But when her sister begs her to interview for the nanny position of a high maintenance client, she doesn't have a good enough reason to say no.
And when Max locks eyes on the twenty-something in a tie-dye sweatsuit who pitches the idea of daydreaming all summer—he prepares to give this bad nanny the boot.
One problem: Max's little girl thinks this plus-sized in body and spirit nanny might be her new bestie, so she hires her on the spot.
Now Max is stuck with this bizarre woman who hates everything he represents—corporate greed, money, status, power.
But one stormy night when the power goes out, he discovers Cozy doesn't hate him. In fact, he's the leading role in her fantasies.
Fantasies, he would very much like to make a reality.
Read for FREE with Kindle Unlimited
Start the series
Wait With Me
https://books2read.com/u/31eYJa
Next In Line (Wait With Me Book 2)
https://books2read.com/u/med7GV
One Moment Please (Wait With Me Book 3)
https://books2read.com/u/mBzonN
Take A Number (Wait With Me Book 4)
https://books2read.com/u/mY6AzM
Last on the List (Wait With Me Book 5)