SEE MY REVIEW BELOW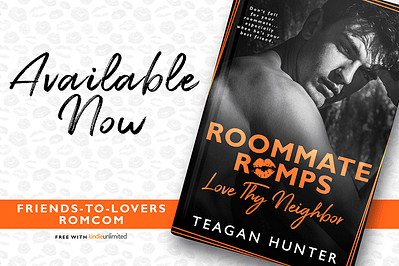 Release Date: December 10
Don't fall for your roommate…especially when he's your best friend.
Cooper Bennett is my best friend.

That's all he is and all he ever will be.

Nothing will change that.

Accidentally seeing him naked? Please. So not a big deal.

Having less-than-tame thoughts? I mean, have you seen this guy? Who could blame me?

Kissing him? It was a one-time mistake, and it will not be repeated.

Falling into bed with him? Uh-oh…

It's fine. We're fine.

We're Caroline and Cooper. Best friends until the end. Nothing has ever come our way that we couldn't survive together.

Surely, we can handle this too…
Grab Your Copy Here:
will send when live
Meet Teagan Hunter
I'm a Missouri-raised gal, but currently live in North Carolina with my US Marine husband and 9-year-old dog. I spend my days begging him for a cat, and I survive off coffee, pizza, and sarcasm. When I'm not writing, you can find me binge-watching various TV shows, especially Supernatural and One Tree Hill. I like cold weather, buy more paperbacks than I'll ever read, and I never say no to brownies.
Writing is my passion, and this is just the beginning of my journey.
The first word in Love Thy Neighbor and I was caught, hook, line, and sinker.
Cooper was the hot, outgoing, nerd that dreams are made of. Caroline was on the shy side and would rather curl up with a book than deal with humans which made her my spirit animal. They were seemingly so different, yet, these best friends had had a thundering connection that couldn't be ignored.
I am astonished by Teagan Hunter's ability to create these fictional worlds that are easy to fall into, everyday people with everyday worries, falling in love, and getting their happily ever after that make it easy to become completely immersed in the pages.
The banter between Cooper and Caroline was off the charts entertaining from the very first chapter. I got the feeling immediately that they completed one another. Cooper had a way of bringing Caroline out of her shell but didn't push too hard.
Cooper and Caroline together felt like it set the world right, it was as easy as breathing from the moment they got together. Of course, it's never quite that easy and there's moments that make your heart quicken and your chest tighten while you whisper words to the characters hoping they take your advice.
This apartment complex with its mailbox gossip, The Gravy Train, especially Darlene, and the incredible group of friends, has me utterly addicted to this series.
Teagan Hunter is the master of witty banter. Love Thy Neighbor was a flawless blend of potent chemistry, a hero with just the right amount of cocky and bossy, a shy heroine that's at the ready with sassy retorts, extremely clever witty banter, laughs, swoon, steam, and feels.