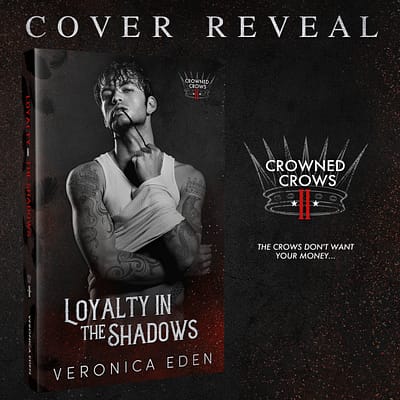 The bestselling Crowned Crows series from Veronica Eden continues with Book II,
𝙇𝙤𝙮𝙖𝙡𝙩𝙮
𝙞𝙣
𝙩𝙝𝙚
𝙎𝙝𝙖𝙙𝙤𝙬𝙨
. Ready to go deeper into the shadows of the dark city full of secrets and power? They say crows have a long memory. Never cross a crow.
𝑻𝒉𝒆 𝑪𝒓𝒐𝒘𝒔 𝒅𝒐𝒏'𝒕 𝒘𝒂𝒏𝒕 𝒚𝒐𝒖𝒓 𝒎𝒐𝒏𝒆𝒚.
𝑻𝒉𝒆𝒚 𝒕𝒉𝒓𝒊𝒗𝒆 𝒐𝒏 𝒚𝒐𝒖𝒓 𝒅𝒆𝒔𝒑𝒆𝒓𝒂𝒕𝒊𝒐𝒏.
𝑾𝒉𝒂𝒕 𝒘𝒊𝒍𝒍 𝒚𝒐𝒖 𝒔𝒂𝒄𝒓𝒊𝒇𝒊𝒄𝒆 𝒕𝒐 𝒃𝒖𝒚 𝒕𝒉𝒆𝒊𝒓 𝒉𝒆𝒍𝒑?
𝘐𝘴𝘭𝘢
Thorne Point sunk its claws in me at a young age.
I refused to let its harsh truths snuff out my light.
When an attempt to kidnap me is stopped, I know they'll never give up.
The city's seedy underbelly won't let me escape forever.
My only choice is to run into the arms of monsters for safety.
The Crows have a terrifying reputation, and Levi Astor lives up to it.
But my protective monster will never be worse than the ones who buried their ugliness deep in me.
𝘓𝘦𝘷𝘪
𝘓𝘦𝘷𝘪 𝘈𝘴𝘵𝘰𝘳 𝘺𝘰𝘶 𝘢𝘳𝘦 𝘶𝘯𝘥𝘦𝘳 𝘢𝘳𝘳𝘦𝘴𝘵.
Our unchallenged rule over this city is crumbling.
We'll hunt down the ones behind this and make them pay.
𝘊𝘰𝘮𝘦 𝘰𝘶𝘵, 𝘤𝘰𝘮𝘦 𝘰𝘶𝘵, 𝘸𝘩𝘦𝘳𝘦𝘷𝘦𝘳 𝘺𝘰𝘶 𝘢𝘳𝘦.
Guarding the senator's daughter isn't on my agenda, yet I couldn't ignore her if I tried.
Sunshine might break through the shadows, but it will only illuminate what makes me a deadly monster.
Isla Vonn should run in the opposite direction instead of into my arms.
Because everyone fears the Leviathan in Thorne Point.
Pre-Order Your Copy Here!
Meet Veronica Eden
Veronica Eden is an international bestselling author of dark new adult romances + reverse harem romances with spitfire heroines and irresistible heroes.
She loves exploring complicated feelings, magical worlds, epic adventures, and the bond of characters that embrace us against the world. She has always been drawn to gruff bad boys, clever villains, and the twisty-turns of morally gray decisions. She believes sometimes the villain should get the girl and is a sucker for a deliciously devilish antihero.
Veronica also writes romance as Mara Townsend.
When not writing, she can be found soaking up sunshine at the beach, snuggling in a pile with her untamed pack of animals (her husband, dog and cats), and surrounding herself with as many plants as she can get her hands on.
To learn more about Veronica Eden, visit here!