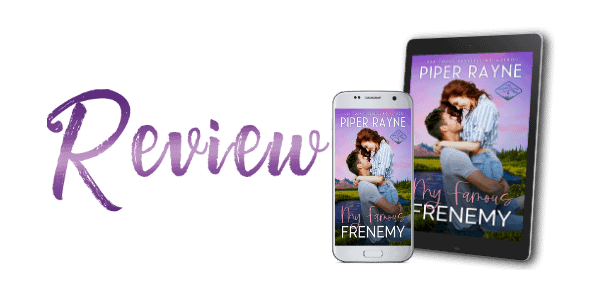 ⭐️⭐️⭐️⭐️⭐️
The Greenes are one of my favorite fictional families; each book makes me wish that being adopted by a fictional family was a real thing.
Posey is the ideal mix of sassy and sweet. She's quick to toss sarcastic retorts at Gavin at every chance, but beneath that is a girl who just wants her mom to get everything she's ever wanted, even if that means pushing away the man who sets her on fire in all the best ways.
Gavin went from child star to teen heartthrob in a lifetime spent in a cutthroat industry that began with his parents' choice when he was six years old, and now he's on a path to discover who he wants to be, away from the spotlight, in the quirky town of Sunrise Bay.
Gavin and Posey have more of a "meet misdemeanor" than a "meet cute," but honestly, I couldn't imagine a more perfect beginning for them. Why? Well, there's a thin line between love and hate, and every moment from that point on builds up the tension between them until they're both ready to combust.
Gavin fits in perfectly with the Greene men; once they set their sights on the woman who ignites something within them they've never felt before, they won't let anything stand in their way of claiming her, even if the only obstacle is the woman herself.
This duo has a real talent for creating characters that are incredibly easy to identify with. Sure, this is a fictional world, but the emotions and insecurities that each character faces are ones that many of us experience on a daily basis.
As with every other book in the Greene Family series, a few pages into My Famous Frenemy and you're surrounded by family.
A spellbinding combination of intoxicating chemistry, a swoony hero, a sassy heroine, laugh-out-loud witty banter, sprinkles of feels, and a duo of meddling grandmas who up the ante on their shenanigans with each book, surrounded by a family that offers unconditional love so pure that your heart will feel lighter as you reach the end.
Blurb:
Hollywood heartthrob, Gavin Price invaded our small town, Sunrise Bay, like he owned it.
Gavin was my biggest celebrity crush when I was young. He bears the charisma of an easygoing boy-next-door mixed with a rule-breaker personality both in person and on screen.
For a moment, I thought maybe my fairy godmother sent him to me.
Until he decided to run against my mother for mayor.
Everyone in our town knows my mom's happiness comes before my own, so I take it as my personal mission to show him who really runs this town.
I just didn't realize that being my mom's right-hand woman would put me in such close proximity to him. Very quickly, I question whether he wants to win the mayoral race or me.