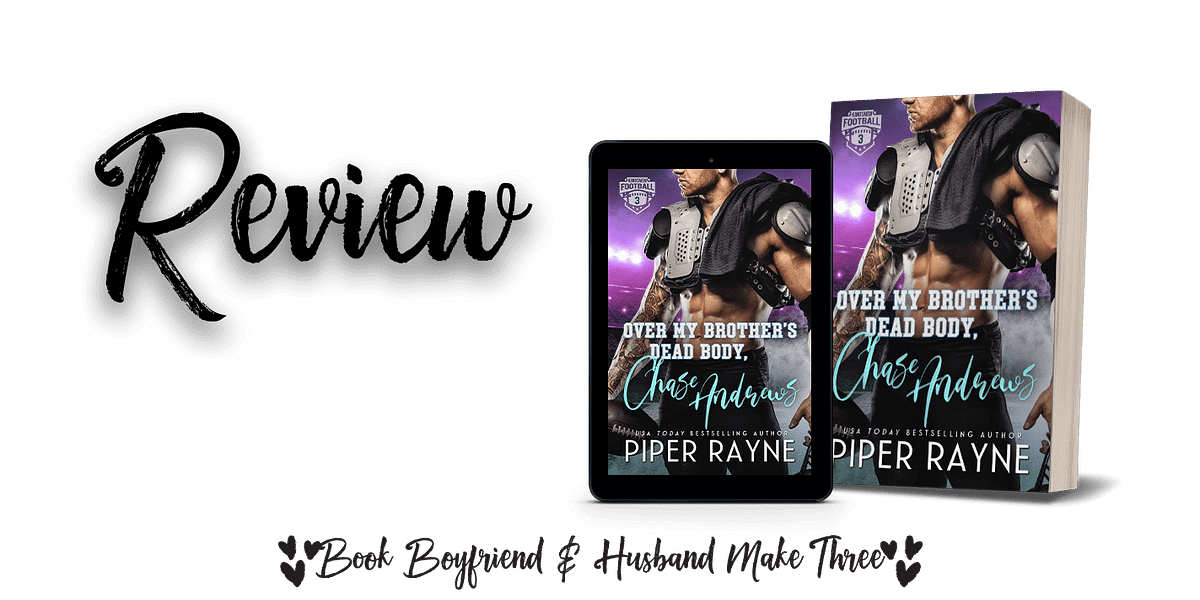 ⭐️⭐️⭐️⭐️⭐️
Over My Brother's Dead Body, Chase Andrews provided the most exquisite way to end the Kingsmen Football series while also building the anticipation for the Chicago Grizzlies. Tawna and Chase were the embodiment of Piper Rayne perfection.
I have been impatiently waiting for Chase and Twyla's story. The tension between them started at the beginning of the series, but it was nothing compared to what they shared. Chase was so much different than I imagined, but in all the best ways. Sure, he was grumpy, but there was much more to it than that. He was thoughtful and observant, and he went from a swoony small town to a panty-melting bossy alpha in two seconds flat. He was a mix of everything we love in book boyfriends, all in a way that made him unique.
Twyla showed up in San Francisco to get away from memories of what she thought her future would be. She was working towards healing, and it took place naturally; it never felt like she was just over it at the snap of her fingers. She was incredibly sweet, caring, and sassy in a low-key way. I adored her from the moment I met her, and even more now.
Chase Andrews is without a doubt my new Kingsmen Football Star favorite. The intriguing, grumpy man had my curiosity piqued as soon as he was introduced, but there's nothing that could have prepared me for everything that is Chase Andrews. Charming, protective, swoony, and a decadently bossy alpha—all the things we look for in a book boyfriend—wrapped up in a scowly football star.
I adored the dynamic between Chase and Twyla; he had this innate ability to know what she needed without her having to utter a word. Whether it was holding her hand in silent support or stepping out of his comfort zone without hesitation, no matter what it was, he seemed to understand what she needed from one moment to the next. Every moment between them acted as fuel to the fiery tension between them, and as much as they may have tried to put a stop to what was growing between them, nothing could have prevented the inevitable explosion.
I can't think of a better couple to bring an end to the series that very quickly stole my heart. Over My Brother's Dead Body, Chase Andrews is all-consuming to the nth degree. An unputdownable blend of soul-searing chemistry, a scowly yet swoony hero, a sweet and sassy heroine, teeming with witty banter, sprinkled with feels, and red-hot steam
I've adored spending time lost inside the Kingsmen Football Stars series, but I know without a doubt that within a few words, this duo will make the next series feel like home, a new place to escape to, and every word uttered will wrap around your heart like a literary hug.
About the book
Chase Andrews.

The Kingsmen's top tight end.
My brother's friend and teammate.
My new neighbor.
The grumpy to my sunshine.

But underneath that grumpy exterior, there's so much more.

Chase likes to pretend nothing affects him, but I've seen glimpses of his other side in the time we've spent together.

And the more we get to know each other, the more I'm falling for him.

Under normal circumstances, this would be great. Except my hyper-protective big brother thinks no man is good enough for me, and my ex-fiancé is trying to win me back.

One charming, seemingly good man already broke my heart. Am I stupid to give a self-confessed relationship-adverse football player a chance to break it a second time?
Download today on Amazon, Apple Books, Audible, Barnes & Noble, Google Play, and Kobo!