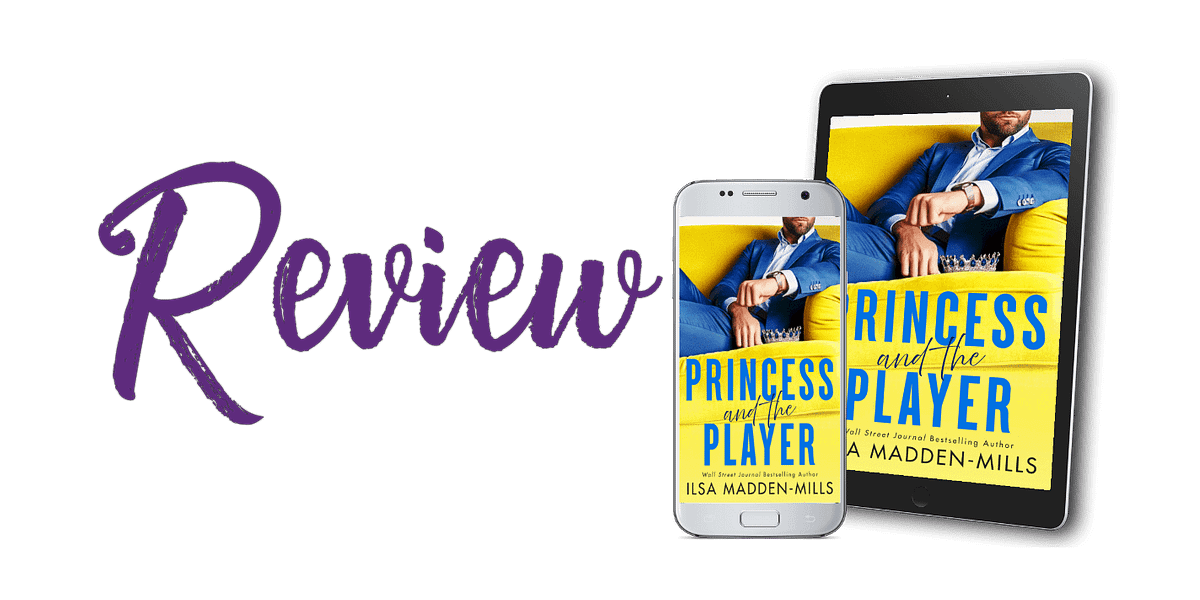 ⭐️⭐️⭐️⭐️⭐️
Princess and the Player will hold you captive from the masquerade to the epilogue.
Francesca and Tuck were strangers only meant to have a night together, but it seems fate was putting the two of them in one another's paths long before they spent the night as the Princess and the Player.
I adore the way Madden-Mills weaves emotion, heat, and wit throughout every story. Whether it's an NFL star or a girl down on her luck, she has a way of making them relatable, and I'm not sure I've ever felt that more than I do now.
Francesca had every reason to be angry at the world, and while she may have kept her heart under lock and key, those who wormed their way in became her chosen family. She was sweet and sassy. Her best friend Cece was a bit more on the crazy side, and I can't even say how many times they made me giggle. It was the unyielding love and support they had for one another that tugged at my heartstrings.
Tuck was past the point of guarding his heart; he had it cased in cement. He had been shown time and time again that people were out for themselves, and inevitably they would screw him over. He didn't seem to have a choice when it came to Jasper, and definitely not when it came to Francesca. He was mostly in a state of irritation, kind of growly, and a bit broody. Add in the fact that he was possessive AF once he met Francesca, and I was done for. A broody and broken hero that meets the one and becomes all homicidal when another man is within touching distance—it's basically my love language.
The chemistry was there the moment they met, not knowing anything about one another and not even seeing their whole faces, and the tension was pulsating in the air around them. Yet when they run into one another again, they become combustible and eventually soul-encompassing. It was everything.
The reasons why they kept their hearts guarded were something I think a lot of people can relate to. The fear of letting anyone else get close to you after being burned by people who were meant to love you feels like handing someone a pin from a grenade. After that, it comes down to whether they will let go of the trigger and destroy you or if they will hold on tight to protect you. My heart bled out right along with Francesca and Tuck as what they thought were their worst fears played out and actually became a safe place they had never known.
Madden-Mills never fails to deliver anything less than emotionally stunning and complex characters that will stay with you long after you reach the end. Player and the Princess is teeming with witty banter, feelings, steam, and a beautiful reminder that family isn't always meant to be the one you were born into.
A masquerade ball brings together an NFL player and a penniless princess in this smart and sexy romance from Wall Street Journal bestselling author Ilsa Madden-Mills.
Level-headed Francesca Lane never thought she'd miss her own wedding. But when her fiancé betrays her, she puts on her wedding dress and ditches the altar for a masquerade ball—at a sex club.
There, she meets NFL star Tuck Avery, dressed as a prince and hiding behind a mask as he celebrates his birthday. For one night, Francesca and Tuck indulge in a wickedly incognito affair. No names. No strings. And the masks don't come off.
Unfortunately, Francesca soon realizes her prince is the wealthy jock who lives in the penthouse of her apartment building. His hobbies include parties and supermodels—or so the tabloids say. Another shallow jerk is the last thing Francesca needs, so she vows to keep Tuck from recognizing her, not that she's his type anyway.
But fate has a teeny-tiny trick up her sleeve… a plus sign on a pregnancy test. Can this tormented prince accept love, or will he push his princess away forever?
Princess and the Player is a complete stand-alone romance with nuanced characters and a swoony happily ever after.