SEE MY REVIEW BELOW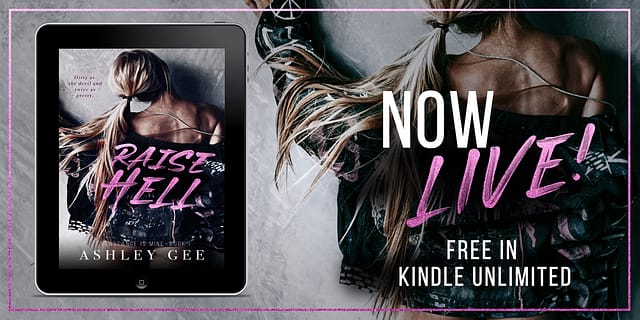 Release Date: November 30
Once upon a time, I was innocent — and then they destroyed me.
The boys of Havoc House don't think I remember what they did to me.
But they're going to pay for all of it.
People like to say that revenge is a dish best served cold. But it takes planning and patience to seek true vengeance when you've been wronged.
And the best revenge takes time.
You have to smile when you want to scream.
Laugh, when you want to cry.
Play nice, while you dream of going for the jugular.
For that, you need boiling hot rage.
I am the cleansing fire that will burn out every bit of the evil at St. Bart's Prep.
I'll cross each of the Havoc boys off my list until I'm the last one standing. One by one, they will fall.
I'm willing to do whatever it takes to see that happen.
Even pretend to fall in love.
Vengeance is mine, sayeth the Lord.
But I can't wait on heaven, so instead I'll raise hell.
Meet Ashley Gee
Ashley Gee is a romance author and part-time adult. She lives in Indiana with her husband, two children, two cats, two dogs and partridge in a pear tree (okay not really!).
She doesn't enjoy long walks on the beach because the sand gets everywhere but can often be found binging Netflix and drinking wine from the grocery store.
Her books feature brooding boys and the girls who bring them to their knees.
And the one thing she loves more than anything else is talking about herself in the third person.
Connect with Ashley Gee
Hosted By:

This was my first book by this author and I'm looking forward to more.

The prologue hooked me instantly just enough information to leave you intrigued but needing more. It only took a few chapters before I became fully immersed in the Havoc Boy world. The first few chapters were mostly inner dialogue but it was a must to set the stage for this intricately woven story.

Evangeline shows up at St. Bart's College with a mission, revenge. She's on the hunt for answers but the reality of what she stumbles into is much more nefarious than she imagined. Evangeline was full of fire, she held her cards close to her chest while she searched for answers, swallowing any fear or doubt. The Havoc Boys were expecting a scared little church mouse but instead were faced with a girl who breathed fire. She wasn't going to let their words cut her and when they tried, she used her words to cut them deeper.

Drake was the president of Havoc House, looking forward to a calm final year the moment he hears the whispers that someone is back then when the blonde walks into the cafeteria with her head high and sassy remarks, he realizes his calm had been obliterated by a storm. Drake's character was complex, he was an a**hole, cocky, and he's on a mission to send her running. He was also none of those things and more. He had a reason for every move he made which created an intriguing depth to him with every page.

The moment Drake and Evangeline meet there's an intense, tension filled, chemistry between them. They started as people set on revenge and torment but the connection between them became a tantalizing forcefield of distraction. I loved how this author made you feel as though you were right there as the tension between them grew, and as a dual POV, you get a vivid understanding of why they react or act a certain way.

The way this author wove such a labyrinth story, impressed me. The chemistry and tension between Drake and Evangeline is electrifying, the tangled web of secrets, lies, mystery, suspicions and suspense that are rampant at St. Bart's College is enthralling.