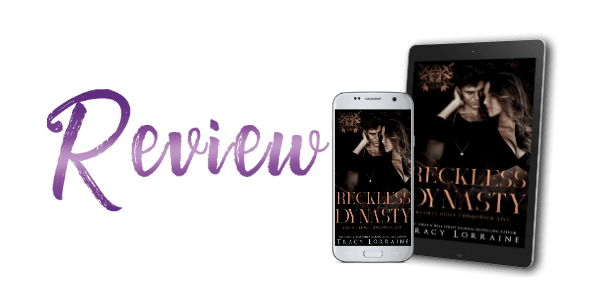 ⭐️⭐️⭐️⭐️⭐️
I'm speechless. AGAIN. I've said it before, but the Reckless Trilogy is without a doubt my favorite dark read of the year. Toby and Jodie's trilogy is darker, kinkier, more twisted, and more enthralling than ever before, culminating in the most addictively consuming mind-f— of a conclusion EVER.
I would highly recommend going into this series without seeking spoilers.It will detract from the enjoyment of everything this series has to offer. I'll be more vague than usual because, seriously, go read this series with as few spoilers as possible. Enjoy the epically dark and twisted world, and plan on abandoning life.
The Reckless Princess cliffhanger wrecked me. A book hangover like no other, and the cure was Reckless Dynasty arriving on my kindle.
I'm not sure any other character took me by surprise the way Toby did. He had this darkness that seemed to be lying in wait. He was devious, revenge had consumed him, and because of that, the sweeter sides we'd previously seen seemed to no longer exist.
Until his world nearly came to a halt, and he and Jodie seemed to watch their past become nothing but ashes.
Jodie and Toby had impassioned chemistry from the start. The physical connection between them that started with revenge and mutual interests became soul searing, all-consuming, and set the world on fire for one another.
Lorraine continues to outdo herself, and that's an understatement when it comes to the Reckless Trilogy. Toby effortlessly stole the ultimate alpha-hole title, and he and Jodie's steamy moments were hotter than Hades.
Lorraine's talent never ceases to leave me in awe. At this point, I feel as though it's a foregone conclusion. You are guaranteed an unputdownable, darker storyline, more devious alpha-holes, and sassy heroines who will bring them to their knees.
Reckless Dynasty is unequivocally the most mind-blowingly epic conclusion EVER. Every element of Toby and Jodie's story was to the utmost degree. A riveting combination of scorching chemistry, a darker, more sinister alpha-hole, a sassy heroine, and mind—ery that will leave you breathless, muttered "wtfs" and "omfg," and kinky AF steam. I truly am at a loss. None of my words do this trilogy justice.
Blurb
CLICK THE IMAGE FOR MORE DETAILS
My life has been full of half-truths tangled in lies—I'd been to hell and back more times than I could count.

But nothing could have prepared me for the fear in her voice, and then the sight of that building going up in flames.

After the way I treated her, the way I hurt her, I'd earned that pain back tenfold. I deserved to lose the only bit of light in my dark, twisted life.

Neither of us have survived the suffering only to have it end this way and I refuse to believe that our time is done. It can't be. Because she was made for me—the only good thing that came out of my past.

And the first chance I get, I'm going to make sure she knows exactly what she means to me.

No more lies.
No more pretending.
Just the raw, honest truth.

I can't live without her and I'll spend the rest of my life proving to her that she belongs with me.
That the life we were born into might have left us damaged, but it made us stronger.

And when she claims her rightful place amongst us, I'll be by her side and together we will rule this reckless dynasty.

But first we have to survive…

Dear Reader,

Reckless Dynasty is the third, and final book in the Reckless trilogy in my Knight's Ridge Empire series.