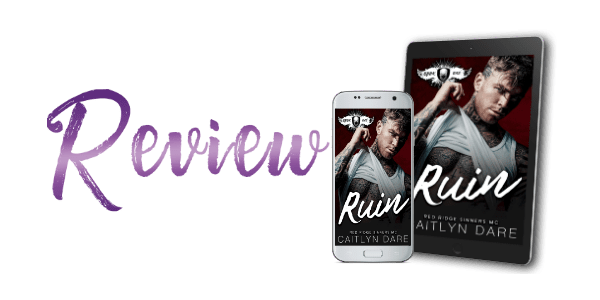 ⭐️⭐️⭐️⭐️⭐️
Dare excels at launching a new series with an addictive first installment, and Ruin is the most addictive to date. Red Ridge Sinners is going to be a hell of a ride.
River has come into her own in many ways. She's no longer the meek girl we first met; she's got a fire about her now that wasn't there before. In some instances, when her mind drifts, she reverts back into that girl, and in those moments without knowing all the details, you begin to understand the meek side of her, and in the moments she's surrounded by people yet feels hopelessly alone, you wish you could offer her a hug.
Jax has wanted River seemingly from the moment they met, and the connection they share has been palpable since the start. The connection between them is as intense as ever, and yet Jax has made it his mission to keep River at a distance. He may have his reasons that have yet to be revealed, but the pain he inflicted every time he pushed River away was a dagger to her heart, and his.
Diesel and River had a brief moment together, only for Diesel to shatter it with a few muttered words. He's protective of those around him, his brothers and family, but when it comes to River, it's on a whole other level, and even though he tried to walk away, the magnetism between them made it impossible.
Zack is the wild card, a story nobody knows, dark and mysterious, with a devilish glare and hatred burning inside of him. He's unpredictable, his devious words and actions are rife with rage directed at River, and with that comes a blazing inferno of fervent chemistry that's only just getting started.
I enjoyed the different points of view; each of them was dealing with inner turmoil for very different reasons, but their emotions flowed through you as if they were your own. There were times when all I wanted to do was hug River, and other times when I wanted to knock the guys upside the head and then figure out how to get them to tell me all their secrets. The suspense, as well as the veiled pasts, will undoubtedly add another addictive element to this story, and will keep your mind racing with each page.
Ruin is an addictively explosive start to the Red Ridge Sinners series. An all-consuming combination of a trifecta of ardent chemistry, a sweet, sassy heroine, a salaciously dark alpha-hole, angsty feels for days, witty banter, heated words, veiled pasts, suspenseful twists, panty melting steam, and a mystifying cliffhanger. Without a doubt, the most popular read in 2022.
Blurb
My whole life I've been treated like some innocent naïve girl. Shielded from the dark and dangerous world my big brother inhabits.
But not any longer.
Now, Savage Falls is my home, the Sinners MC, my family. I'm the new club princess, a burden I neither want nor need.
Because I'm not as innocent as they all think.
Not by a long shot.
Not when I spend most of my days dreaming of them. Club prospect Jax Pitman, my best friend's older brother Diesel Walker, and the Red Ridge Chapter's newest bad boy Zach Stone.
One of them broke my heart.
One refuses to fix it.
And one of them is slowly bringing me back to life.
But together…
Together, they might just ruin me.
RUIN is a full length dark enemies-to-lovers/bully romance. This is a why choose novel, meaning the main character has more than one love interest. It is book one in the series.