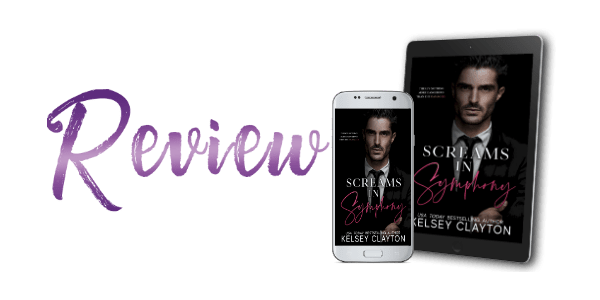 ⭐️⭐️⭐️⭐️⭐️
Screams in Symphony is the jaw-dropping conclusion to the Malvagio Mafia duet, and it confirms Clayton's ability as a writer who knows no limitations.

I needed to know who, and a million other things had been swirling around in my thoughts since the mfing Suffer in Silence cliffhanger, and I couldn't wait to read the rest of Saxon and Kage's journey. We didn't have to wait too long, fortunately.
With everything that's happened to them and everything that's been revealed, Saxon and Kage aren't the same people we first met. Kage has spent years allowing his desire for vengeance to fuel his actions, but now his enemies have gone too far, and he's lost the little control he had.
Saxon rises from the ashes like a phoenix. She's been through hell and back. She let others' vile behavior feed a darkness inside her she wasn't aware she had, and in doing so, she became the person she was always meant to be.
This was non stop adrenaline from start to finish, every page had your rapt attention, darkness didn't linger in the shadows, it's infused in every word. Look elsewhere if you're looking for Prince Charming and a princess who needs to be rescued. This is the story of a Queen who will save herself and a dark vengeful King who will kill anyone who looks at his woman.
The chemistry between Kage and Saxon becomes its own entity, becoming more palpable with each page; use caution, kindles may combust.
Clayton's venture into dark mafia romance is decadently addictive; I hope there's more to come.
Screams in Symphony is an unputdownable combination of palpable chemistry, a sinfully dark anti-hero, a BA heroine, heart-pounding suspense, spine-chilling twists, thrilling turns, and volcanic levels of steam, all set in an addictively dark and twisty mafia world. Without a doubt, a top read of 2022.
Blurb:
There once was a girl,
tarnished and ruined by the actions of others.
Some are born plagued by darkness,
but she was doused in it by those she trusted.
Like Lucifer himself,
she fell from the heavens and landed amongst the flames.
Now she wears her crown black,
with diamonds coated in the blood of her enemies.
This isn't the story of a girl who saved the villain.
This is the story of a girl who became something much worse,
and the man who loved her for it.