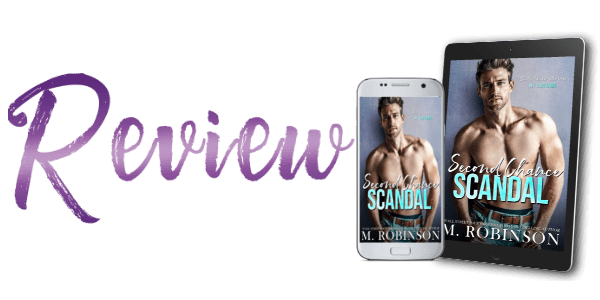 ⭐️
I'm having a difficult time with this because I generally love Robinson's books.
**Spoilers below**
I know some people get frustrated when a story shifts between the past and the present. However, normally it doesn't bother me, as long as it makes sense and adds to the story. Second Chance Scandal alternates between the past and the present, but offers very little of their time together in the present that did much for the story.
The premise of a fake marriage because fans were upset over a trade, was far fetched. This is because he's in the NFL, being traded is par for the course, and hardly makes a scandal.
He broke her heart years before, and when they run into one another later she decides to get revenge. Her revenge? Sleeping with him and then leaving. It was just ridiculous.
The interactions between Sophie and Jax felt forced at times, and while jumping to the past offered some insight into what happened back then it was predictable. The rich playboy and the maid's daughter, threats, misunderstandings, and apologies.
In my opinion the present didn't offer a view in them reconnecting, working through the past and moving forward. It felt as though they were following a script, moving through the motions of reconnecting, not offering any emotions along the way.
I found the "greatest of all time" and goat thing to be irksome. It too felt forced, a way to make sure readers knew how amazing of a football player he was.
There wasn't any character development. In the past we barely got a glimpse into how Jax and Sophie's story began. As they fell in love, and eventually ended their relationship, I had hoped we would have a front row seat to witness it all. That wasn't the case, we didn't get to see them fall in love, and we didn't even get to see them fall back in love.
He needed a wife, and blackmailed her into marrying him. There's a loving moment when he sees his son for the first time, but after that there aren't many scenes between the two. Sophie won't allow any talk of the past, but once it comes out all is forgiven with a barely existent apology.
I really enjoyed the first book in this series, and I was excited to read about the characters we were introduced to. Unfortunately I won't be continuing this series.
I had thought my feelings about Second Chance Vow were a one off. It was the first book by Robinson that didn't hit all my feels and keep me enthralled, but I find the same things I didn't enjoy about it were the same issues I had with this.
Overall there's no character development, every interaction between them felt forced, and the story itself fell flat. It was as though everything was thrown together with the purpose of getting the book out.
I'm honestly at a loss on whether my tastes have changed or whether the author's writing style has.
Second Chance Scandal: https://books2read.com/u/md67P5