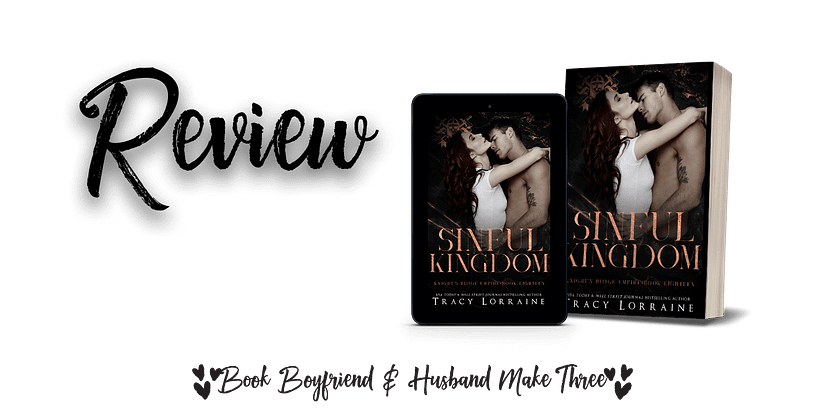 ⭐️⭐️⭐️⭐️⭐️
Sinful Kingdom isn't just the epic conclusion to Evie and Alex's trilogy, but also the mind-blowing and bittersweet end to the Knight's Ridge Empire series. Everything about the conclusion to Alex and Evie's story offered irrefutable evidence that Lorraine saved the best for last. The storyline was more addictive, the banter was wittier, the steam was hotter, and above all, the bond between this group of exceptional friends was stronger than ever.
Incoming vagueness… Don't seek spoilers for this trilogy. A bittersweet goodbye, and maybe little hints of what's to come. Dive in and enjoy it.
I have been very impatiently waiting for Sinful Kingdom since I reached the end of Sinful Princess. I can't tell you the number of tears I shed or the number of times it felt as though a weight were on my chest because the pain and fear that overwhelmed this group were palpable on every page. Every emotion was more overwhelming than ever before.
I adored Evie from the moment I met her, but I think a lot of that was because she was so different from all the other women in the group. She had a fierce protectiveness for the ones she loved. She was shy and naïve in many ways, while also having seen the worst in humanity. She was more than one thing, but one thing that never wavered was her willingness to go to the end of the world in order to save those she loved. She was the last piece needed to make not only Alex whole, but the group as well.
Alex was always more than eye candy and jokes. To some extent, everyone knew there was a reason he always had an easy smile, and was so willing to hide behind jokes and women. Other than his brother, I don't think anyone knew the darkness that weighed so heavily on his soul until Evie. From the moment they laid eyes on one another, they saw deeper into one another than anyone ever had, but even that was nothing compared to the magnitude of the connection they shared in the conclusion of their story.
I'm not even a little ready to say goodbye to this world. I've spent the past 2 years wrapped up inside the Knight's Ridge Empire world, and it still doesn't feel like enough. The escape from reality it provided, which was needed more than I would ever be able to express, is something that has ingrained these characters and this world in my heart. Every heart-pounding, overwhelmingly emotional, mind-blowing minute has offered me a chance to feel at home in a world that has never felt fictional. Lorraine seems to take every story as a challenge to obliterate any perceived notions of the limits of her talent. I can assure you, it's as limitless as any I've ever seen.
I can't imagine a more perfect couple than Evie and Alex to bring an end to the Knight's Ridge Empire series. They had both been put through the wringer, and yet they never lost the core of who they were. Both of them had every reason in the world to allow the darkness to consume them, and yet they both bounced back stronger than ever. It was the spark of chemistry that started the moment they met, as it soon became an inferno of all-consuming fiery passion that would never allow them to be lost in the darkness of the world they were in.
Sinful Kingdom is a top read of 2023. EVERYTHING about Evie and Alex's story is the essence of the phrase saving the best for last. Them, the storyline itself, the actions of the rest of the group, and the little tease of what could be next As sad as I am to say goodbye, I have no doubt that whatever Lorraine delivers next will obliterate yet another glass ceiling.
Not only is Sinful Kingdom an epic conclusion to the Sinful Trilogy, but I also can't imagine a more perfectly woven goodbye to this mind-blowingly addictive world. A riveting blend of soul-searing chemistry, a strong heroine, a cheeky idiot ant-hero, angst, edge-of-your-seat twists, heart-stopping turns, and white-hot steam This world has become embedded inside me; it's the love, unwavering support, and unyielding loyalty that make it far more than a romance. It's about love and family.
About the book
Everything I thought I knew was a lie.
And the notion that I was safe and protected is shattered with every step I run.
Much like Alex, this world is a wolf dressed in sheep's clothing.
Beautiful, breathtaking.
Until…
Download today or read for FREE with Kindle Unlimited
Not started the Knight's Ridge Empire series yet?
Start now for FREE with the series prequel, Wicked Summer Knight -!