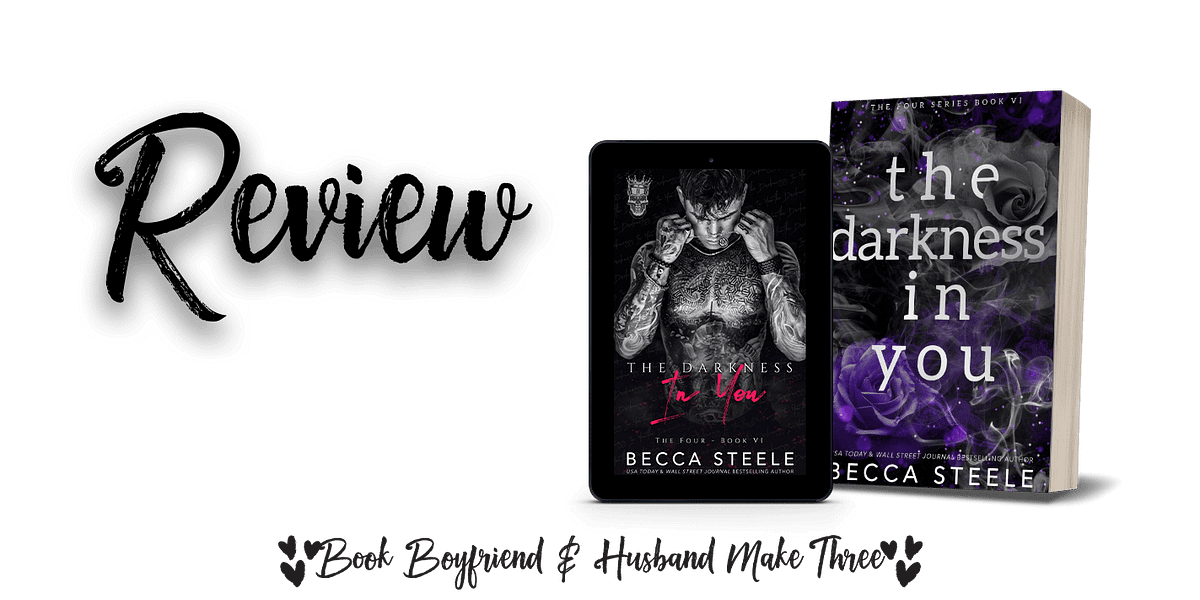 ⭐️⭐️⭐️⭐️⭐️
I have never understood the phrase "worth the wait" more than I do right now. The Darkness in You was so far beyond my expectations. Bringing the whole series full circle and a much deeper understanding of the most closed off member of The Four My heart bled out time and time again as Zayde's heartbreaking past collided with the devastating present, and yet, if not for that, Zayde and Fallon would have never been whole.
Steele's talent has never shone as brightly as it did on every page of Zayde and Fallon's story. A few words, and it was like no time at all had passed since I was consumed in the dark and twisty world with The Four and their sassy other halves. For hours, my heart and head were completely consumed by Zayde and Fallon's story. It was an escape that was needed in ways I will never be able to explain. I believe with everything inside me that this story was meant to be shared now. For so many reasons, not least of all that The Darkness in You couldn't have been a more perfectly heartbreaking, immensely healing, devastatingly bittersweet goodbye to The Four Worlds—and more so to the characters that have etched out a IV tattoo on my heart.
The Darkness in You immediately pulled at my heartstrings, and without hesitation, my every emotion was at the mercy of the words on the page before me. I have been looking forward to finally being able to learn all there is to know about the broody, closed-off remaining member of the Four, and nothing could have prepared me for how Zayde and all his devastatingly broken pieces would be mended by the girl who had captured his heart long ago in the most breathtakingly innocent way.
In some ways, Zayde was exactly what you would think, but in many other ways, he was much more than meets the eye. He had a much different start to life than his friends, and because of that, he endured more than any child should. He had one bright spot in his life before he ended up thrust inside a world that he didn't know existed. Through the years, the hurt, the inner turmoil, the loathing, and the trauma continuously tried to encompass Zayde in complete darkness and would have if not for the little spark of light that had been engraved on his soul. Even in the darkest moments, when he was numb to everything, that little spark flickered inside of him, protecting him until the moment his angel appeared and evened out his darkness with her light.
Fallon was caught up in a war she wanted nothing to do with. She was strong in ways that were more low-key than some of the other girls. She had faced the things that nightmares are made of, and although it may have left some cracks, nothing she had faced ever broke her. In the end, she went back to the town where her worst nightmares played out and planned on facing them alone. That takes an immeasurable level of strength. They both faced far too much heartbreak and devastation before finally being woven together with forgiveness, closure, and healing.
Between Fallon and Zayde, my heart and head have been through the wringer. Zayde and Fallon started in different worlds, then, in a cruel twist of fate, they became star-crossed lovers in the same world. Their story was so different from the previous, fraught with emotion from sweet innocence to gut-wrenching heartbreak and everything in between. That seems at odds with the broody, closed-off man I've been anxiously waiting for, but it also feels… fitting.
The Darkness in You was not only a top read of 2023 but also my new favorite Steele novel. A few words, and I was thrust inside the Four Worlds as though I'd never left. An unputdownable combination of combustible chemistry, a broody bad boy, and a sweet, strong heroine, fraught with emotion, suspense, and steam. Above all else are the characters who have come to mean so much to me; the connections they shared were as important to this series as anything else, which makes it hard to say goodbye. I have no doubt I will revisit this world often. Steele has truly outdone herself, and I can't wait to see what's next.
About the book
From USA Today and Wall Street Journal bestselling author, Becca Steele, comes the final book in the international bestselling series, The Four…
Scarred. Ruined. Broken.
Zayde Lowry was the boy I was never supposed to love. Our families have been rivals for generations, and I knew that if anyone discovered our secret, there would be hell to pay.
But I fell for him anyway. He called me his angel, and he bared the darkest corners of his soul to me. In return, I gave him my whole heart.
Then tragedy struck. I lost the two most important people in my life, and the man who was supposed to care for me, my own father, crossed an unforgivable line.
In one night, my entire world was destroyed, and ashes were all that remained.
I left Alstone behind, and never planned to return. Until the day I received the news that the man who raised me was behind bars.
Now it's time to come back. To face the demons of my past so that I can move on to my future. Alone.
I never counted on Zayde messing with my plan.
He still wants me.
But even though my heart still skips a beat when I see him, I can't let myself forget what he did. I need to stay away from him.
Too bad for me, he has other ideas…
This book is an interconnected standalone mature new adult romance in The Four series. Reading the previous books in the series prior to The Darkness In You is highly recommended. Please use the Look Inside feature to view potential triggers.
Download today or read for FREE with Kindle Unlimited
BINGE THE COMPLETE SERIES!