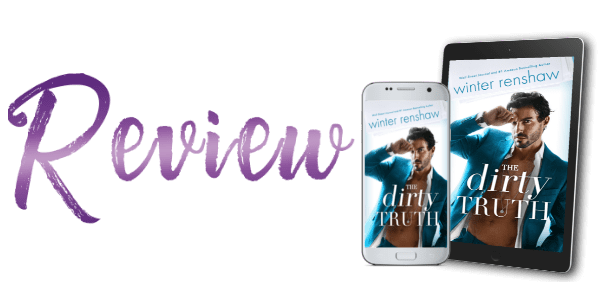 ⭐️⭐️⭐️⭐️⭐️
The Dirty Truth is so much more than romance. It's an emotional and heartfelt journey that will undoubtedly stay with you long after you reach the end.
A few words and I was captivated by this unique story as someone who has been through things that make it impossible for you to be who you were, although vastly different from Elle's experience. It changed the very fabric of who I was. A moment that makes you question who you are, and in that I felt a deep connection to Elle.
Elle had a brush with death and was really embracing life. She was determined to make the changes necessary in order to live her best life. She was sunshine and sass. I adored her immensely. She was the opposite of West in almost every way, and exactly what he needed.
West was much more complicated. There was so much depth to his character, and he showed the world what he wanted them to see and nothing else. He had a commanding presence in the boardroom. He was zeroed in on what he wanted to accomplish, and emotions weren't a part of that. He had no intention of letting anyone in, much less opening up to someone about his past. Yet, it felt as though all those walls he had built up began to disintegrate the moment the sparks flew between him and Elle.
The chemistry between West and Elle was magnetic. With one small touch, the chemistry they shared was palpable, and that was only the beginning. Every moment is built on the tension between them, an intoxicating slow-burn that's infused with every emotion from heartbreak to heartwarming.
The Dirty Truth was mesmerizing from start to finish. An emotionally gripping blend of kinetic chemistry, a sunshiny heroine with a dollop of sass, a guarded hero, every emotion from heartbreak to heartwarming, and witty banter, adding up to a tension-filled slow-burn that will stay with you long after you reach the end.
Blurb
From Wall Street Journal and #1 Amazon bestselling author Winter Renshaw comes an enemies-to-lovers romance about the journey of self-discovery that follows a life-changing event.
After a brush with death, I realize it's time to make changes in my life. Big changes.
First, my job. I love being a journalist, but I hate my megawatt magnate boss, West Maxwell. When he demands I rewrite an article on short notice, I turn the tables on him with a scathing new column and quit in a blaze of glory.
But West isn't about to let me go that easily, the jerk. He offers me an unexpected new position: mentor to his rebellious teenage niece. For some reason, I agree—I like helping people, but I'm also admittedly curious to glimpse the man behind the mogul.
However, I soon discover that my new assignment isn't what I expected. As I learn about the private side of my enigmatic boss, I start to see the heart he hides behind his icy façade. The old Elle hated West…but maybe—just maybe—the new Elle can tame him.
Read for FREE with Kindle Unlimited