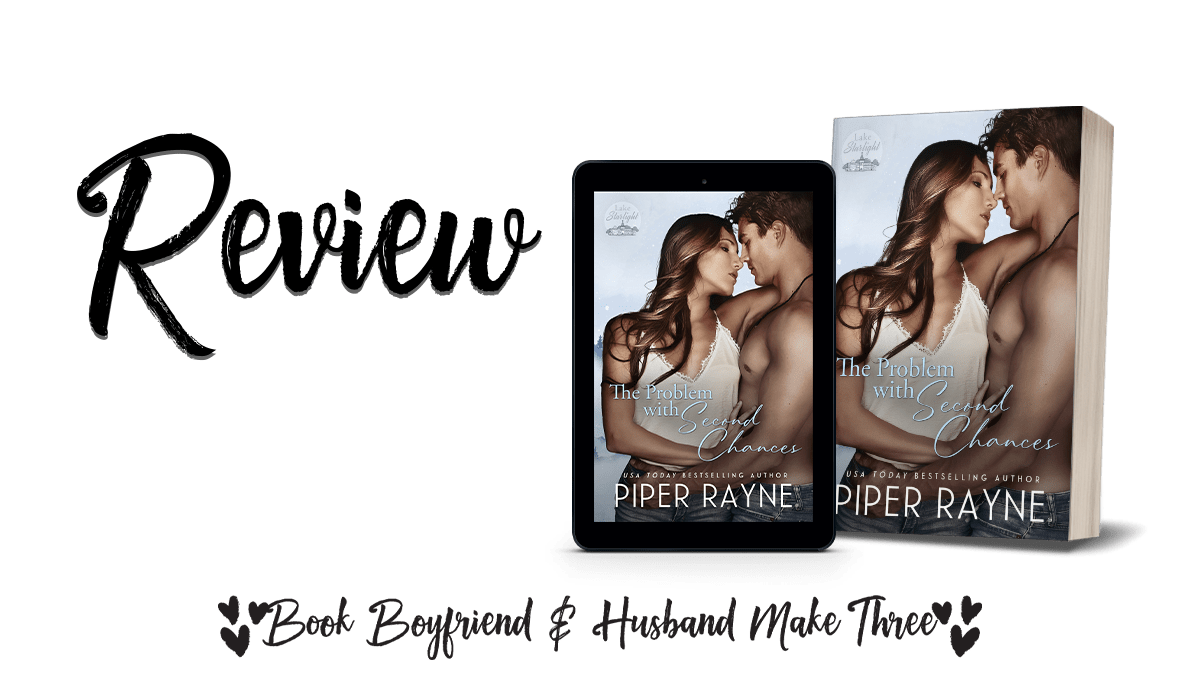 ⭐️⭐️⭐️⭐️⭐️
The Problem with Second Chances was the most epic slow burn in the history of slow burns. Calista and Rylan's sizzling romance spanned decades. We saw bits of their relationship through the eyes of their siblings, but nothing could have prepared my heart for the roller coaster of the past through their own eyes.
The Problem with Second Chances felt like everything I love about this duo's small-town family series but on steroids. With the love of not only the Bailey family but the Greene family as well, my heart felt like it would explode from the love brimming on every page. I've been impatiently waiting for Calista and Rylan's story for decades—fictional world decades, but you get the idea. I can't imagine a more perfect introduction to this brand new series, or any series. A few words and I was home; a few chapters and I was mesmerized; and by the end, I had found a new favorite Piper Rayne novel.
Calista planned to keep her distance from the best man, but quickly learned that she wasn't going to be able to. Someone had a plan in place to get Calista and Rylan to realize what everyone else already knew: they were made for one another. The Granny Brigade 2.0 learned from the master, and they would be the most meddling grandmas that ever meddled in order to do justice to the OG meddling granny.
The Problem with Second Chances was everything I love about the Bailey and the Greene families, but now the two have a much deeper connection than ever before, and that bled through every single word.
I loved the way everything was new, and yet there were bits of familiarity and even a little nostalgia woven throughout. Rylan and Calista's story was an emotional roller coaster. My heart physically ached for them; they loved one another with everything they had, but it's never as simple as that. I'm not sure I've ever shed as many tears while immersed in my favorite fictional Alaska town. There was so much history, so much pain, and so much heartache, but more than anything, there was love. The love they shared transcended decades, and my heart was so obsessively invested in their happily ever after that I made myself an honorary member of the Granny Brigade 2.0.
I'm not even exaggerating when I say it was an emotional roller coaster. The pain of their past made my heart ache. I had tears pouring down my face, and then I read the next sentence and laughed out loud. More tears were shed due to the love between, not only Rylan and Calista but also the Bailey family and the Greene family. There was more healing happening than with Rylan and Calista, and that was another element of this all-consuming story that added to why it's my new favorite.
Before reading the first page of The Problem with Second Chances, real life had been weighing on me. All the things I can't control It's suffocating. Why am I oversharing? It's simple. Opening to the first page, I felt all of it begin to fall away. For hours, I was able to escape it all; my head and heart were too immersed in Rylan and Calista to think of much else. It wasn't exactly what I needed—an escape like only this duo can provide. Everything in reality vanished, and for hours I was a resident of Lake Starlight.
The Problem with Second Chances was the most epically consuming introduction to a new series that I've ever read. One word and reality faded, and I spent hours immersed in this small town, surrounded by two families that have taken up residence in my heart.
Rylan and Calista's story is teeming with ardent chemistry, a strong heroine, a swoony hero, witty banter, tears, laughter, and everything in between, and tension-fueled steam. I'm already looking forward to spending more time inside of the Lake Starlight world.
About the book
For Rylan Greene and me, it was simple. Love only got us so far.
I've known him since we were six, long before he became the professional soccer star he is now. We've weaved in and out of one another's lives as rivals, teammates, friends, and lovers. Until three years ago, when my life took a hit and I ran back to my small Alaskan town, Lake Starlight, away from anything or anyone that could hurt me.
He's never far from my mind, a constant pining ache in my heart, but I've convinced myself I'm better off. But now, my best friend announces her engagement and that means Rylan will return home to stand as best man to her fiancé.
He'll be back in my orbit for three whole weeks… but I can easily keep my distance. Sure, we'll have to walk arm in arm down the aisle together, he'll hold me close during the bridal party dance and we'll stand for pictures next to each other. Nothing I can't handle.
I'm so naïve though because he's not in town for more than twenty-four hours before he knocks on my door. I should know by now, that the two of us will never be finished business.
This second chance romance spans sixteen years of a true love match that proves these two will only ever belong to one another.
Download today on Amazon, Apple Books, Audible, Barnes & Noble, Google Play, and Kobo!