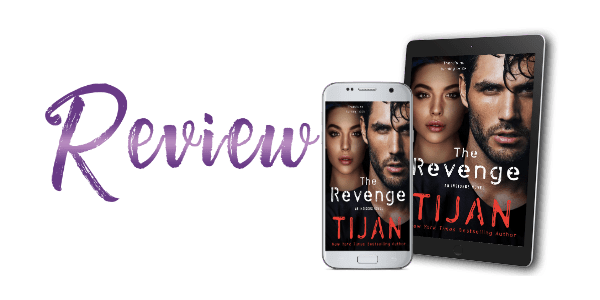 ⭐️⭐️⭐️⭐️⭐️
The Revenge is the final book in this trilogy and can not be read as a standalone.

The Revenge was such a phenomenal ending to this trilogy, edge of your seat suspense, muttered "wtfs," and nonstop action from start to finish, you should be prepared to cancel real life before you read the first word.
Within a few words I whisked back into this world, and that's where I remained. Bailey was still coming to terms with what happened in the previous book. Her world had been rocked, and there were times she spent lost inside her head. Once she has time to digest the information, she begins to show signs of moving forward, and with that, she's immersing herself into other things.
Tijan did such an amazing job crafting this intricate story. Bailey and Kash, the Francis family, I think the dynamics between everyone from The Insiders to The Revenge, all felt natural. The growth and changes in dynamics were such a huge part of the story, it was Bailey's relationship with Peter that triggered the edge of your seat events. I found myself hoping that we will see more from some of these characters in the future. I'm not ready to say goodbye to this world.
This book is the essence of "edge of your seat." All that transpired in the previous 2 books is coming to an explosive head, along with more twists and turns, it's heartstopping danger and jaw-dropping twists.
Emotionally stunning. That's the only way to describe it. My chest ached, I felt like I couldn't take a breath, all of the emotions were thrumming through me as though they were my own. So many tears, so much pain, but oh what a delicious vengeance.

I truly hope this isn't the last we see of this world.