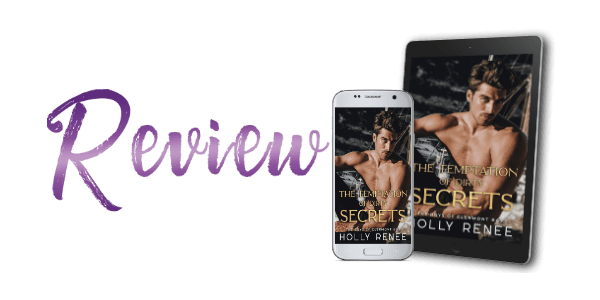 ⭐️⭐️⭐️⭐️⭐️
The Temptation of Dirty Secrets is the angsty AF, ALL-CONSUMING conclusion of Olly and Frankie's story.

The moment The Temptation of Dirty Secrets arrived on my kindle, nothing existed outside this fictional world. From the first word to the last, I was rooted to the spot, my eyes never straying from the screen until the very last word.
Renee instilled such an extremely unique quality into the story, Ollie and Frankie's story astounded me; every action and word was fraught with emotion, viscerally seeded and deeply ingrained in my heart.
Frankie and Ollie's isn't one you simply read; every word pulls you into the Boys of Clermont Bay world, and that's where you reside until you've consumed every word.
Frankie has made a decision, and while I felt it was the right one, that made it no less painful for everyone involved. She's on her own journey. She's done being protected by others. She's ready to prove to everyone, herself included, that she's more than capable of being her own savior.
Olly loved Frankie long before he realized it. He wasn't exactly the same as before; he'd grown in ways that were beautiful, like the way he embraced his love for Frankie, and heartbreaking because her choice was herself. As painful as it was, I believe it was necessary because they had been through so much and needed time to heal their wounds before returning to one another.
Frankie and Olly's chemistry seemed to grow in intensity every moment they were within one another's reach. The push and pull between them is hard to put into words. It was as though a tug of war was happening between their hearts and their heads, while their souls felt as though they served as beacons for one another.
I know with absolute certainty that I'm not doing justice to Olly and Frankie's story. My head and my heart are still enwrapped inside this world, not quite ready to return to reality.
The Temptation of Dirty Secrets has cemented Olly and Frankie's spot as my favorite Boys of Clermont Bay duet. All-consuming and angsty to the nth degree. Renee has completely outdone herself yet again.
Blurb:
Captivating. Vulnerable. Agonizing. Seductive. Frankie Clermont was supposed to be like a sister to me for as long as I'd known her.
But no one knew the depths of our lies.
I had been in love with her before… before everything changed what we could be.